What was up with the decorating trends of the 1970's? Our house was a "showcase" of bad 70's design with color schemes of Baby Blue, Harvest Gold, Avocado Green, Burnt Orange, and Chocolate Brown. We've started remodeling the Harvest Gold Bathroom, and have just about finished our mini kitchen remodel.
The Avocado Green counters are gone! Want to see how ugly they were?
Mini Kitchen Remodel – Before
Replacing the counters was the final step in a very long kitchen remodel. When we moved in, the kitchen was straight out of 1977, and we had it all. Avocado Green everything – plastic laminate countertops, appliances, a giant stained glass light (like over a pool table) above the breakfast counter, and green sheet vinyl flooring that matched the bathroom floor's pattern.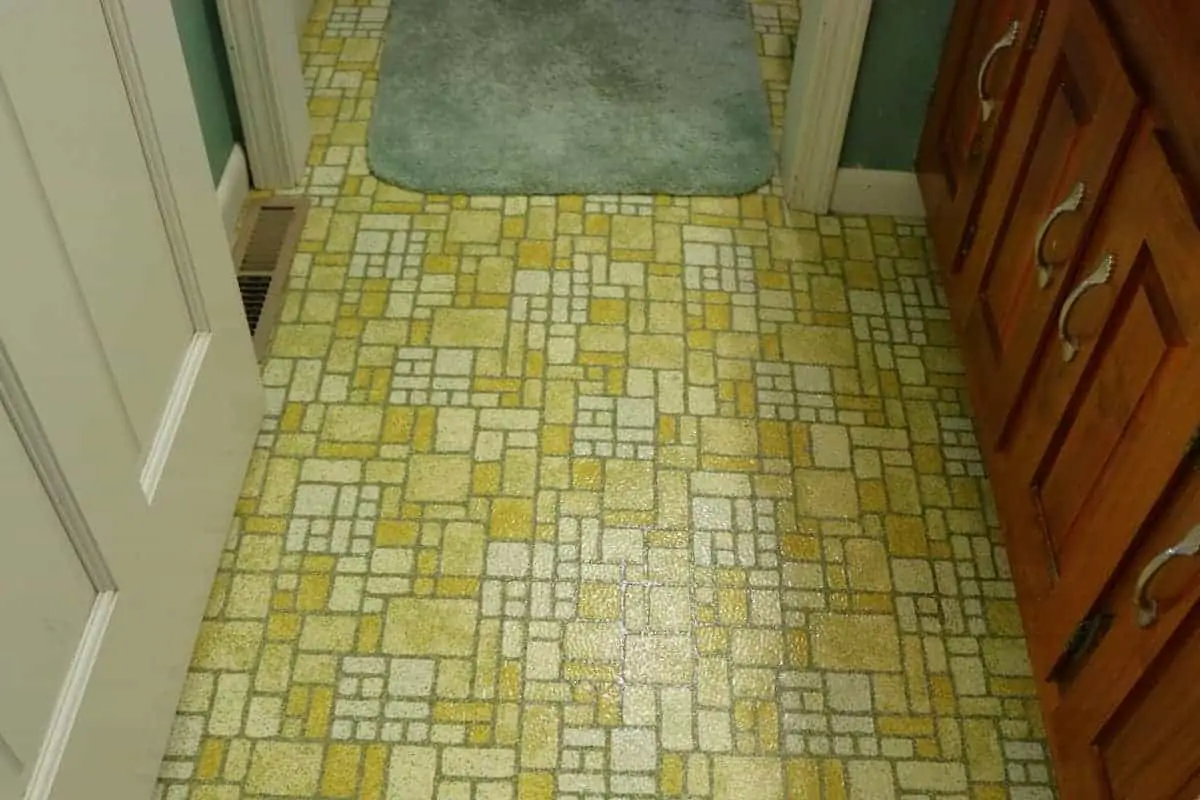 The flooring had an added bonus: a seam right through the middle of the kitchen that had curled back and would trip me all the time. Score!
The kitchen also had chocolate brown doors and trim, a popcorn ceiling with fake dark wood beams and a giant fluorescent light. Wallpaper with hand drawn images of condiments, and a complementary striped pattern, were the final touch. Oy. It was a fright.
It's a small kitchen – about 10′ x 14′. My mom calls it "a one butt kitchen" – there's only room for one butt at a time. It's definitely not a kitchen made for "entertaining" as everyone on home improvement shows want. Finally, it didn't have many cabinets and did not have a microwave or dishwasher.
Over the years, we've fixed just about everything. We added custom upper cabinets along one wall, replaced the flooring, installed new lights, painted and decorated with a retro lemon & cherry theme (which might look dated, but I don't care – I like it!), replaced windows, installed a dishwasher and replaced appliances. But, we still had two projects left: the popcorn ceiling and those ugly counters.
Kitchen Ceiling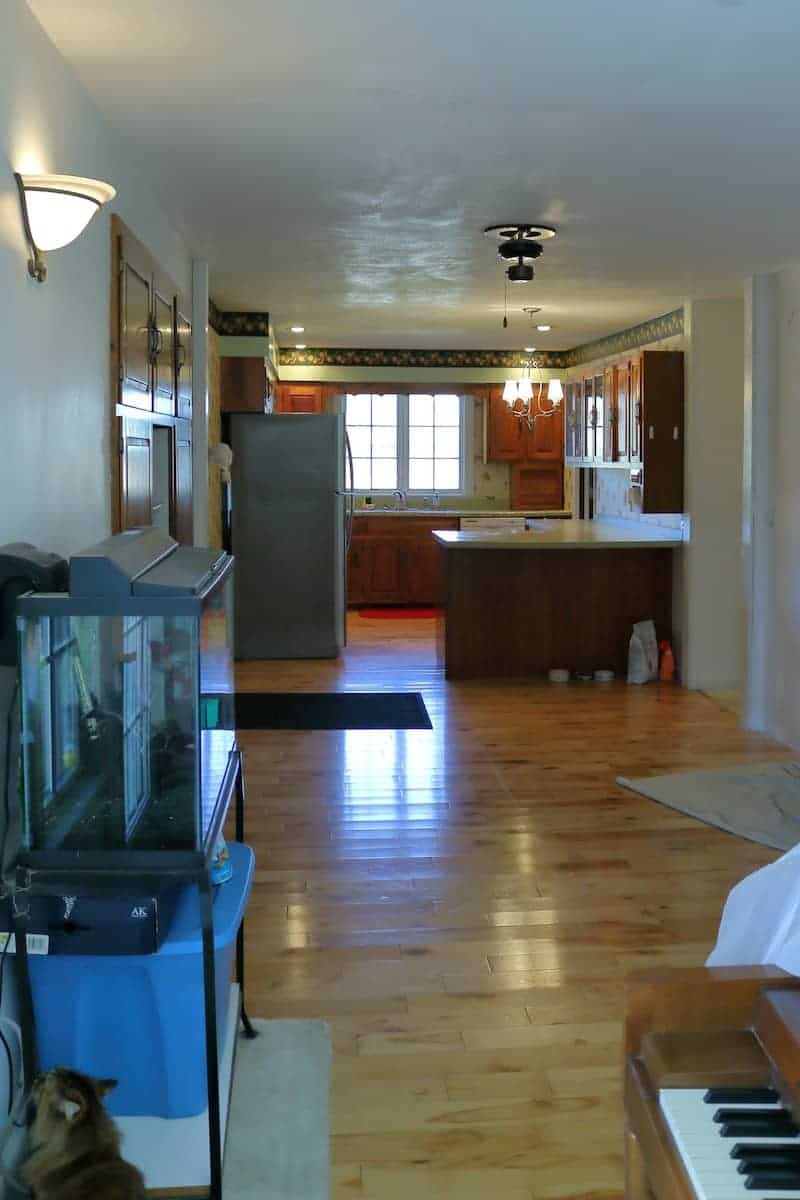 The kitchen is open to this area, which is probably best described as a breakfast nook, but we use it as a piano room. The ceiling was a mess. First, it had a light popcorn texture, which wasn't too bad, but it had seen better days. It also had big patches from when we removed the fluorescent light and moved the light over the breakfast counter.
Finally, through various projects, it had three different textures and two different shades of white. (Not sure what the cat is doing there – just staring at the wall and sniffing things. Weirdo.)
I had also noticed that the recessed can lights' trim was looking pretty gross. A lack of attic insulation led to condensation in the winter, which led to rust. These will be replaced when the ceiling is repaired. (Ever notice how your project just gets more and more stuff added to it?)
The Avocado Green Plastic Laminate Counters
We've waited a long, long time to replace these counters. New counters were always pushed to the bottom of the project list. But, their days are numbered!
Photos really cannot capture the "beauty" of this green, but I did my best. Ready for a peek?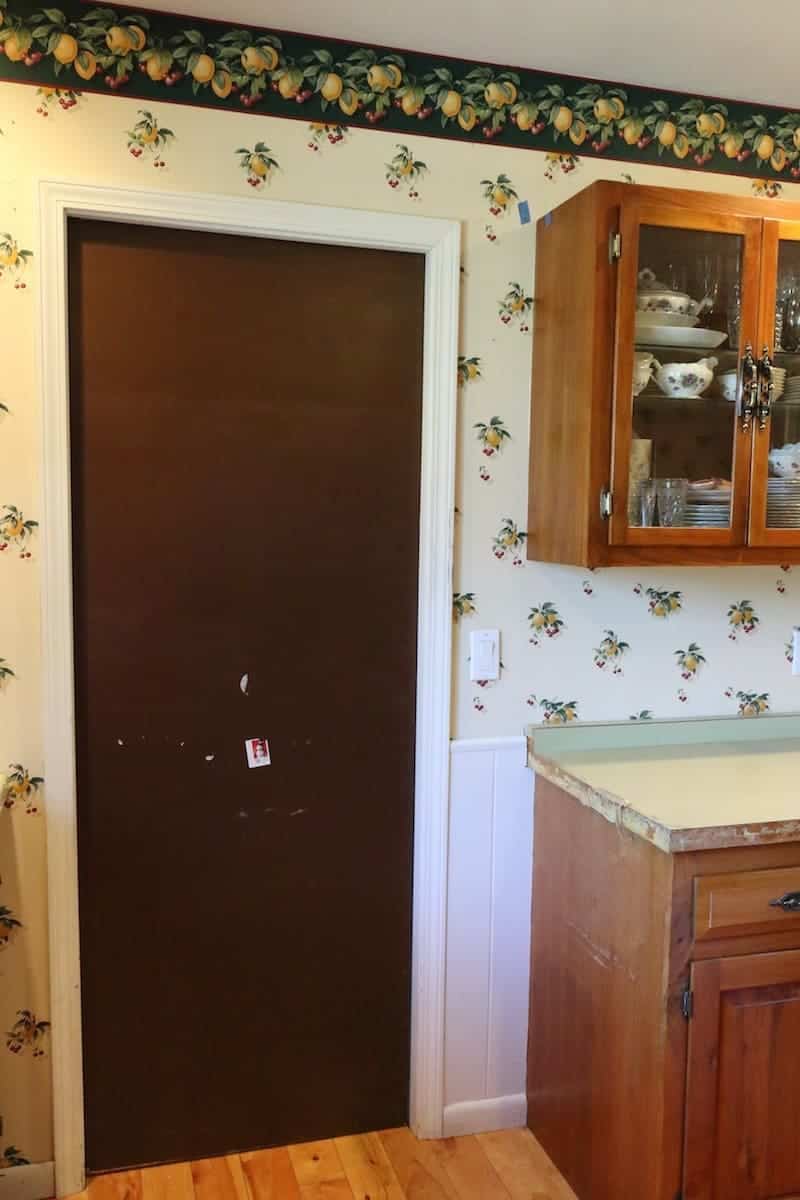 I'll start with this picture of the pocket door to the dining room, because every door and piece of trim in the entire house was this color of brown. Everything.
It was also the color of the paneling to the side of the door, the fake beams, the exterior siding and the bottom half of the garage walls. Eventually, we named it "Gibson Brown" after a previous owner. I swear he bought this stuff in 50 gallon drums – if it could be painted, it was brown.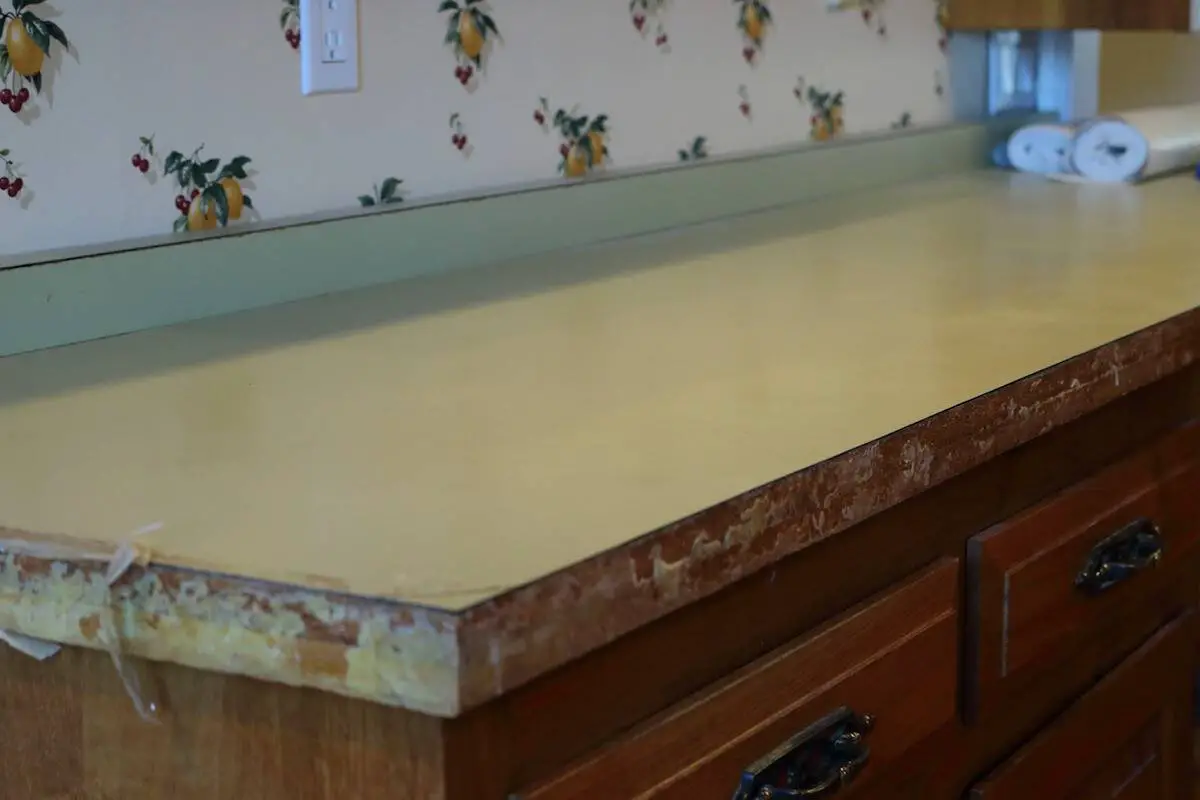 Isn't that a lovely shade of green?? Not only did we have to deal with the color of the countertops, but they practically fell apart. You can see that the front edges have fallen off. The "temporary" solution was to tape them back into place. (Duct tape plays a major role in our house #ducttapefixeseverything)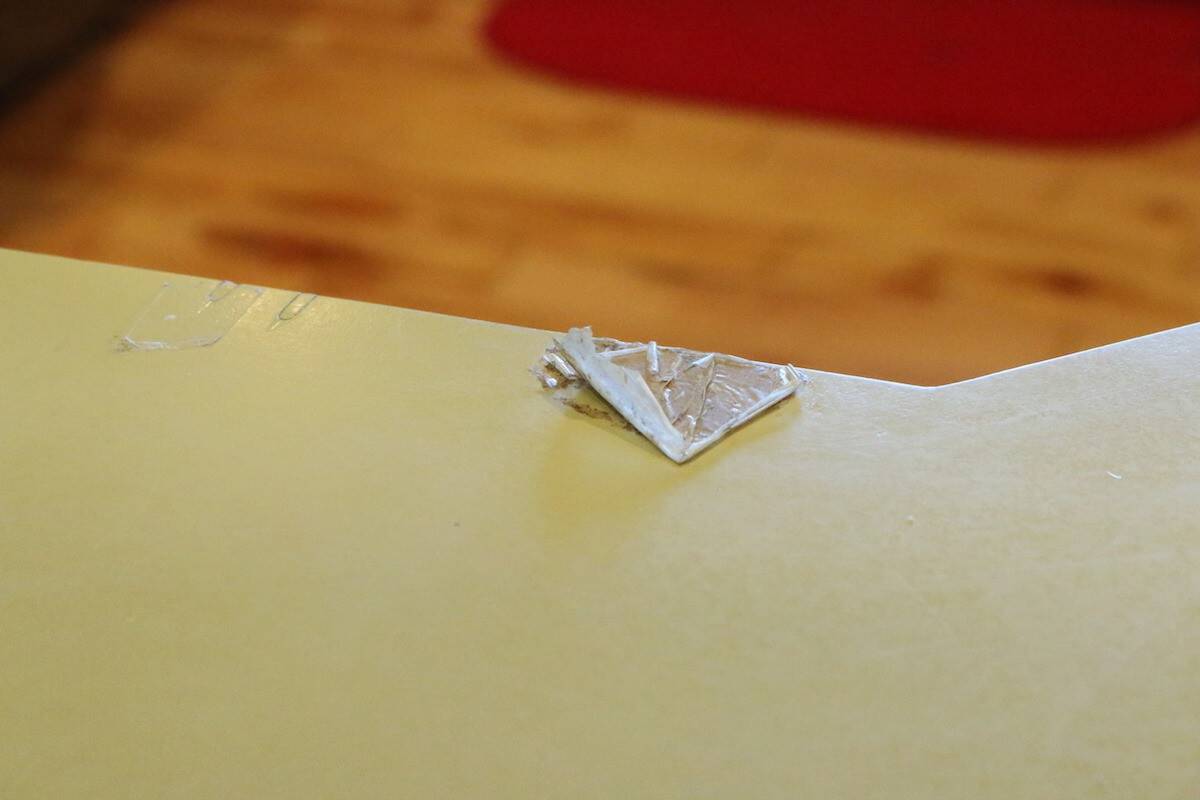 The cabinet door was removed so it could be repaired.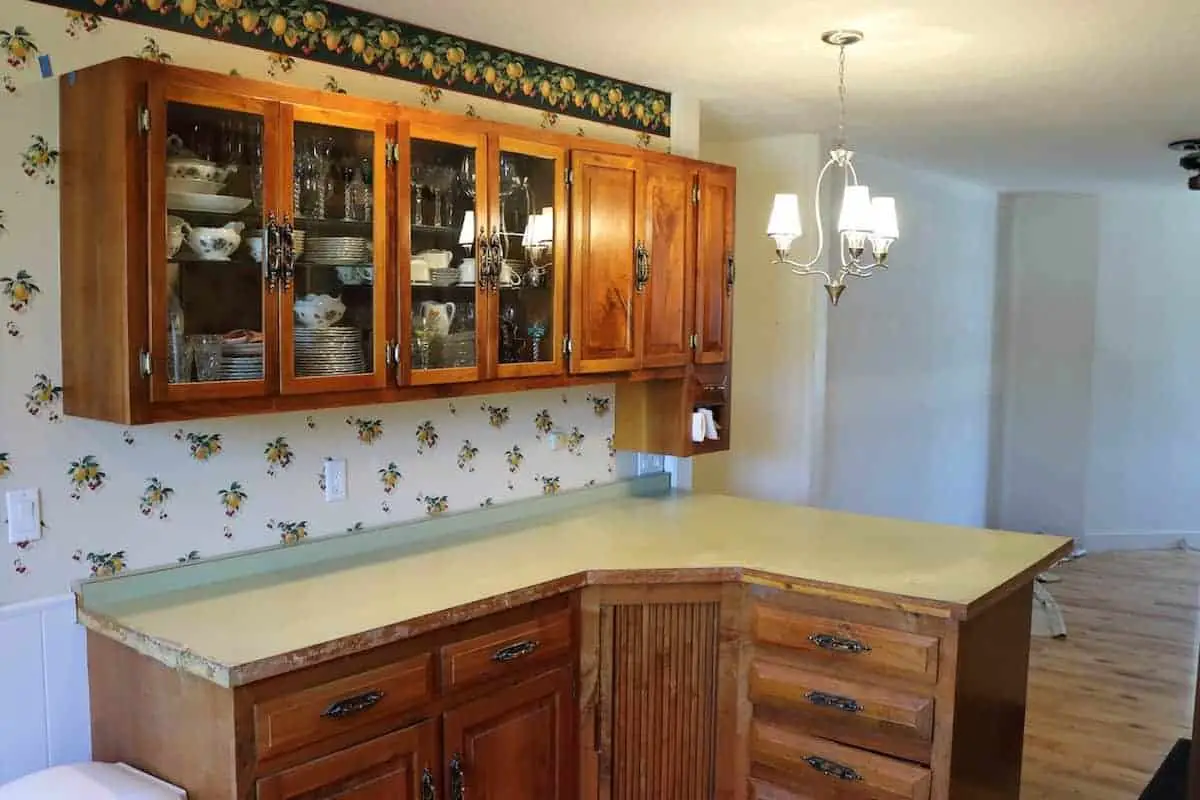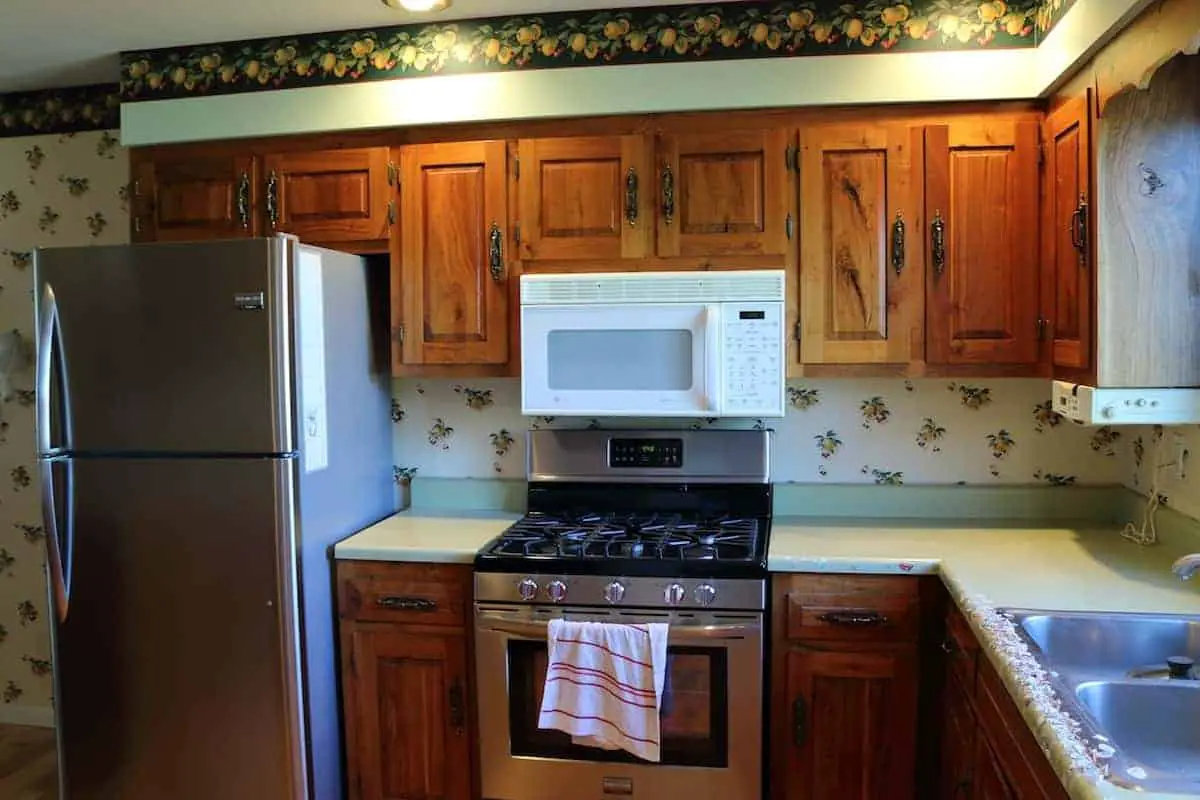 Yes, we have mismatched appliances. We'll replace the microwave and dishwasher eventually.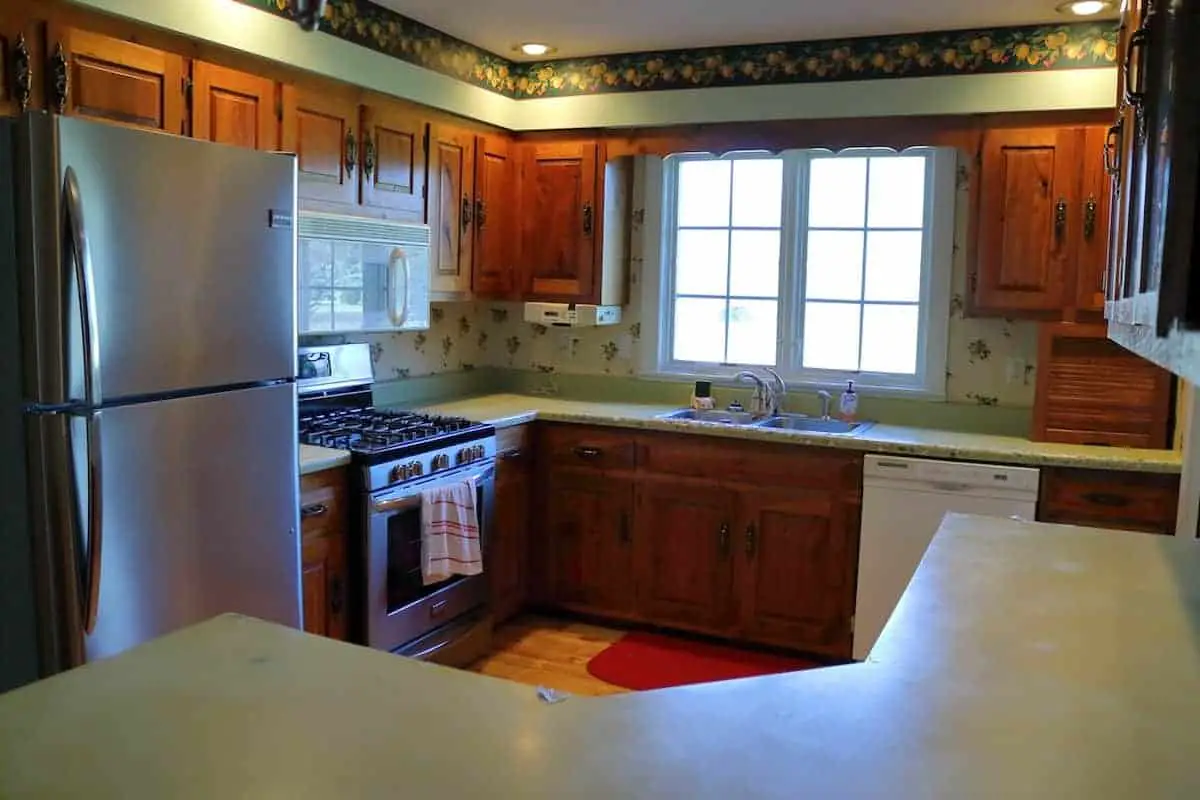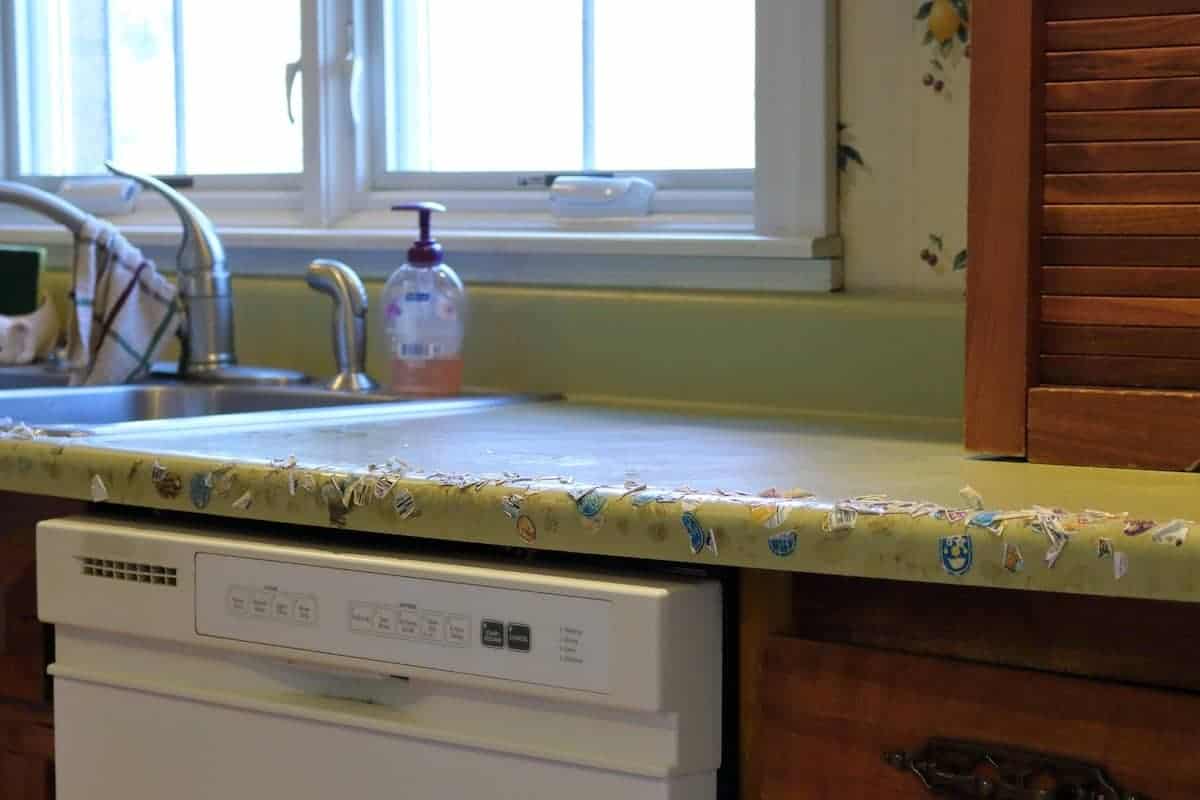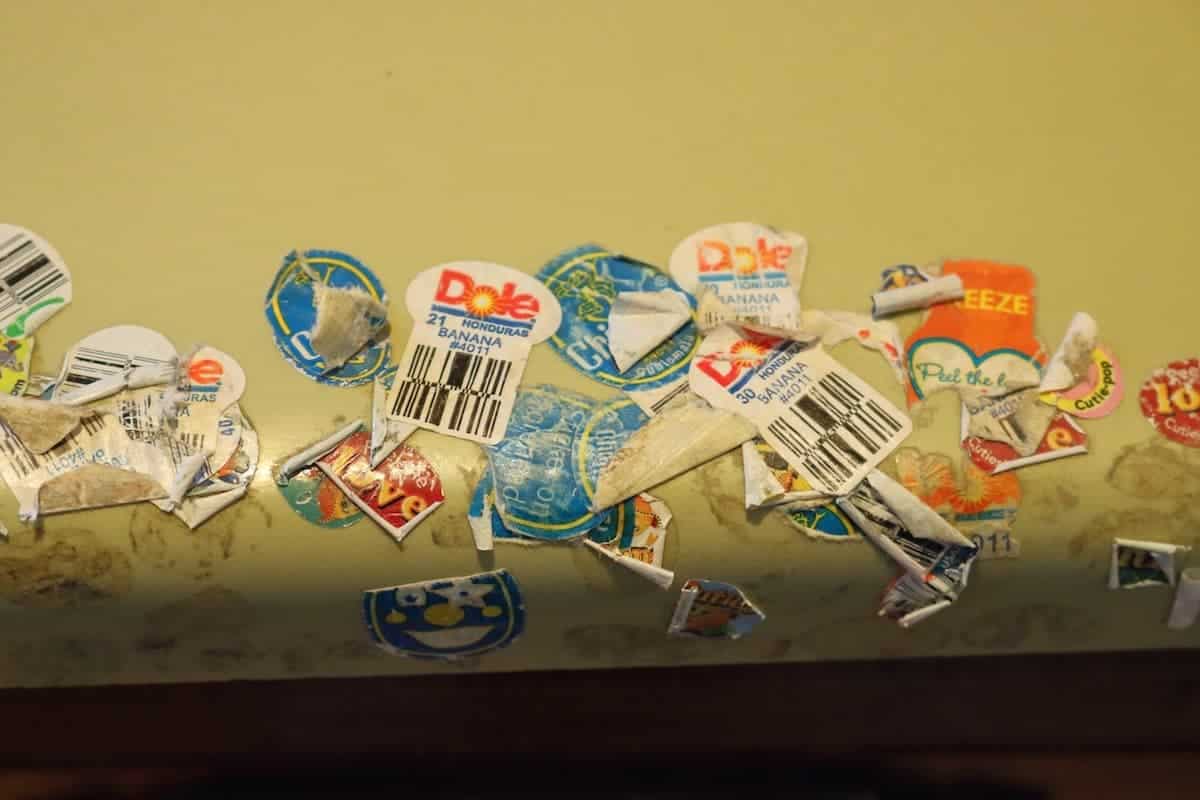 So, here's the story on the stickers. When our oldest was little, she wanted to keep the sticker from a piece of fruit. It was a cartoon or something cute. Since the counters were so ugly, we figured a sticker wouldn't hurt, and we would be replacing them soon. Putting the fruit sticker on the counter became a habit, and all three kids did it without even thinking about it. We never replaced the counters, and the collection grew.
Finally, here's what they don't show on the home improvement shows. Living in a construction zone certainly has its challenges. We cleared everything off the counters, cabinets and walls. The dining room became our kitchen for about three weeks. We ate a lot of peanut butter and jelly sandwiches. A lot.
UPDATE:
The new counters are in, and they are gorgeous! We chose a white quartz.