Every year there are new color trends. Trends for paint. Trends for decor. Trends for clothes. Colors are always evolving and changing and Pantone usually leads the way when it comes to influential design colors. This year, the Pantone color of the year 2021 is not just one, but two colors. Two colors that compliment each other and offer hope and optimism despite the impacts the pandemic has had on our lives.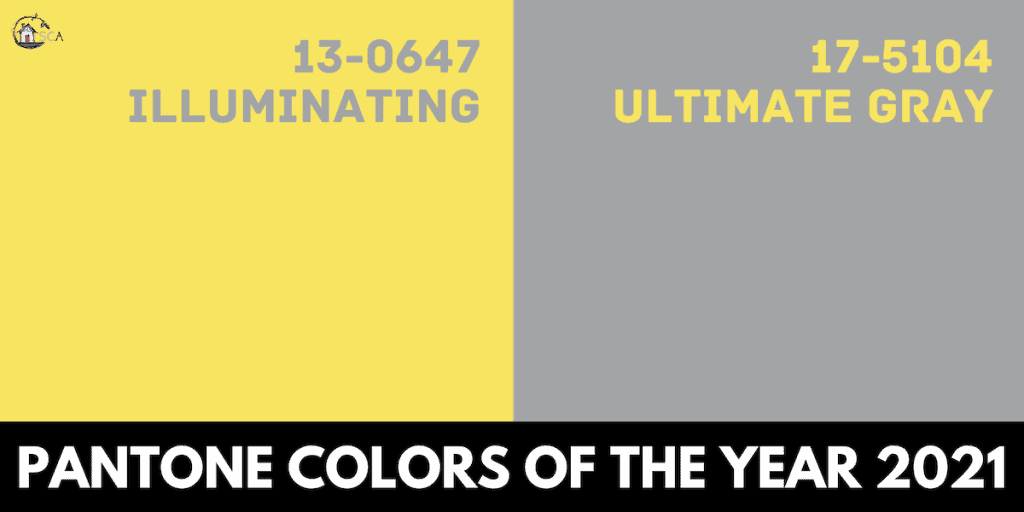 Now, that's all fine and good, but what exactly does the average person do with those colors? How do you implement them into your daily life? How do you use them to compliment your current decor?
Because quite frankly, looking at them on the screen here doesn't really excite me very much. But stay tuned, this color pair can add such a cool vibe to whatever it is you choose to do with them.
Before we get into some Pantone color of the year 2021 design inspiration, let's talk about why these colors made the cut this year.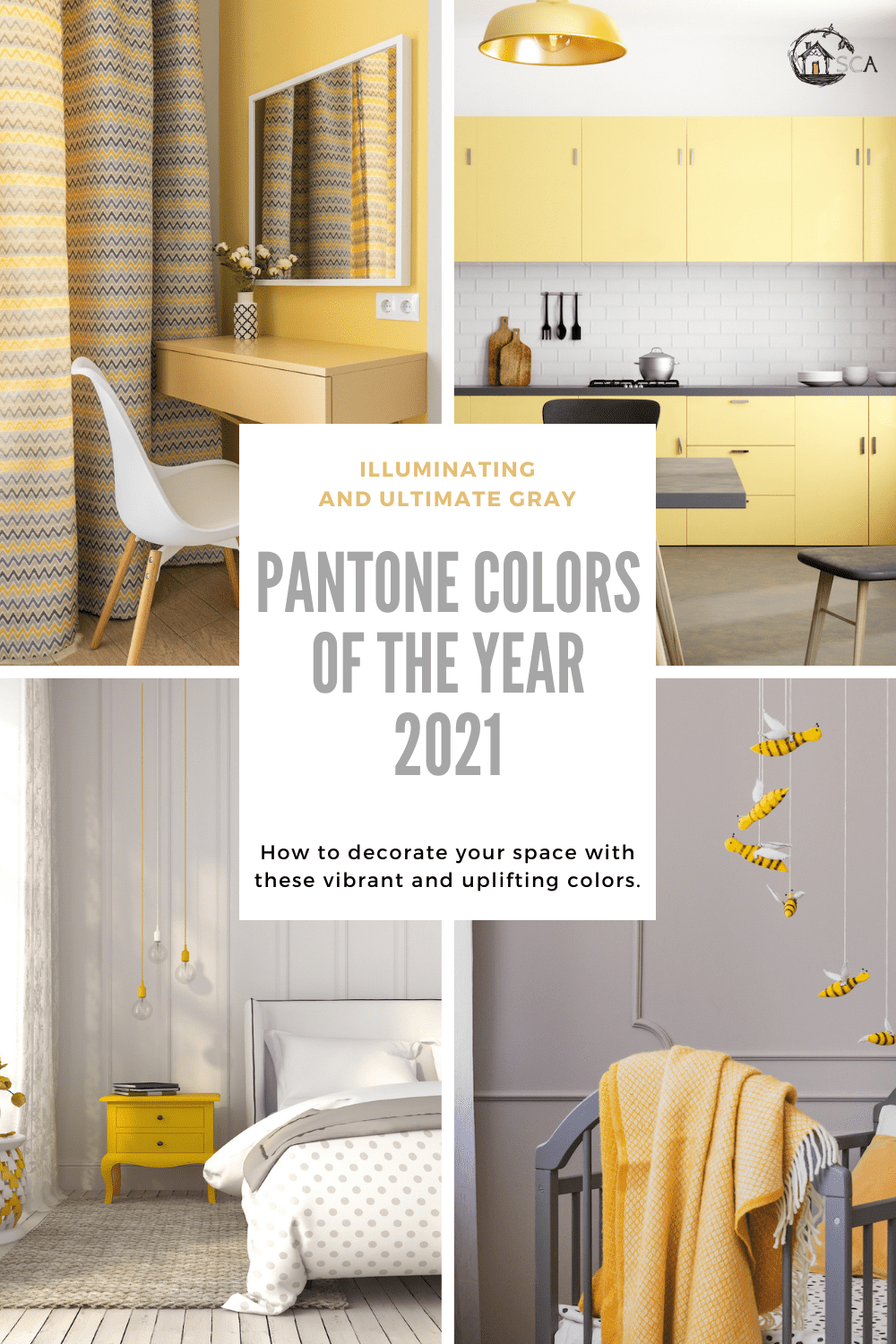 Pantone Color of the Year 2021
Pantone 17-5104 Ultimate Gray, on its own, is a practical color. Boring almost. Certainly not vibrant or a color you would pick out as noticeable. But paired with a fun, vibrant and optimistic color like Pantone 13-0647 Illuminating, you get an optimistic, warm feeling of strength and positivity.
The union of an enduring Ultimate Gray with the vibrant yellow Illuminating expresses a message of positivity supported by fortitude. Practical and rock solid but at the same time warming and optimistic, this is a color combination that gives us resilience and hope. We need to feel encouraged and uplifted; this is essential to the human spirit.

Leatrice Eiseman – Executive Director of the Pantone Color Institute
When I look at those colors, the really aren't colors that I would normally choose, but when you view them together, they really do embody a feeling of hopefulness, especially when you see them applied to real life. And there are so many great ways to implement these colors into your life.
Pantone Color of the Year 2021 Hex Codes
If you are a graphic or digital designer, you will want to know the hex codes for the Pantone Color of the Year 2021.
Pantone 17-5104 Ultimate Gray hex code: #939597
Pantone 13-0647 Illuminating hex code: #F5DF4D
One way to incorporate Pantone color of the year 2021 colors is with housewares like dishes, towels and other affordable, easily replaceable items.
Pantone sells mugs decorated with their color of the year colors, but you can also find plenty of houseware, decor and even fashion items that match the color palette.
The Pantone colors of the year 2021 are a great inspiration for a modern wardrobe. Understated yet making a bold statement at the same time. You might not be able to find the exact shades, but yellow and gray look great together. Run with it!
How to Use Pantone Color of the Year for Interior Design
In addition to house wares and fashion, you can also easily incorporate the Pantone color of the year 2021 colors into your life in a lot of different ways, from permanent items like cabinets and large furniture items, to basic decor such as pictures, throws and dishes.
If you are brave enough to do a full kitchen remodel inspired by the yellow and gray 2021 Pantone colors of the year, you can achieve a bold, modern look that is timeless.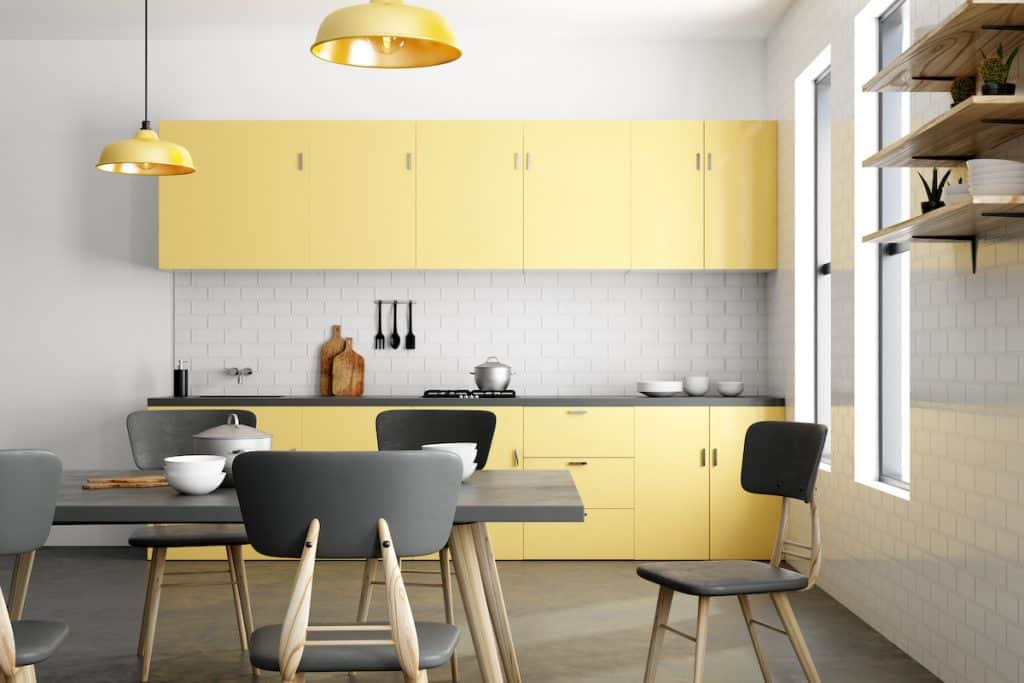 If you aren't quite so daring, a rug is a great option.
Expecting a baby? Illuminating and Ultimate Gray make a great combination to inspire a gender neutral nursery. What a fun, bold and modern way to welcome a baby into the world.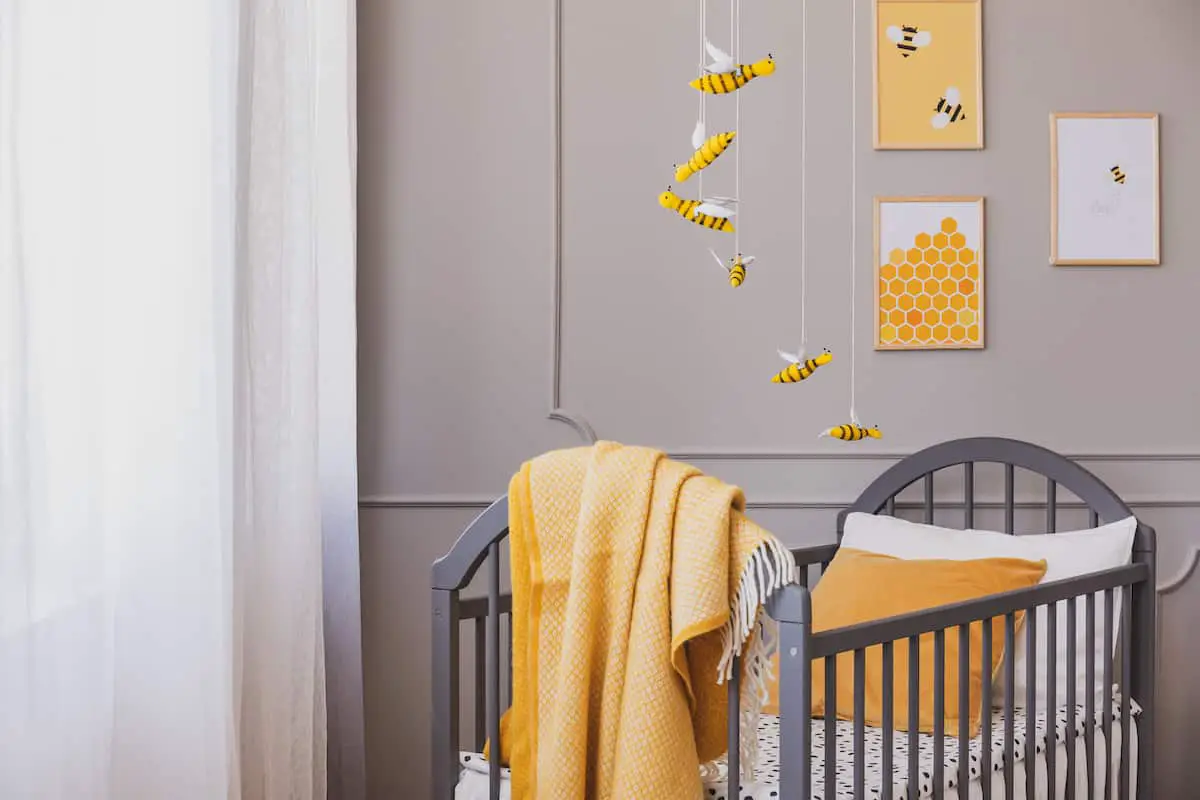 Throw pillows are a super easy way to modify your color scheme without commitment, especially because you can buy throw pillow covers that don't take up very much room when you store them away if you change them out for the seasons, or you moods.
Another great option is an accent wall paired with colorful housewares like window curtains or a shower curtain. Paint is simple and affordable, and curtains can be changed out easily as well.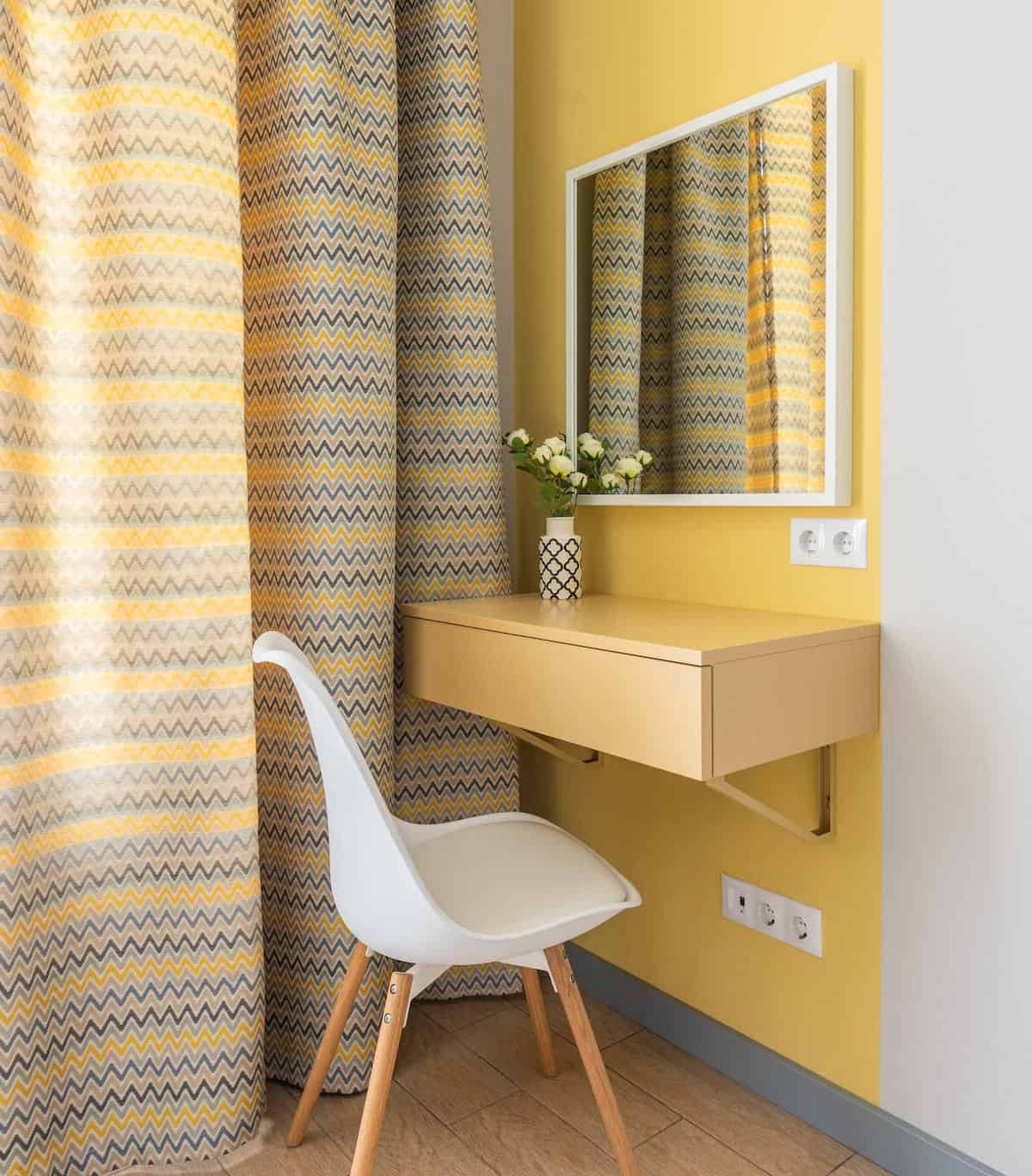 Bedding is a fantastic way to incorporate the Pantone color of the year 2021 in a non-permanent way into your home decor.
A semi-permanent way to bring Illuminating and Ultimate Gray into your home decor is with small furniture items and/or light fixtures. Just a touch of light yellow combined with shades of gray makes for a visually stunning and unique look and feel.
Who wouldn't want to spend time in this room?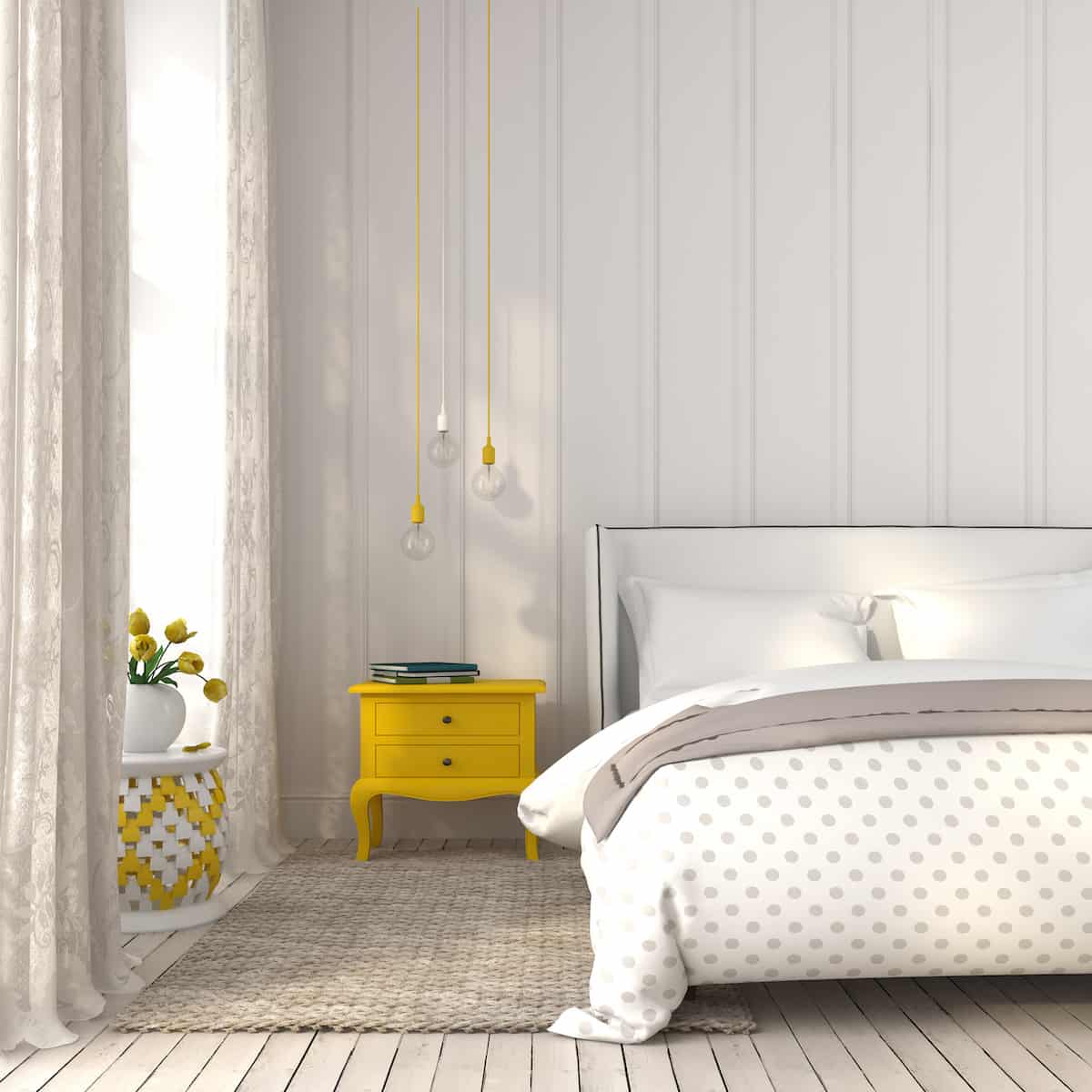 The Pantone color of the year 2021 is two colors, and while on the surface these colors aren't overly exciting on their own, they can be paired together to create bright, hopeful and inspiring looks and spaces.
If you are hesitant about incorporating Pantone's colors of the year into your space or your life, you can start small and see how you feel about how the colors before making a more permanent commitment.
Try adding one of these and see how it inspires you:
A vase of yellow flowers
A yellow accent towel
A poster or picture with yellows and grays
Disposable yellow napkins in a napkin holder
Yellow nail polish
A yellow tablecloth
Yellow and gray throw pillow covers
Yellow and gray placements
A small yellow door mat
A yellow bath rug
There really are an infinite number of ways that you can easily incorporate the Pantone color of the year 2021 (and in this case two colors) into your lifestyle simply, easily, and affordably. One small accent can make a huge impression.