Looking for an easy and budget-friendly way to remodel your bathroom into a peaceful oasis? With these seven home bathroom spa ideas, you can transform your space into a relaxing retreat without breaking the bank.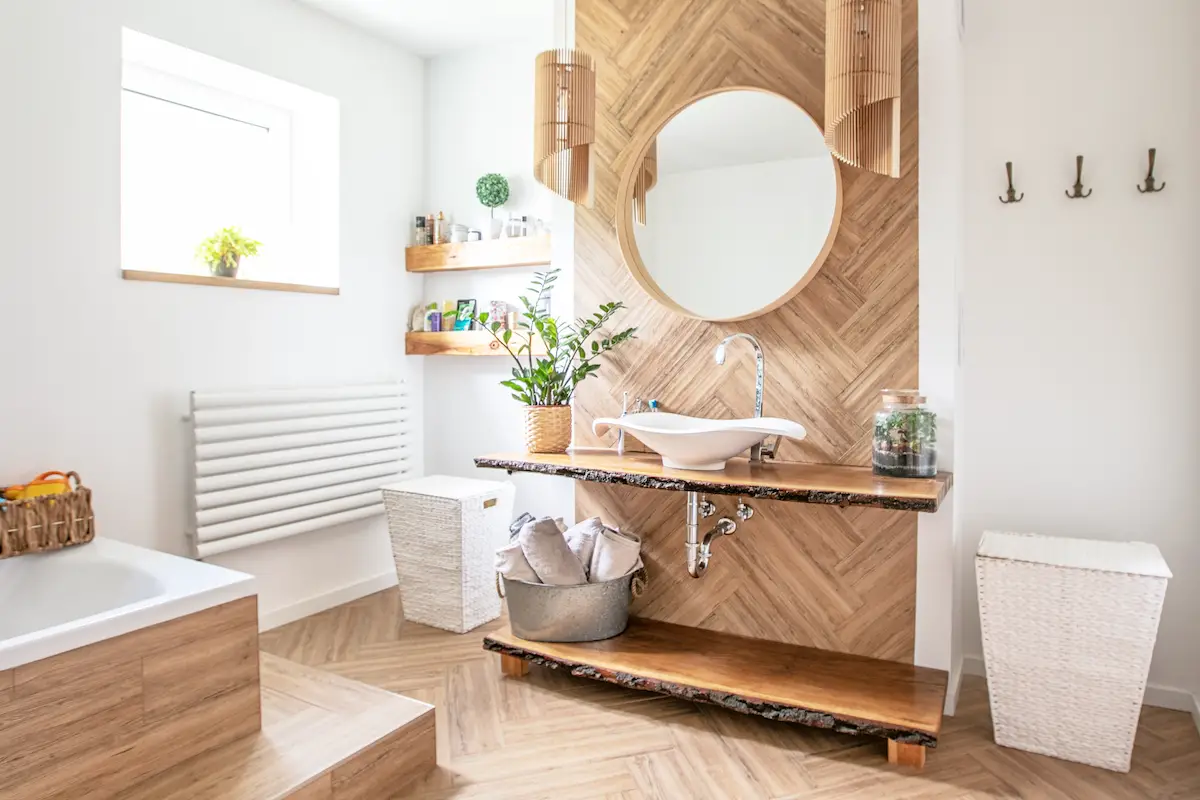 Home Bathroom Spa Ideas to Stretch Those Dollars
Remodeling a bathroom can be an exciting project, but it's also stressful, disruptive, and expensive. Like everything else over the last few years, the costs of remodeling have increased significantly. According to Angi.com, the national average for a bathroom remodel is $11,328. Ouch.
Meeting any budget is all about choices. In other words, save a little here so you can splurge there. If tile is important to you, then skimp on the vanity. Or, if your morning shower sets the mood for the day, direct as much of the budget as you can towards upgrading the shower.
Of course, DIY'ing is the tried and true way to stretch a small remodel budget. But there are ways to save money if you're working with a contractor as well. Good design and smart material choices are your friends.
Today I have some budget-friendly bathroom spa ideas to help you get more bang for your buck while creating a dreamy oasis.
Refresh with Paint
One of the most simple and cost-effective ways to upgrade your bathroom into a home spa is to refresh the paint colors. It's amazing what a difference a fresh coat of paint can make to a room. 
Choose mood-boosting colors from nature that will encourage relaxation. Here are three color palettes inspired by the beach, desert, and forest, that would be perfect for a bathroom spa.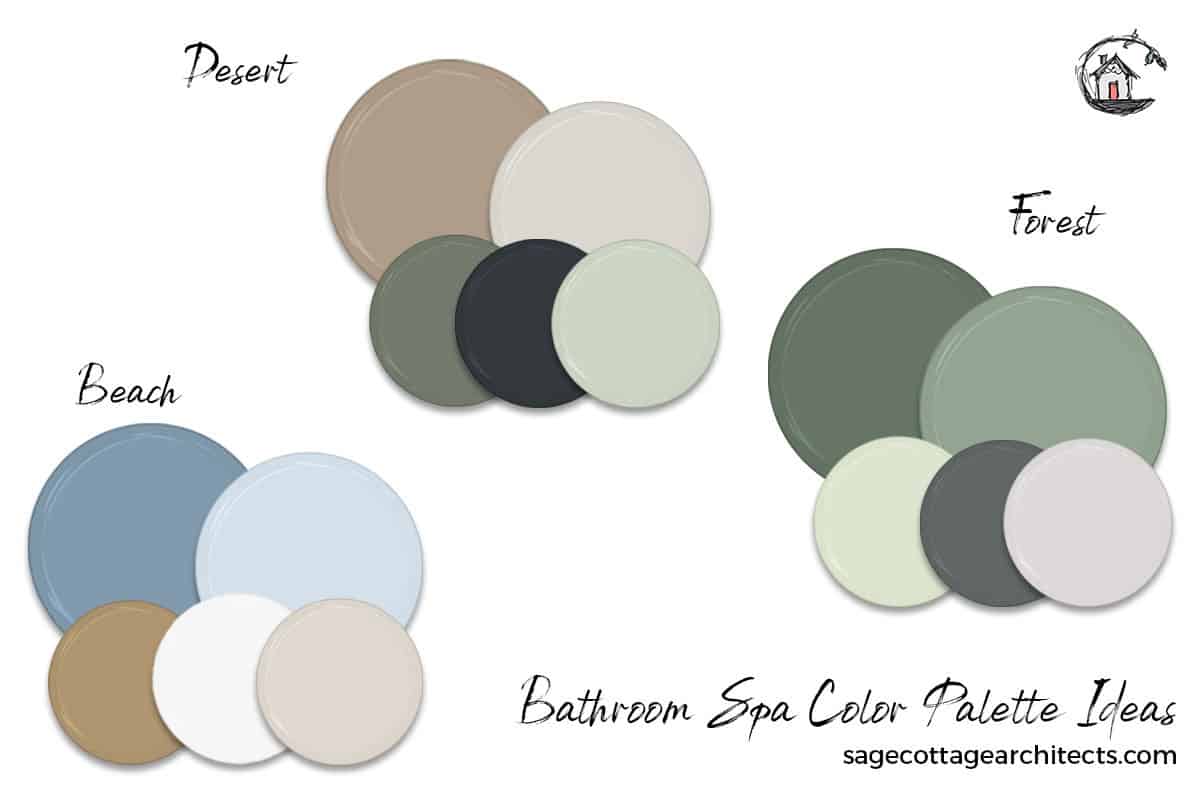 If the vanity is in good condition, but looking a little dated, consider painting it. Check out Kim's posts on painting cabinets – Kitchen Cabinet Makeover: From Orange to Amazing on a Budget and How to Easily Paint Kitchen Cabinets Like A Pro in 15 Steps for lots of helpful advice.
Add Tile
You can add a touch of luxury to your home spa bathroom by upgrading hard surfaces with tile. Whether you prefer sleek subway tiles, natural stone tiles, or funky ceramic tiles, you'll be able to find a range of options that fit your budget.
While we usually think of using tile in the shower or tub area, an accent wall behind the vanity is a great place to add it. It's a relatively easy way to up the spa vibe in your bathroom. Leave the shower (and its related waterproofing) to a professional installer, but a vanity accent wall is definitely a DIY-able project.
Here are my top tips for choosing tile for an accent wall without killing your budget.
Subway tile is always a great choice – there's a reason it's been around for so long. Standard white subway tile is the most economical choice, but there are tons of options if you have room in the budget.
Branch out from the standard 3″x6″ subway size. Many of the newer sizes, like 2″x9″ or 3″ x12″ don't cost much more than a standard size tile and can elevate the look of your space.
Zellige (a traditionally handcrafted tile from Morocco) is super popular right now and a great choice for a bathroom spa. While Zellige tile is more expensive than standard tile, it's definitely worth the splurge if you want an Instagram-worthy bathroom. 
Use a standard subway tile in an interesting pattern like herringbone or stacked. The vertical stack bond pattern, used in the photo above,  always looks great.
Shaped tiles, like arabesque, picket, or fish scale, are a great alternative to subway and can add a lot of character to your space.
Avoid small format tile like penny rounds or bars – they are more appropriate for the floor or kitchen backsplash.
Keep installation in mind when picking tile. Those intricate water-jet mosaic tiles are not only pricey, but they also need an experienced tile setter ($$$) to install them. They're definitely not a good DIY choice.
With almost endless options, tile is a great way to stretch your bathroom spa budget. 
Upgrade the Shower
You don't have to completely gut the shower in order to create a bathroom spa. Replacing the shower head is an easy upgrade that will give you a spa-like experience and not cost a lot.
Low water pressure can ruin your morning shower. So swap out your old shower head for a high pressure head that increases the water flow. You'll be surprised at how much of a difference these can make.
If the water pressure is fine, then check out some of the latest spa shower heads. Look for a model that offers multiple spray options and any extra convenience features you want, like Bluetooth speakers or LED lights. Rainfall, pulsating massage, and mixed mode showers are all popular choices and provide a luxurious shower experience.
If the shower is in good shape, but the colors are just not giving you the spa vibe, then paint it. Yes, it really does work! I painted our 1970s-era yellow fiberglass tub almost six years ago, and it still looks great. And it was way cheaper than replacing it!
I used Rustoleum's Tub & Tile Refinishing Kit, but this post – 8 DIY Bathtub Refinishing Kits for a Beautiful Bathroom on a Budget has some alternatives to check out.
Add a New Mirror
Another option is to replace the bathroom mirror with something stylish. Adding an LED mirror will make you feel like you're staying in a luxury hotel.
Look for a mirror that is not only dimmable but has the ability to adjust the color of the light. Tuning the light to a warmer temperature (3000K or lower) will give you that cozy, candlelit atmosphere. An anti-fog function on the mirror is also a must-have.
Add More Lighting
Next on the list of bathroom spa ideas, is investing in new lighting fixtures. This can be one of the most cost-effective ways to elevate your home spa bathroom. Use accent lighting to create a soft glow that feels relaxing and cozy.
Add a pair of sconces on either side of the mirror or hang a chandelier in the middle of the room. Look for fixtures that are specifically rated for use in the bathroom. And be sure to put all the lights on dimmers so you have ultimate control of your spa lighting.
If you don't have money in the budget for new lighting fixtures, try replacing the existing light bulbs with dimmable Wi-Fi/Bluetooth LED bulbs. Not only can you control the brightness of these bulbs, but they have 16 million available colors and can be controlled by your phone, Alexa, or Google device. How cool is that?
Replace the Vanity
Replacing the vanity cabinet, sink, and faucet is another effective way to transform your bathroom into a spa-like retreat.
Vanity
There are plenty of affordable vanity cabinet options available online or at local home stores to fit every budget. Look for simple door and drawer fronts (either slab or Shaker), and add simple pulls or knobs.
Natural wood tones are always a good choice, but a painted vanity in spa-like colors is always an attractive option.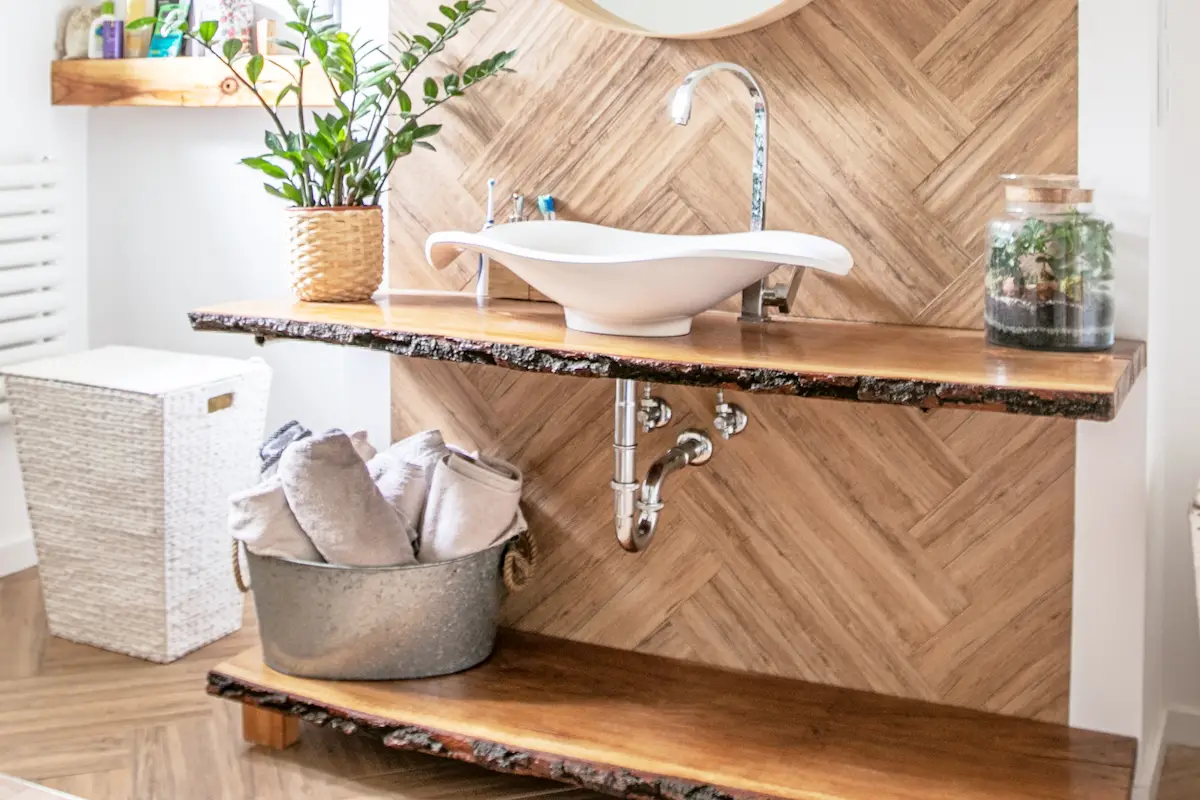 A vanity cabinet is not the only choice for your new bathroom. A vessel sink on top of a floating shelf, like in the photo above, will definitely up the spa vibe. Bonus points for being budget-friendly and very DIY-able.
For a spa bathroom, the floating shelf vanity will need to be a bit different than in the video. A finished edge vanity should be nice and hefty; say 2″ – 3″ thick, like this floating shelf.
Alternately, a live edge vanity will only be the thickness of the planks, so 1″ – 2″. Since every bathroom could use more storage, add a second shelf underneath for baskets and towels. 
Vanity Countertop
There are a couple of options to stretch the budget for the vanity cabinet countertop. The easiest way is to buy a vanity that includes a countertop. Big box stores and Amazon have lots of budget-level vanities like this.
If you need a separate countertop, talk to your local countertop installer, fabricator, or slab yard. They often have remnants from other jobs that are perfect for a vanity countertop. Maybe you'll get lucky and find a nice slab of Calacatta marble countertop at a bargain basement price. 
Sinks
It seems like people either love or hate a vessel sink. If you hate them, then just jump on down to the next section. No hard feelings. ;>
To me, vessel sinks are very spa-y. They come in a wide variety of sizes, shapes, materials, colors, and prices. The most economical choice will be a white ceramic bowl in a simple oval or rectangle shape.
To save money, choose a deck mounted faucet rather than a wall mounted unit. While the material price is relatively close, the labor to have the wall mounted faucet installed will cost more. 
Replace the Flooring
My last home bathroom spa idea is to use Luxury Vinyl Tile (LVT) for the flooring. It's a great way to stretch the budget and it's perfect for use in the bathroom. I used it in our bathroom remodel and still love it. 
Stone look tiles are great for a spa bathroom, but a wooden plank look is a good choice as well. To keep the soothing spa vibe, stick with "quiet" floors – ones that are not visually busy and don't have a lot of variation in the colors and patterns.  
And, that wraps up my post. Whew! If you're still here, I hope you found these home bathroom spa ideas helpful!
Don't forget to pin this for later.