Before our recent bathroom remodel, I really had not paid too much attention to luxury vinyl tile flooring. I had selected a beautiful stone-like porcelain paver for the floor, and did not really look at any other flooring options. But, when the remodel turned into a DIY, I needed to explore other materials.
I started with some "online sourcing" (aka Pinterest) and began to see images and links to luxury vinyl tile (LVT). Once I went to the flooring store and saw all the design options that are available, I realized I must have been living under a rock for the last few years. I thought, "What is LVT? And how have I totally missed the bus on this stuff?!"
 What Are LVT Floors?
Luxury vinyl tile is a waterproof, scratch and stain repellent, resilient flooring. It is made from multiple layers of vinyl, and as the name implies, is an individual tile that comes in a variety of sizes. Tiles mimic the look of stone, wood, and other materials, such as distressed concrete.
LVT is about 1/8″ thick, and is typically glued to the subfloor (or an underlayment) with an adhesive. Tiles can be installed to look like a traditional tile floor with grout lines, or they can be installed butted up against each other.
Luxury vinyl plank (LVP) is a similar product, but it looks like wood floor planks instead of a rectangular tile. Planks are usually 4.5″ – 6″ wide and 48″ long. Due to its waterproof properties, LVT and LVP are both great options for places like a basement, bathroom or kitchen.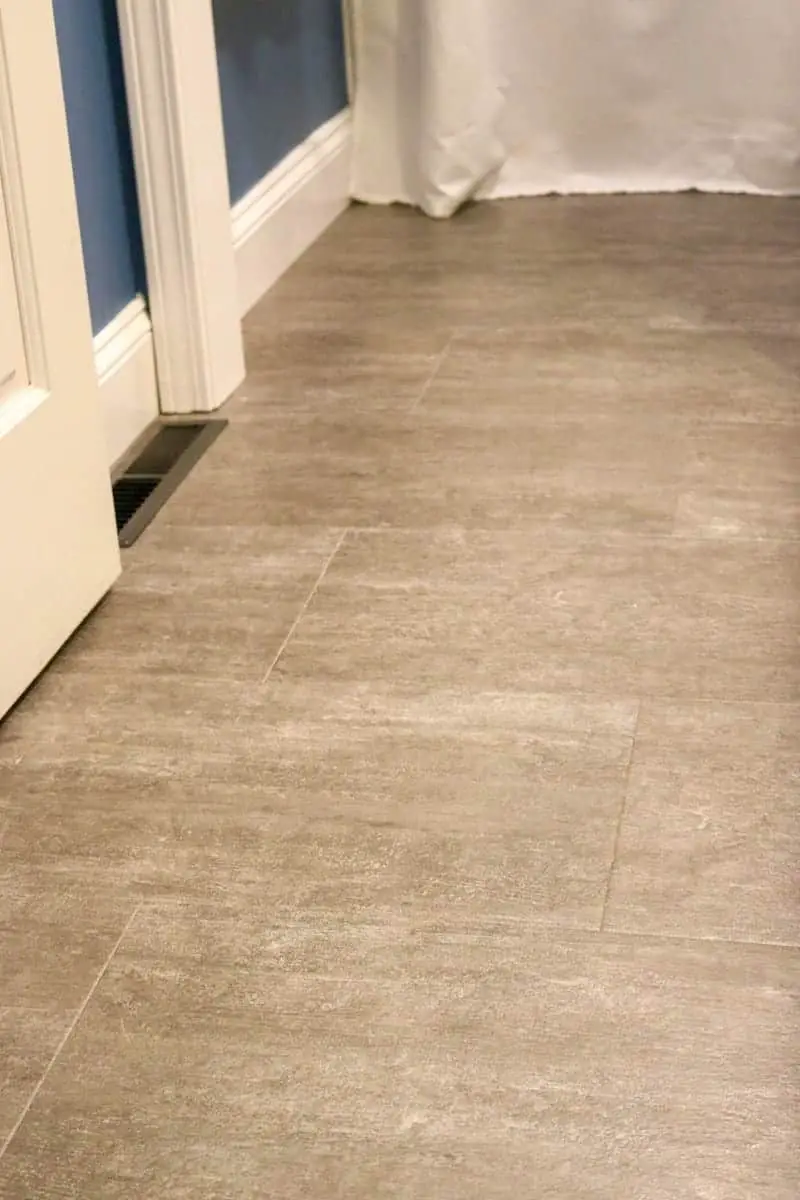 Benefits of Using Luxury Vinyl Tile
Comfort is the biggest benefit I see from choosing luxury vinyl tile flooring for our bathroom. Ceramic tile floors are cold and hard on your knees and feet. We once stayed in a vacation rental that had a raised wood grain ceramic tile floor in a bathroom. It was painful to walk barefoot on it. With an LVT floor, the floor has a bit of cushion to it, so it's really comfortable to walk on. And, because of the material, it's not cold.
Cost is probably the next big benefit of LVT. Installing a ceramic or porcelain tile floor can average $15-20 per square foot. An LVT floor will cost $7-10 installed. If you go the DIY route, the price can drop as low as $2 per square foot, depending on your selection.
Unlike some other flooring options, LVT flooring can be a DIY project. We hired a professional installer to do the bathroom, but after watching them, I saw how easy it was to install. And, they were able to complete the job in one morning. In fact, they spent most of their time waiting for the leveling coat to dry. (The leveling coat filled in the old linoleum floor's fake grout lines.) The actual laying of the tile only took about 90 minutes. Putting a ceramic tile floor in would have taken at least two days.
Luxury vinyl tile is durable and easy to maintain. So far, I haven't seen any scratches or gouges, and it just takes a quick mopping to clean it up.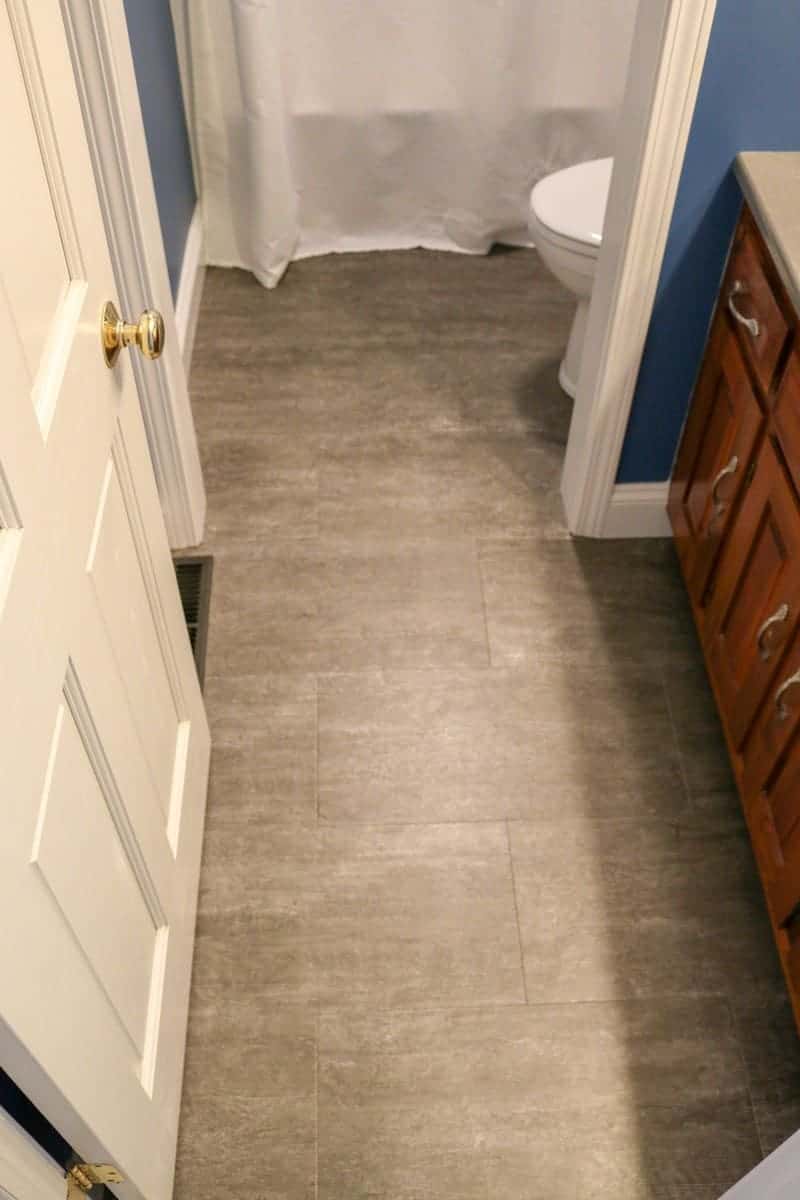 Our Luxury Vinyl Tile Choice
But first, here's the "Before" picture. Hello, 1977! You can read all about our 1970's bathroom here.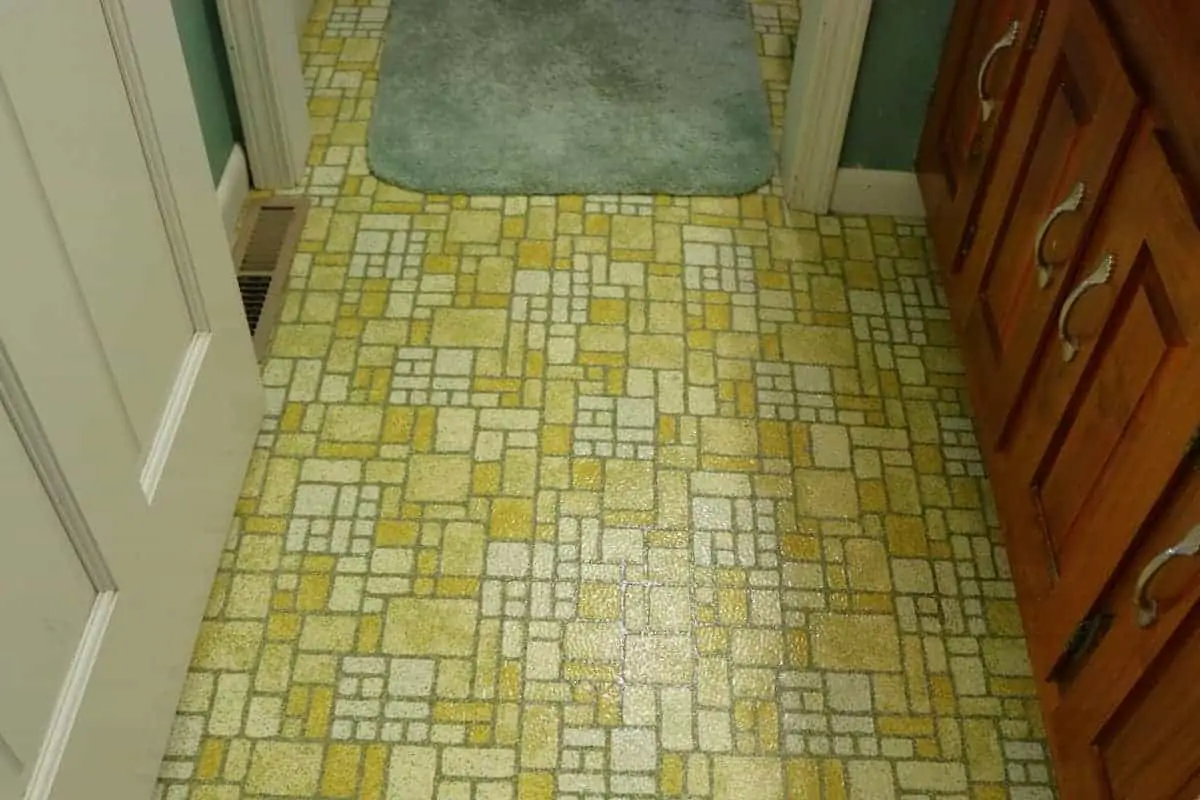 There were so many LVT choices that I really had a hard time narrowing down a selection. I was like a kid in a candy store. I wanted to look at all the colors, sizes, and styles of tile, and consider all the possibilities and patterns we could make with the different sizes.
Well, all the styles except the ones that looked like wood flooring. We already have light colored maple hardwood floors, so I didn't want to introduce another wood, or try to match our existing floors. As I said earlier, I had originally picked out a porcelain paver that looked like stone. I wanted to stay with the look of stone, and that would be different from the rest of the house.
We eventually chose Armstrong Flooring's Alterna Enchanted Forrest –  Night Owl, in a 12″x24″ tile. Since the bathroom is pretty small, about 5'x10′, we wanted the floor to look like a continuous surface. So, rather than breaking it up with grout lines, we chose to butt the tile against each other.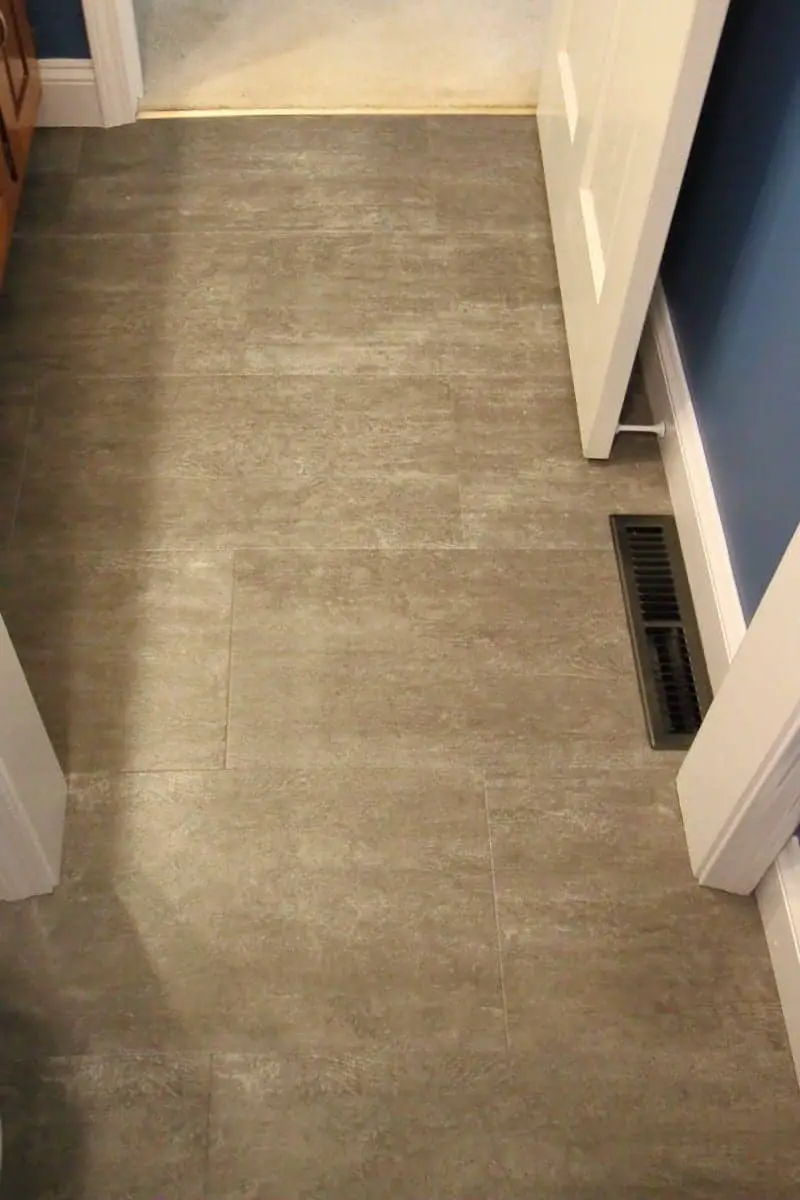 I really like that the flooring is oversized and looks kind of like wood, but not really. More wood-ish. I think it gives the bathroom a beach feel, without being too beachy. If that makes any sense at all.
Armstrong Alterna Enchanted Forest – Night Owl
Here's a closeup look at the LVT flooring, and I want to point out a couple of things. First, you can see how thin the tile is, which makes it great for remodeling. Second, you can see the texture of the tile surface. It's very slight – not enough that it's hard to clean, but enough to give it some depth. I think the texture looks a bit like linen, too. Finally, the picture of tile below was shot in a room with lots of windows, on an overcast day. The tile is the exact same tile as in all the pictures above. The bathroom lighting is incandescent bulbs with frosted covers, and the room does have a yellowish tinge. Still, that's a pretty big difference in color. So be sure to get a sample and look at in the space you are going to use it. Lighting will make a huge difference in how the tile looks.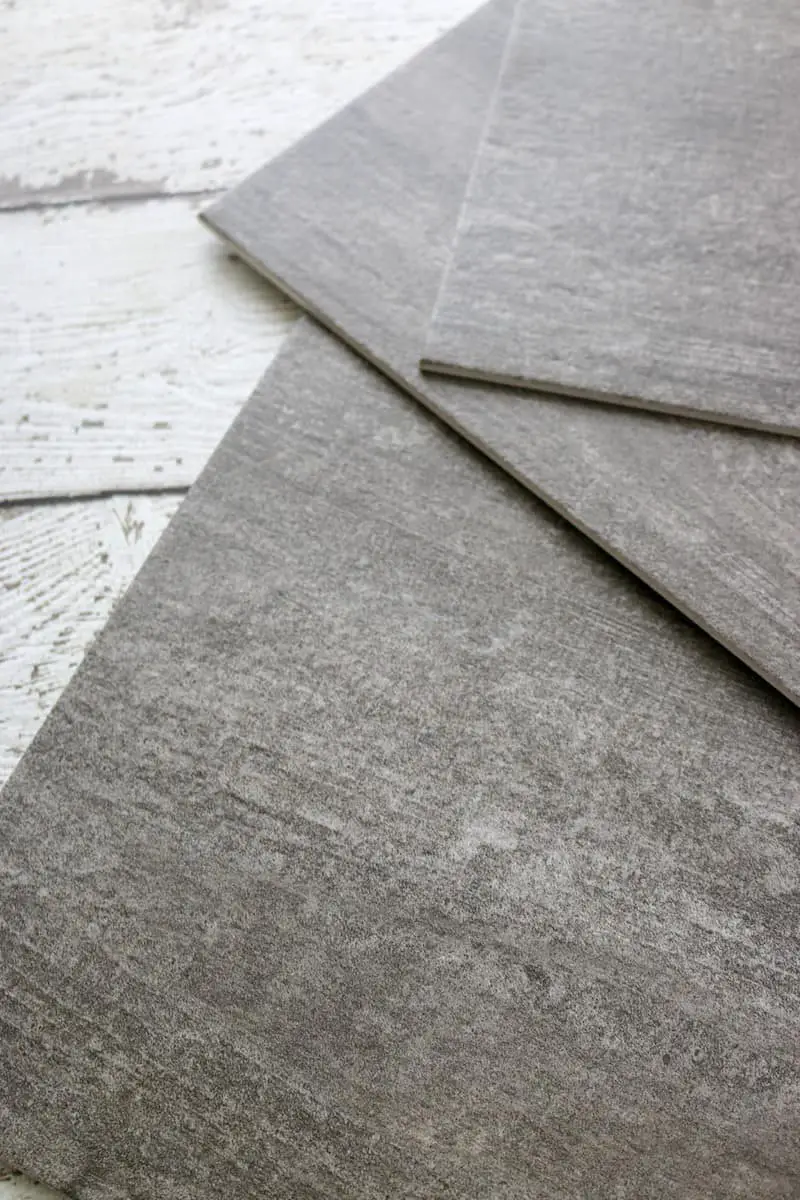 Designing with Luxury Vinyl Tile
I'll be focusing on Armstrong Flooring's products in this section. Most of the Armstrong tiles come in a couple different sizes, including 8″x16″, 12″x24″, and 16″x16″. And, if that isn't enough choices, they have a few styles that are available as "Mixed Size Kit", like the image below. Three different sized tiles are included in one box: 8″x8″, 8″x16, and 16″x16″. You can then make patterns to your heart's delight, or you could even mix in another color.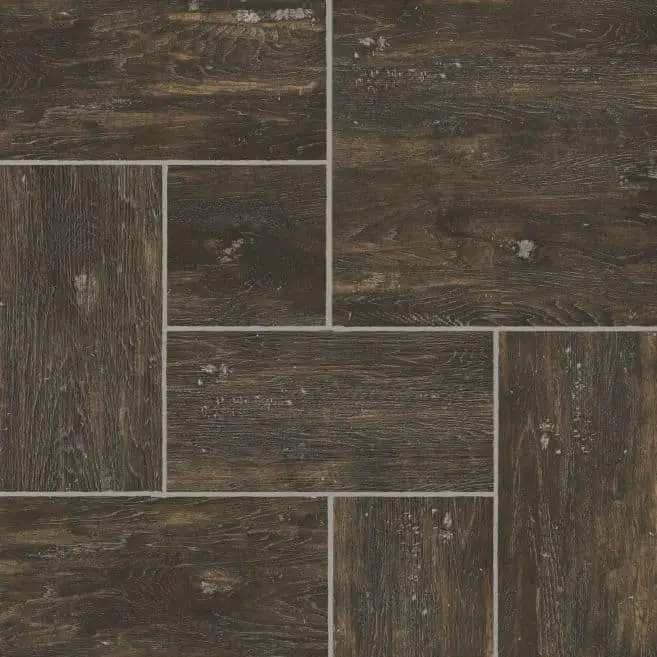 Although I'm really happy with our choice, I thought I'd share a couple of Armstrong tiles that were strong contenders. Regency Essence – Hint of Gray looks like a faded encaustic cement tile floor. I really like that there is a pattern there, but that it's very subtle.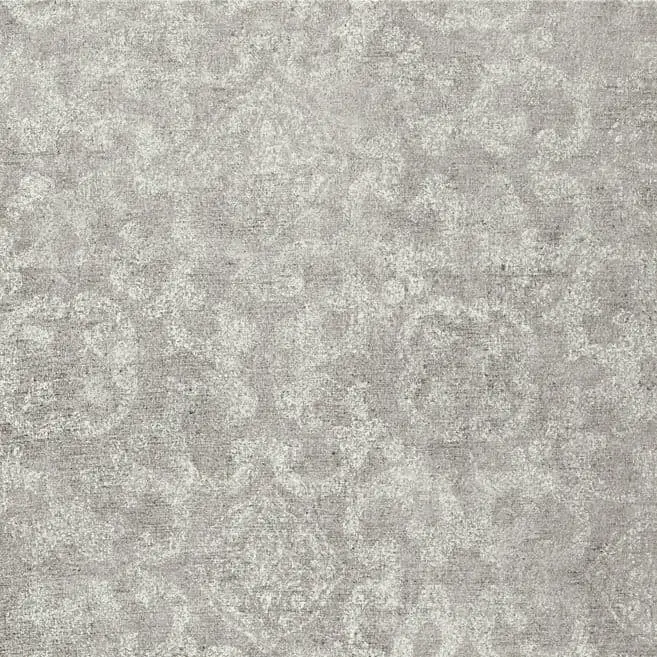 Whispered Essence – Hint of Gray is a very similar shade, but has more of a linen look.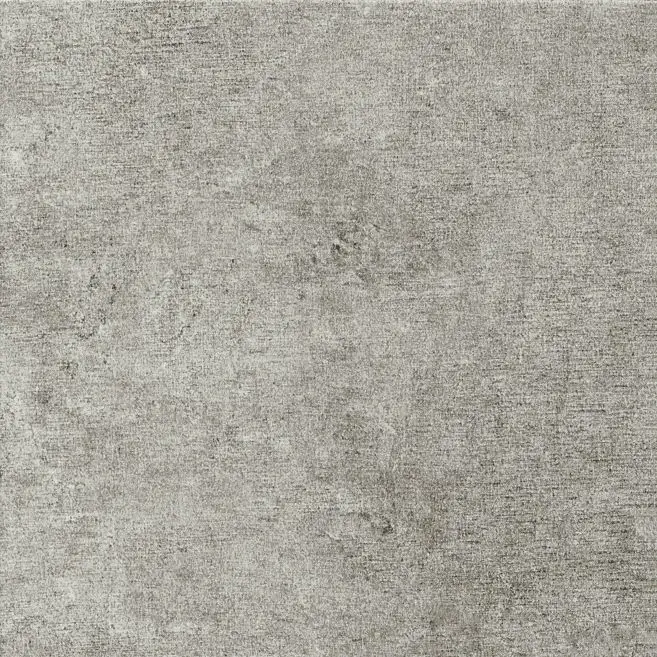 I especially liked the combination of Regency Essence and Whispered Essence shown below. Our bathroom was just too small to pull this off.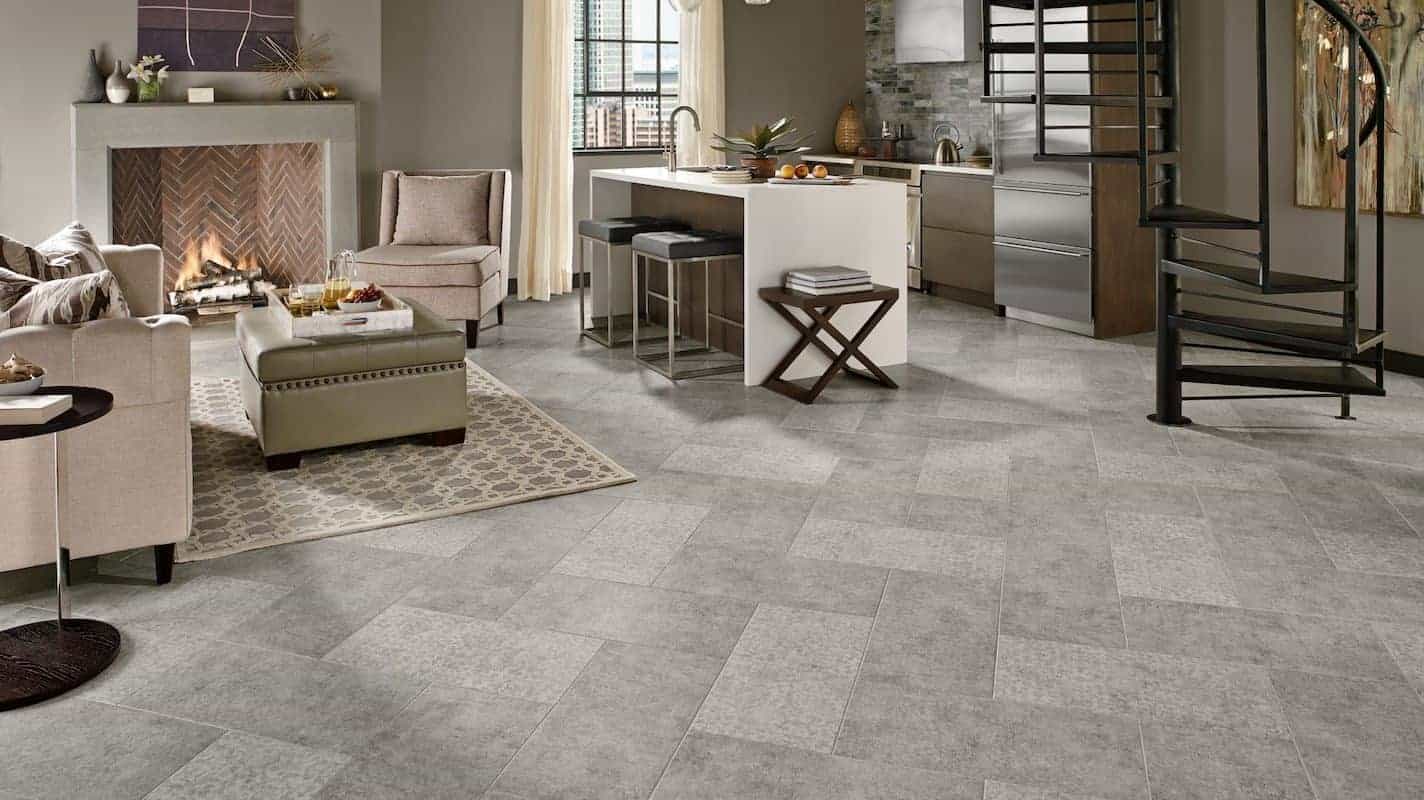 Finally, you can even use LVT to cover an entire wall or create an accent wall. Just don't put it in a shower or around a fireplace since it's not designed for those kinds of exposures. A word of caution though – because LVT is adhered to the wall, removing it will not be easy. So pick a tile that you really love and be prepared to live with it for a long time.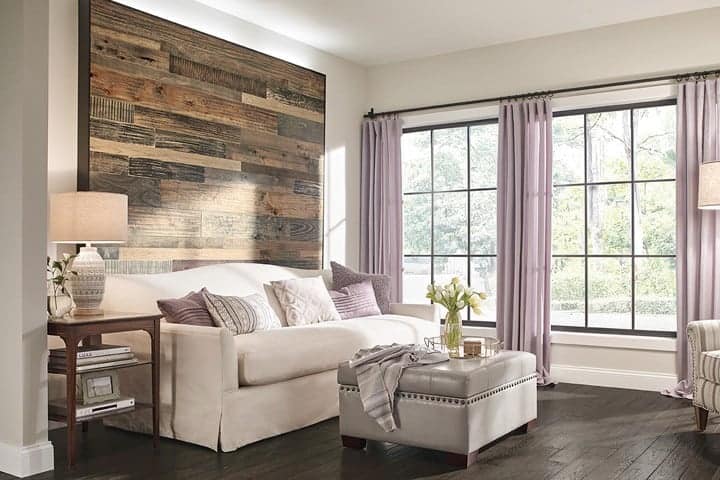 As you can tell, I'm a pretty big fan of luxury vinyl tile flooring. The design options, comfort factor, easy installation, and price make it a really attractive choice for use in a home.
Pin this for later!