Refinish your old bathroom for around $150, a fraction of the cost of a new tub with one of these DIY bathtub refinishing kits.
When it comes to an affordable bathroom remodel, you have some options to refresh your space without spending a lot of money. Even if you decide to replace a sink or toilet, replacing a bathtub is not only a big expense, it's a big headache as well. Or, maybe you have a glorious vintage clawfoot tub that you don't want to part with but the finish has seen better days.
There are products available that can make your tub look brand new and they don't cost anywhere near the price of a new bathtub. And while these bathtub refinishing kits do require some DIY effort, it's not nearly as disruptive to your home as replacing a tub or shower.
I haven't personally refinished a tub yet, although we have a shower we are going to refinish soon. But Lori has experience with the Rust-oleum Tub and Tile Kit for her DIY bathtub refinishing project. It worked out amazing for her harvest gold bathtub remodel and cost her around $150 to complete. A fraction of the cost of replacing the tub.
Check out the before picture and head over to the article to see the after (link is in the paragraph above).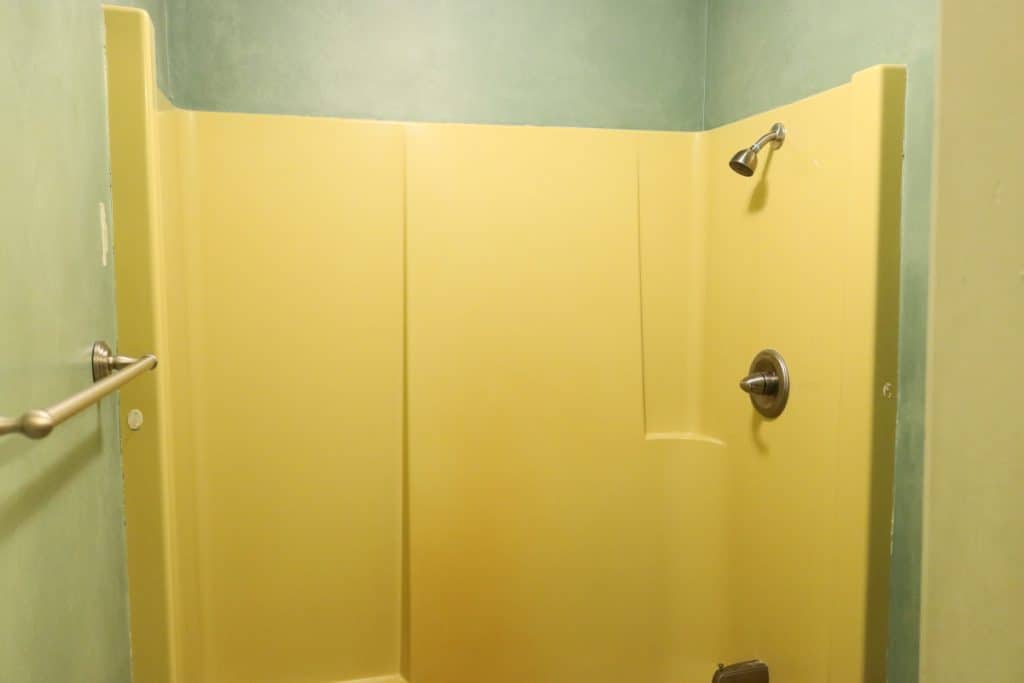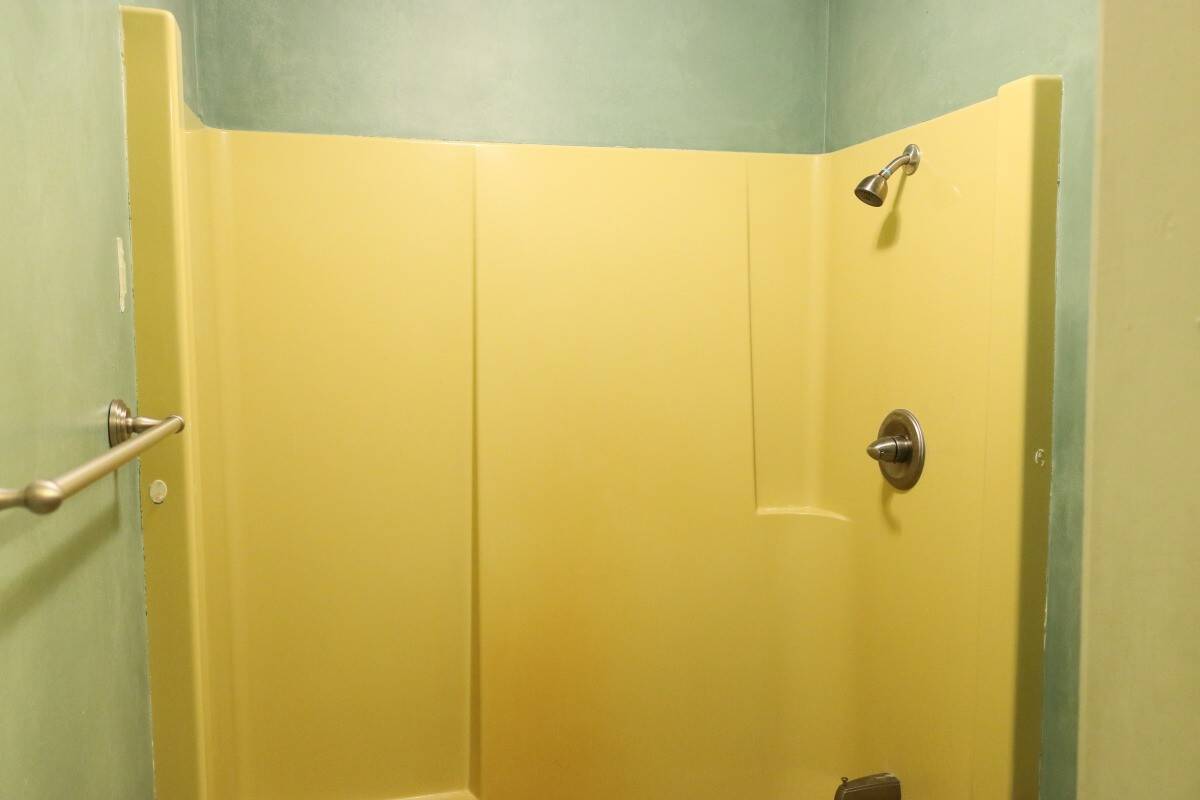 But there are other kits and brands available depending on your budget and project needs. 
Make sure that you fully understand how much surface area each kit covers so you order enough (some kits are smaller and will require you to purchase more than one to complete your project). Also, make sure to verify the color is what you want. If your toilet is beige, you probably don't want a white tub. For example, the Rust-oleum kit comes in white, biscuit and almond so make sure you choose the right color.
In addition to checking for coverage and color, make sure you thoroughly read all the reviews. The only kit we only have experience with is the Rust-oleum, so these aren't recommendations so much as they are meant to save you some time searching.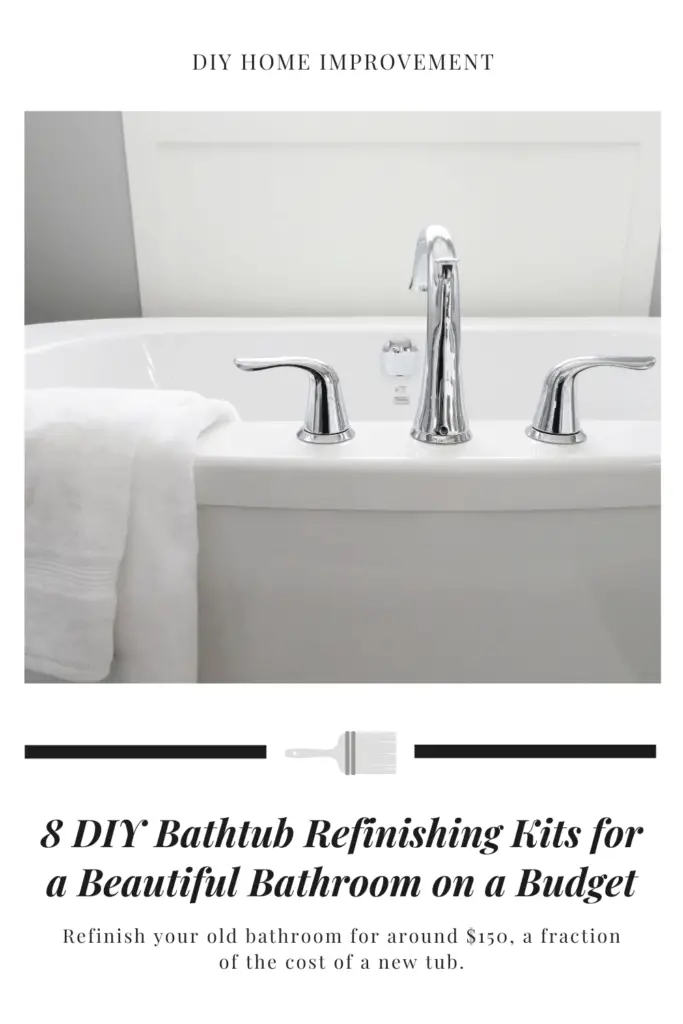 8 Bathtub Refinishing Kits from Amazon
1. Rust-oleum Tub & Tile Refinishing Kits
Of course, the easiest thing to do is to just stick with the Rust-oleum Tub and Tile 2-Part Kit because you can see how good the results are in Lori's post.
The Rust-oleum kit is from a trusted brand, is affordable and has thousand of good reviews on Amazon.
But, if you are looking to see what other options are out there, I pulled together 7 additional bathtub refinishing kits from Amazon for you to take a look at below.
2. ArmoGlaze Bathtub Refinishing Kit
This ArmoGlaze kit appears more costly than many of the other kits, but it claims to be a thicker finish, and there fore more durable.
This bathtub refinishing kit is Made in the USA and it claims to be odorless and non-toxic. You will have to wait a bit longer (probably) for shipping as it comes directly from the manufacturer, not through Amazon Prime.
ArmoGlaze can be used to refurbish cast iron, porcelain, plastic, terrazzo, ceramic tiles, and concrete. It cannot be used on stainless steel.
3. Magic Tub and Tile Refinishing Kits
The Magic Tub and Tile refinishing kits covers 75-100 S.F. and is enough for one large tub or two standard sized tubs. This may be enough for a tub and shower surround, but you will want to double check with the instructions to be sure.
It is a two-part epoxy and works on ceramic, porcelain, acrylic, and fiberglass surfaces.
4. Homax Tough as Tile Kit
The Homax Tough as Tile refinishing kit is a brush applied kit. One kit is said to cover one standard sized tub or two sinks. It can be used on fiberglass, porcelain, glazed ceramic tile, countertop laminate, china and acrylic surfaces.
The Homax kit includes one part Tough as Tile brush on paint, steel wool, prep cleaner, gloves and paint brush.
5. Ekopel 2K Bathtub Refinishing Kit
This tub refinishing kit from Ekopel is one of the more expensive kits but it is low VOC, eco-friendly and claims to never peel. The description says it will last up to 20 years! There are some concerns in the reviews that the application isn't as simple as some of the others.
6. AquaFinish 32 oz Bathtub and Tile Refinishing Kit
This AquaFinish bathtub refinishing kit is hit or miss as far as reviews go, and isn't available for Amazon Prime. But there are some user-submitted photos and some people did seem to have good luck with it. It goes on with a roller and only comes in white. The kit appears to contain enough for a standard tub so if you have walls to cover, you may need a second kit.
7. Bathworks DIY Bathtub & Tile Refinishing Kit
This refinishing kit from Bathworks is not available through Amazon Prime nor does it come with free shipping, but it has some seemingly positive reviews and some nice photos of user-submitted finished products. So it might be worth taking a look at.
One Bathworks kit covers a standard bathtub. If you need to refinish the walls as well you will need at least two kits.
8. RTG Shower & Tub Refinishing Paint
This RTG Supply Company tub refinishing product is made for acrylic, fiberglass and enamel surfaces. It is available through Amazon Prime and has free returns which is a nice bonus in case the product doesn't live up to your expectations.
The reviews are pretty good for this kit, and there are some user submitted photos in the review section as well.
When it comes to choosing one of these bathtub refinishing kits, you have to choose carefully based upon your project requirements, budget and ease of application vs. your level of DIY skill.
You will also want to pay attention to the following:
Available colors
Application type (paint type seem to get better reviews than spray-on type)
Skill level required
Non-toxic
How many bathtub refinishing kits of the brand you choose that you need to complete your project
Verify that your chosen kit will work on your specific tub material
Have you refinished a bathtub or are you thinking about doing it? We'd love to hear from you about your experience!