You're probably used to seeing terrazzo floors in public spaces, like hospitals, schools, malls, airports or banks. But it's also great for residential construction.
In it's simplest form, it provides a clean, continuous surface that is perfect for today's open floor plan homes. At the opposite end, it can be used to create intricate designs with different patterns and multiple colors. Its use is virtually unlimited.
Terrazzo Floors
According to Pinterest, terrazzo flooring is a top trend of 2018, and Southern Living says it's making a comeback. And, there's good reason. Terrazzo is a high end, luxury material that is so durable it can last decades. It's waterproof, requires little maintenance, and unlike tile, has no grout lines.
Terrzazzo's true beauty is in the unlimited design options. Klein and Co's site shows almost one hundred aggregates that can be used (hover over the image and see a sample of the terrazzo). Mixing different aggregates can create infinite palettes. Floors can also be created with intricate designs of different terrazzo mixtures, or with metal strips.
What are Terrazzo Floors?
Terrazzo is a poured-in-place topping that is placed over a concrete subfloor. The topping is either a cement or epoxy based product, and includes marble, quartz, granite or glass chips in the mix. Mother of Pearl, plastics, mirrors, and zinc shavings are some other options that can also be added. Small metal strips of zinc, brass of aluminum are installed to control cracking, create patterns or where two different colors meet.
When the terrazzo is poured onto the subfloor, it has a dull, bumpy top surface. Once the topping has cured, a grinder smooths and polishes the top surface. This gives terrazzo it's distinctive high gloss look of small sliced stones. Finally, a sealer is applied.
Design Inspiration: Terrazzo Floors
This Houzz Ideabook includes fifteen terrazzo floors that are worth a closer look.

Did you see anything inspirational? Are you now yearning for terrazzo floors? I hope so!
Pin this for later!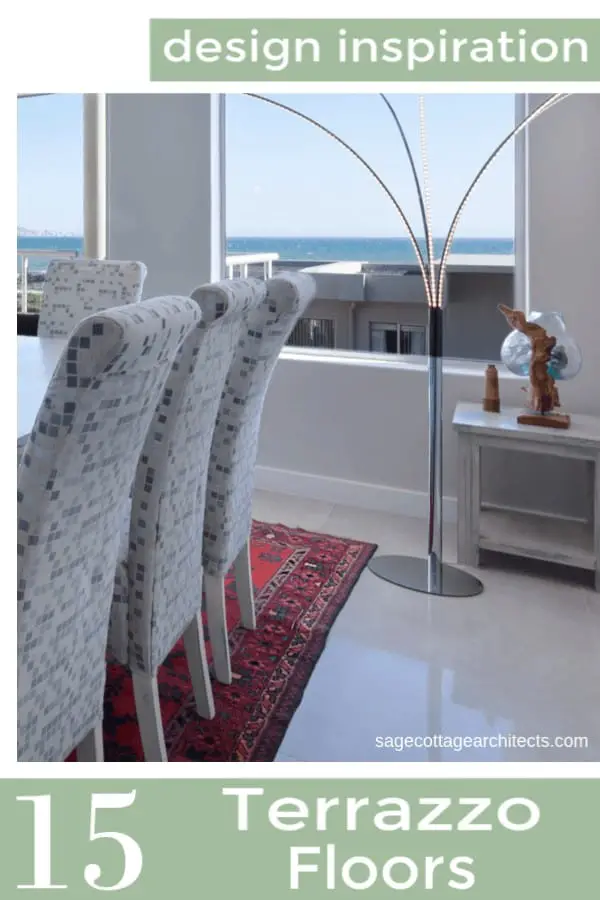 Looking for more Design Inspiration posts? Try these: