Although I've only gone skiing a few times, I would love to go on a ski vacation. Not so much to get better at skiing, but so I can justify staying in one of these vacation homes. Do you ever see a house, and think, "I need to get inside!" No? Maybe that's just me.
Several years ago, my family started renting homes from HomeAway on our yearly vacation. We realized that renting two hotel rooms was about the same price, or a little bit more, than renting an entire home. So we took the plunge, rented a house, and now it's our preferred way to go. We've rented homes in California, Virginia, and North Carolina, and have stayed in some amazing homes.
By renting a vacation home, you can ditch the hotel and have a really amazing vacation. Most of these houses are so big, some as big as 6,000 square feet, that you can invite the entire extended family and have a reunion. Assuming you get along with the extended family, this is a great opportunity to spend time together. Not only will you get to enjoy a ski vacation, but most of the homes have some kind of playroom – billiards, game rooms, home theaters, or even an indoor volleyball court that will keep everyone entertained.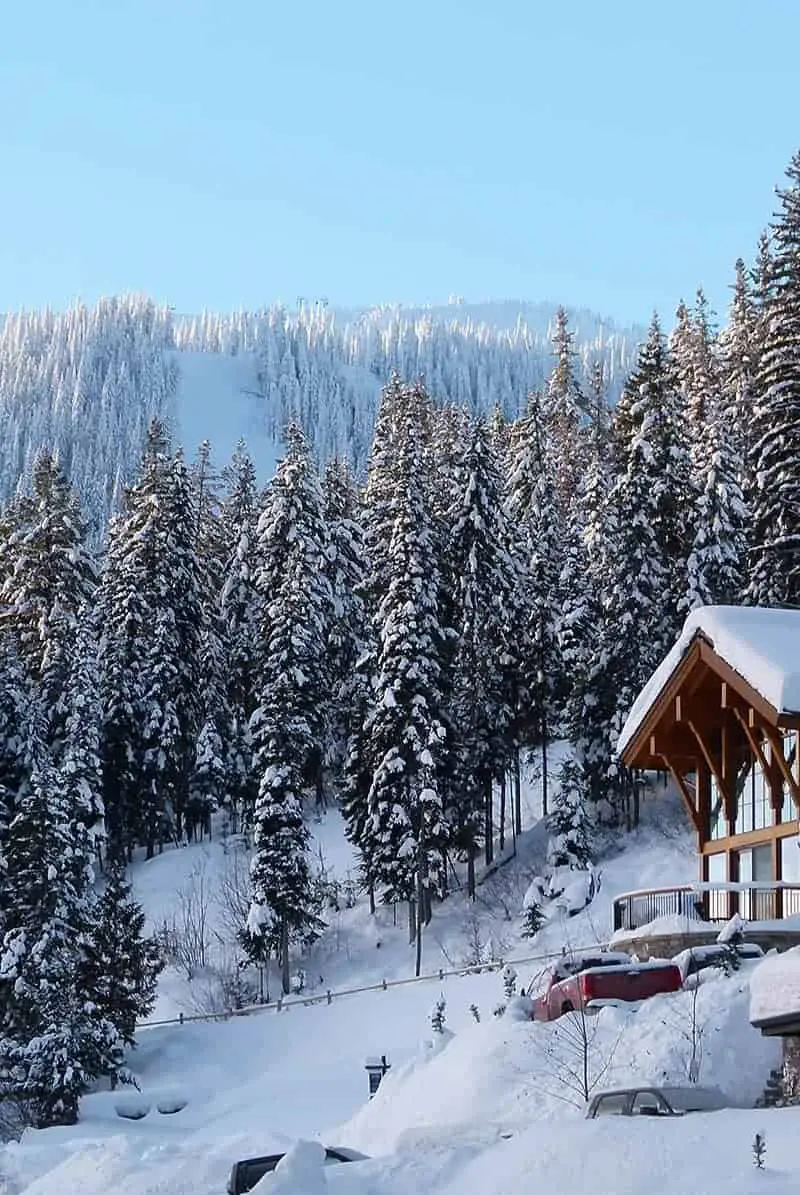 Ski Vacation Home Rentals
One of the really great things about renting a vacation home, is that you actually get to live in these amazing houses and not just ogle them from the outside. How often are you going to stay in a 6,000 s.f. house?
For this list, I picked homes from across the United States, that would be good destinations for a ski vacation. All the homes have a minimum of three bedrooms, welcome children, and have a five star rating. Finally, I picked homes in a range of prices, from $350 to $3,300 a night. I know $3,000 a night is a lot of money, but if you have twenty-four people staying there, it's not that outrageous.
Montana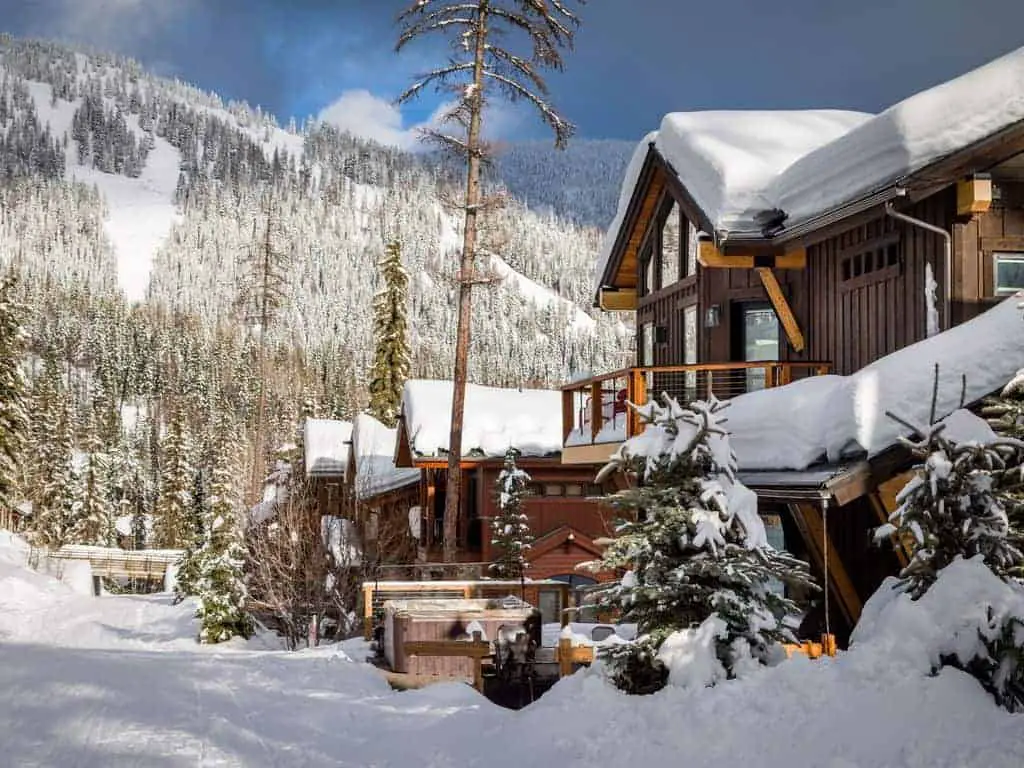 Whitefish Mountain Ski Resort – While the price of this home is at the higher end of my list, it is 6,480 s.f., and will sleep twenty four people. This beautiful home has six bedrooms and would be perfect for an extended family vacation.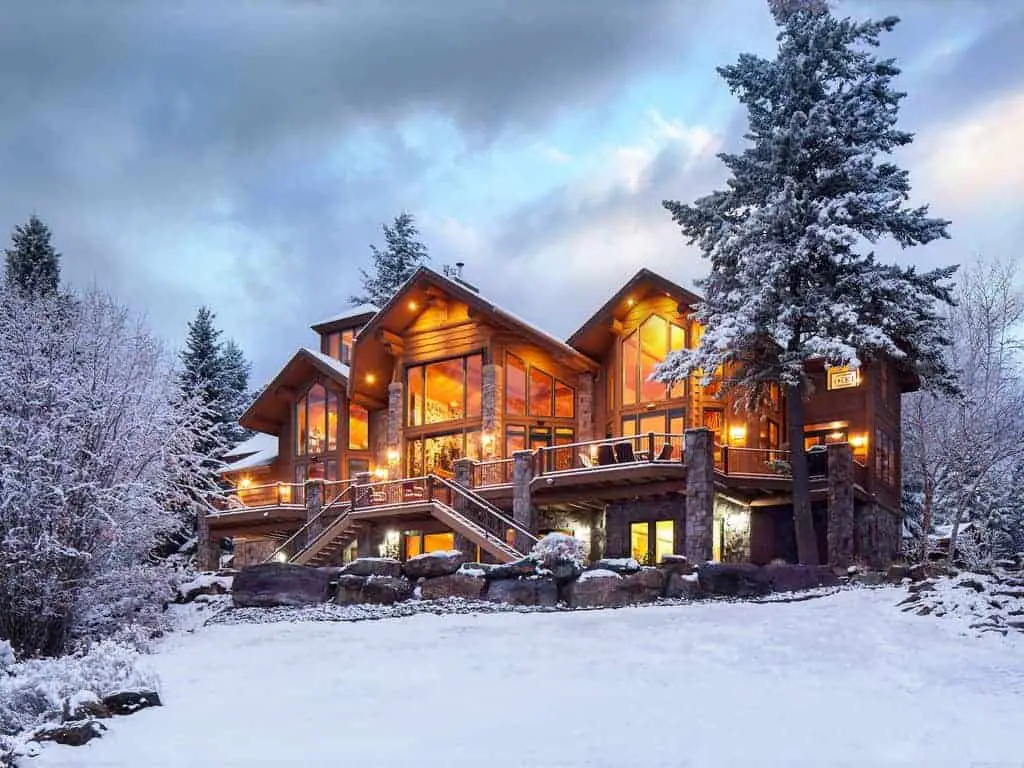 Star View Lodge, Big Fork – This post and beam home is rustic perfection. It's also the biggest house on the list, at 8,300 s.f. (it's actually a main house with a two-bedroom apartment). There's no use trying to describe it. Just go look at it. (It even has an indoor volleyball court!)
Wyoming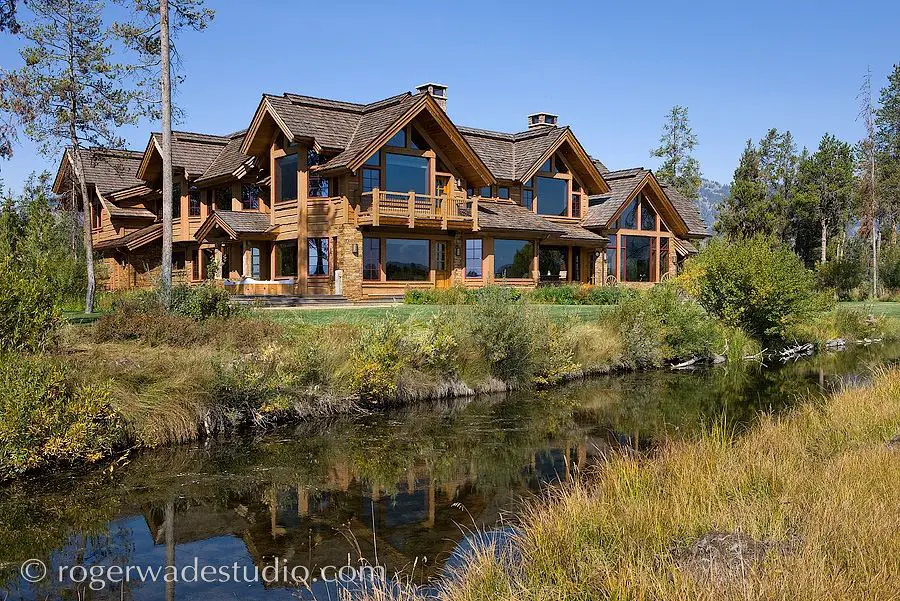 Wilson – Do you like the luxury pole barn style (although, I hesitate to call this a pole barn!) with exposed framing, loads of reclaimed wood and all kinds of rustic goodness? This gorgeous home takes that to a whole 'nother level. Be sure to check out the main stairway. Wow!
Utah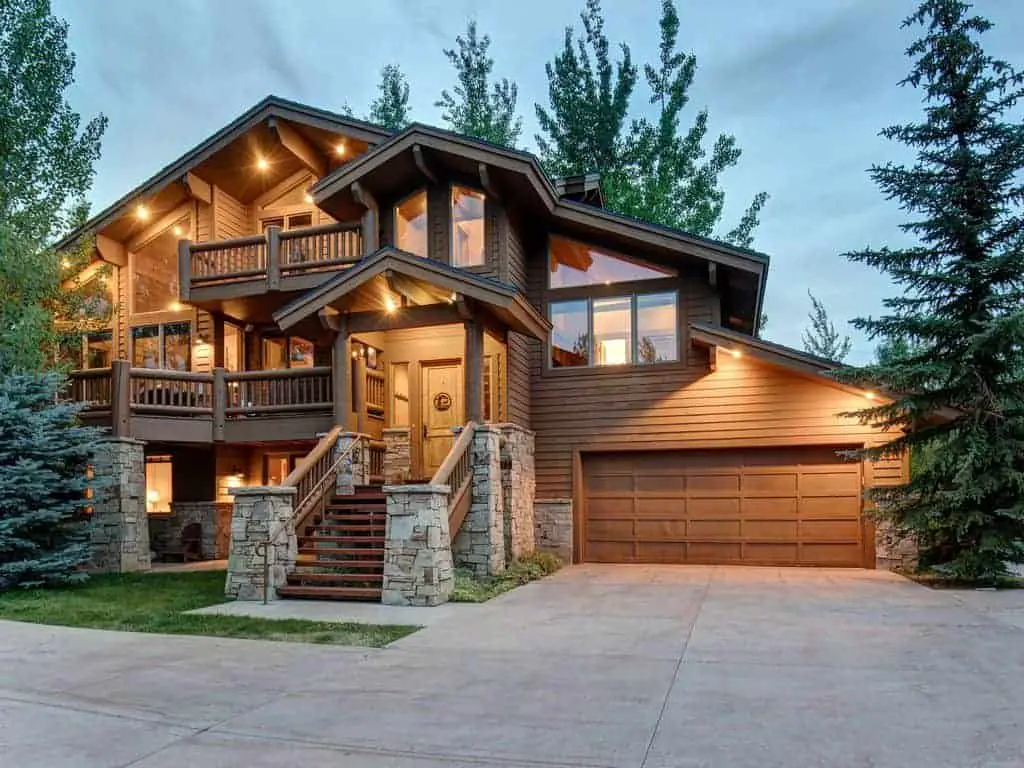 Deer Valley Resort, Park City – Another beautiful home with lots of natural wood and stone. Pretty alder cabinetry, big windows, soaring ceilings and cool log railings make this a great vacation home.
Colorado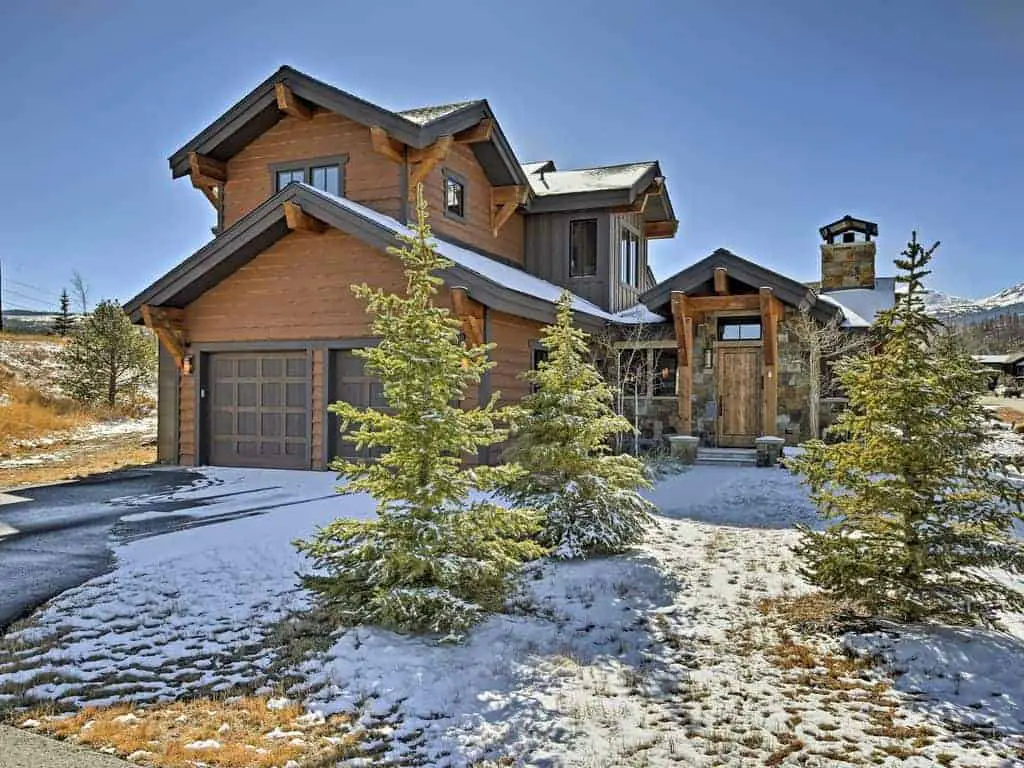 Breckenridge – I'm not sure what I like more about this home. The location, the view, or the gigantic wood beams on the exterior? Although, the pendant lights over the kitchen island are strong contenders. The home sleeps ten; two king beds and two queen size bunkbeds (I've never seen bunkbeds that big).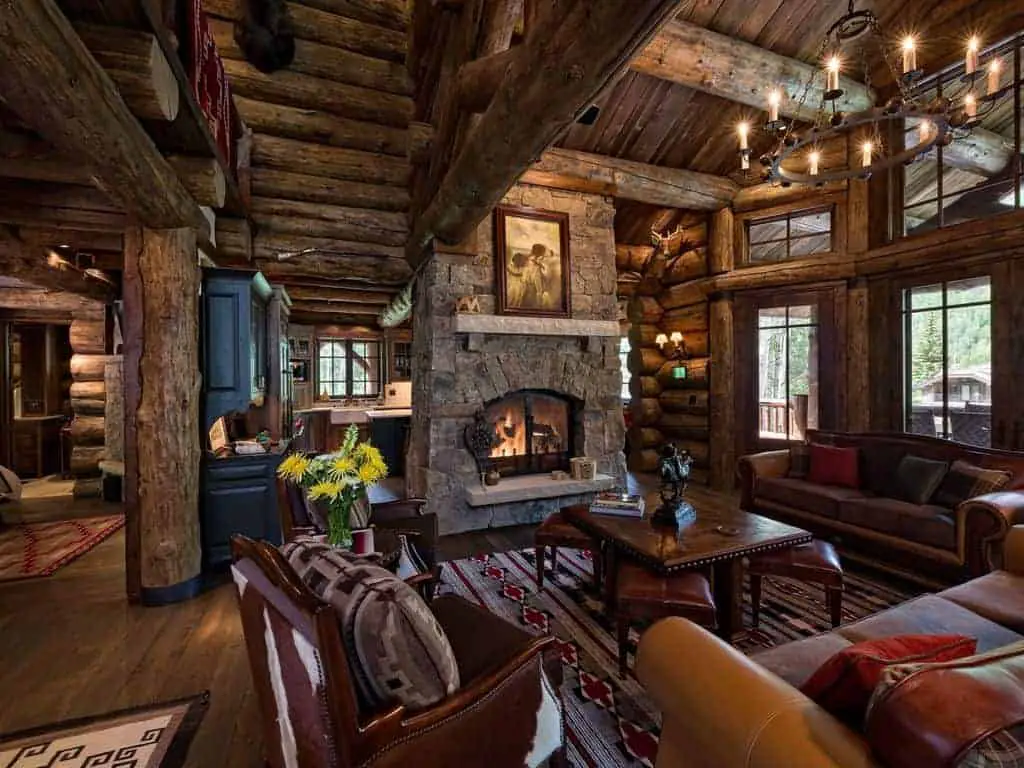 Vail – If you like log homes, then you can't get much better than this one! It was voted House of the Month by Log Home Living Magazine. With six thousand square feet, five bedrooms, a home theater, a game room, and a copper soaking tub, what more could you need?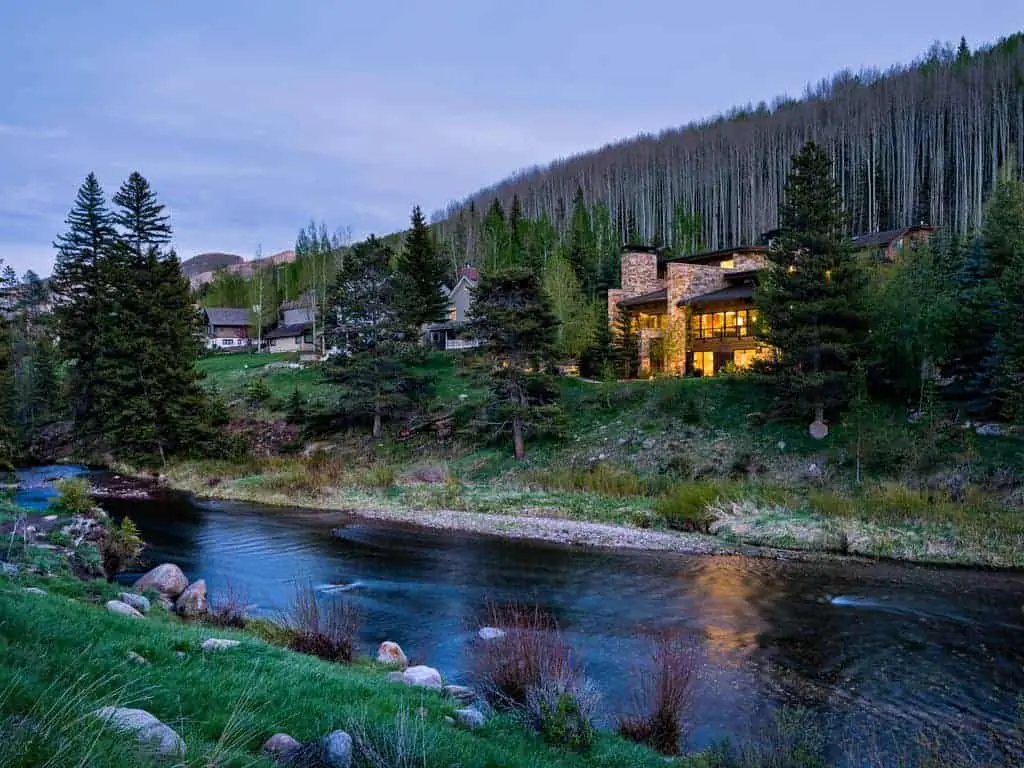 Vail – I really like the blend of rustic and modern in this vacation home. The mix of natural materials and the clean, modern design are a perfect combination. It's like a luxury home, a spa, and high end hotel all rolled into one.
North Carolina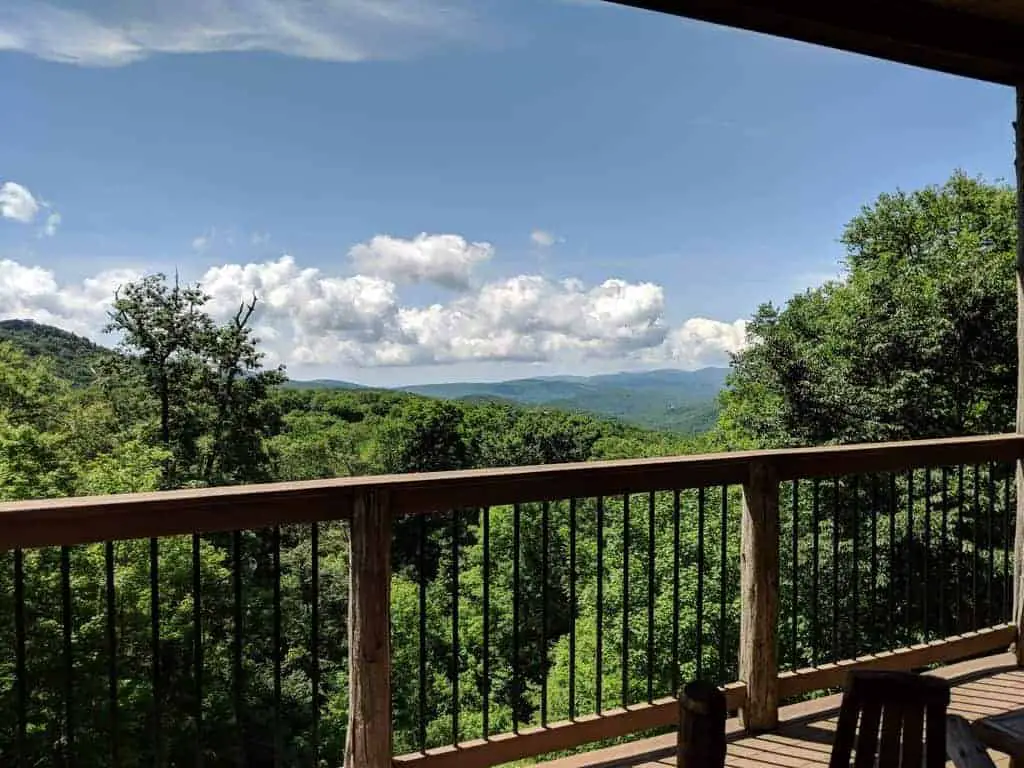 Banner Elk – You could park me right here on this porch and just leave me for a week. What a view. Banner Elk is the "ski capital of the south", and this house puts you right there. A billiard room, with a jukebox, would be great way to spend some non-ski family time. I'm pretty sure the siding around the front door is tree bark.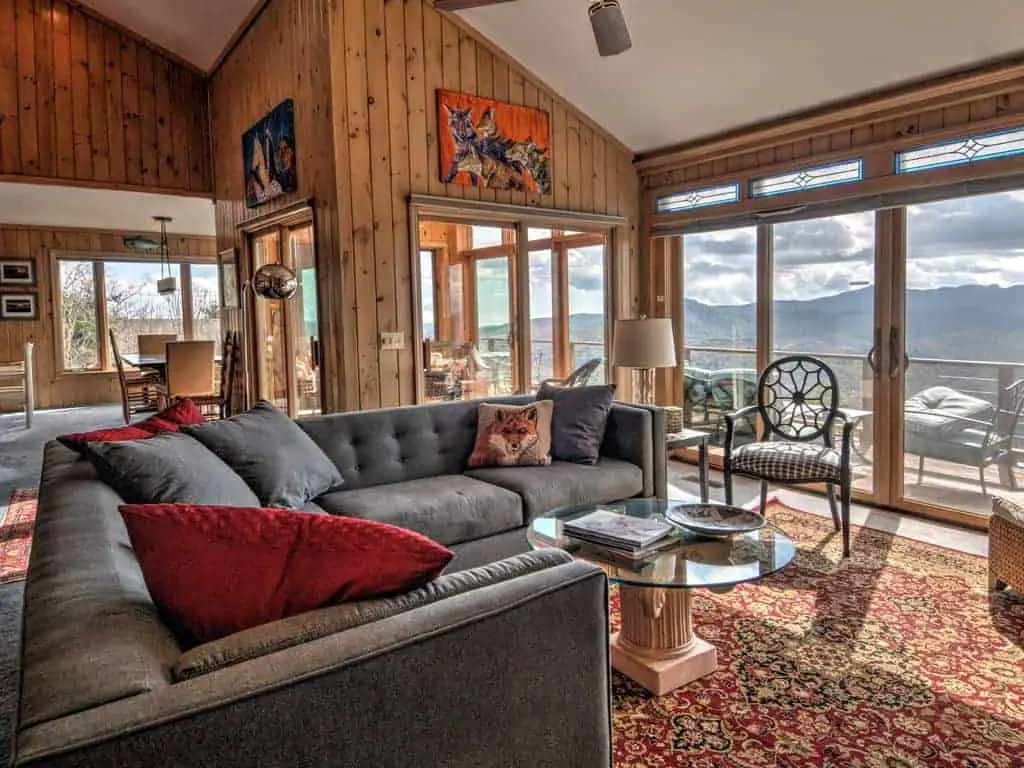 Beech Mountain – I've actually stayed in this house. We stayed here in the summer, and loved it. It has a great, open floor plan, with a deck that runs the whole width of the house, and a great view. The homeowner is an artist, and her works are displayed throughout the house.
Vermont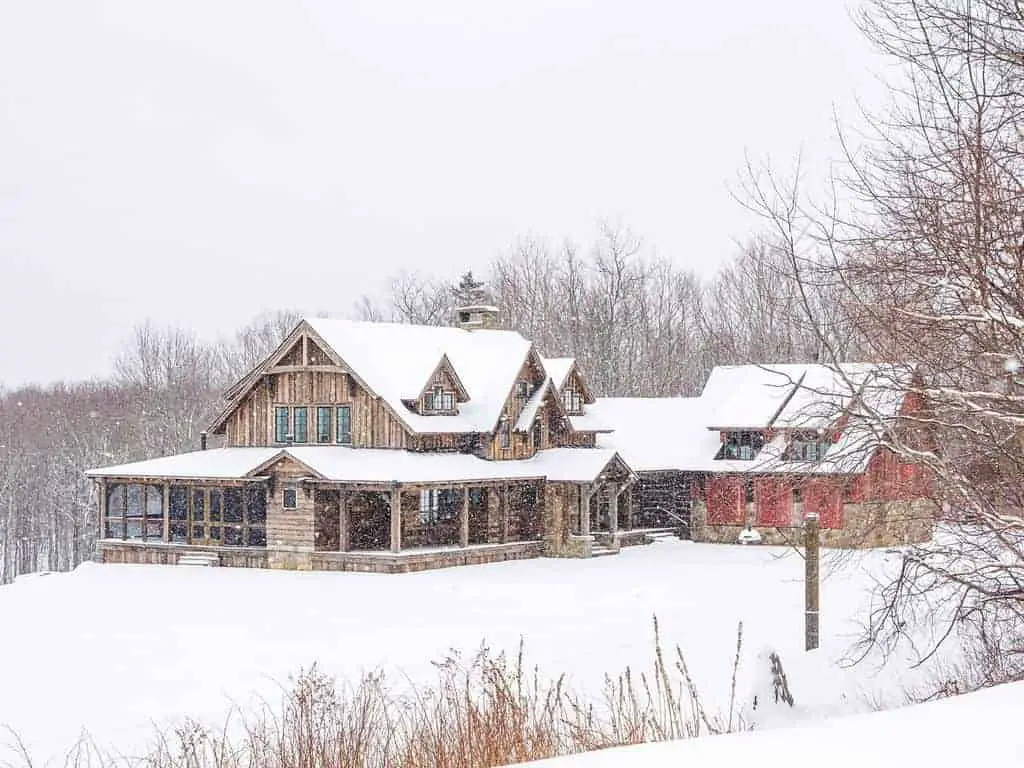 Dover – If rustic farmhouse style is your thing, then this is the house for you. It's another one where words don't do it justice. You need to check it out. Every picture is Pinterest-worthy. Trust me.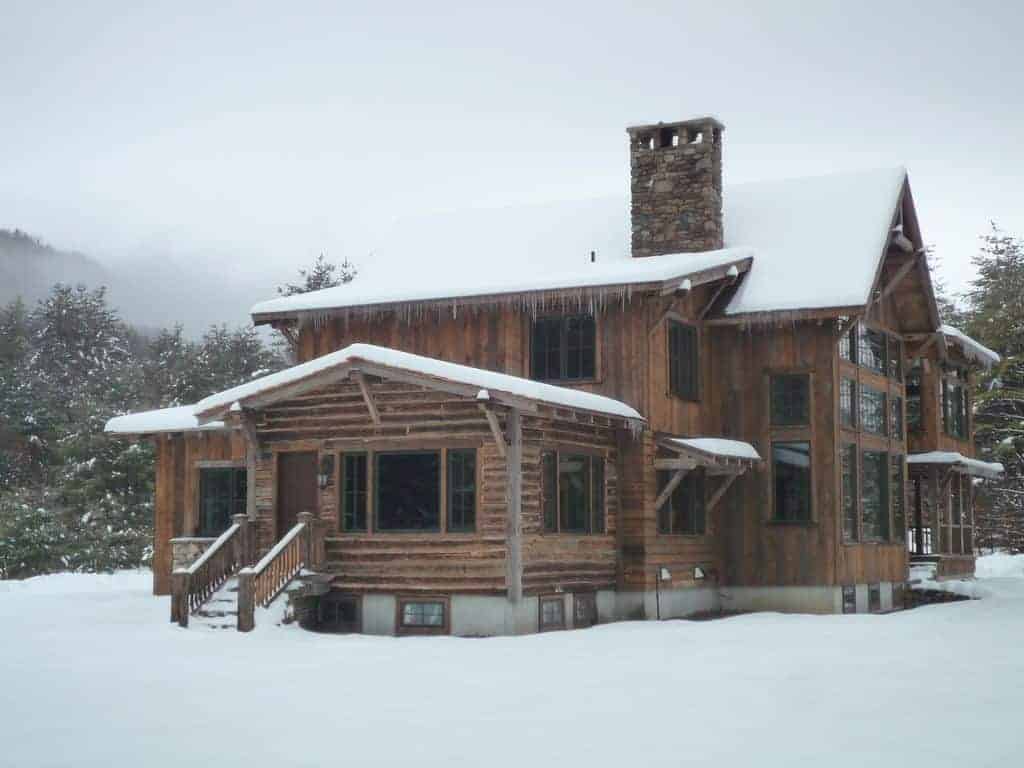 Stratton – With five master suites, this house can keep everyone happy. And, it's a beauty! Another house that has it all: exposed post and beam construction, reclaimed wood, and natural stone. If that's not enough, it's on its own island!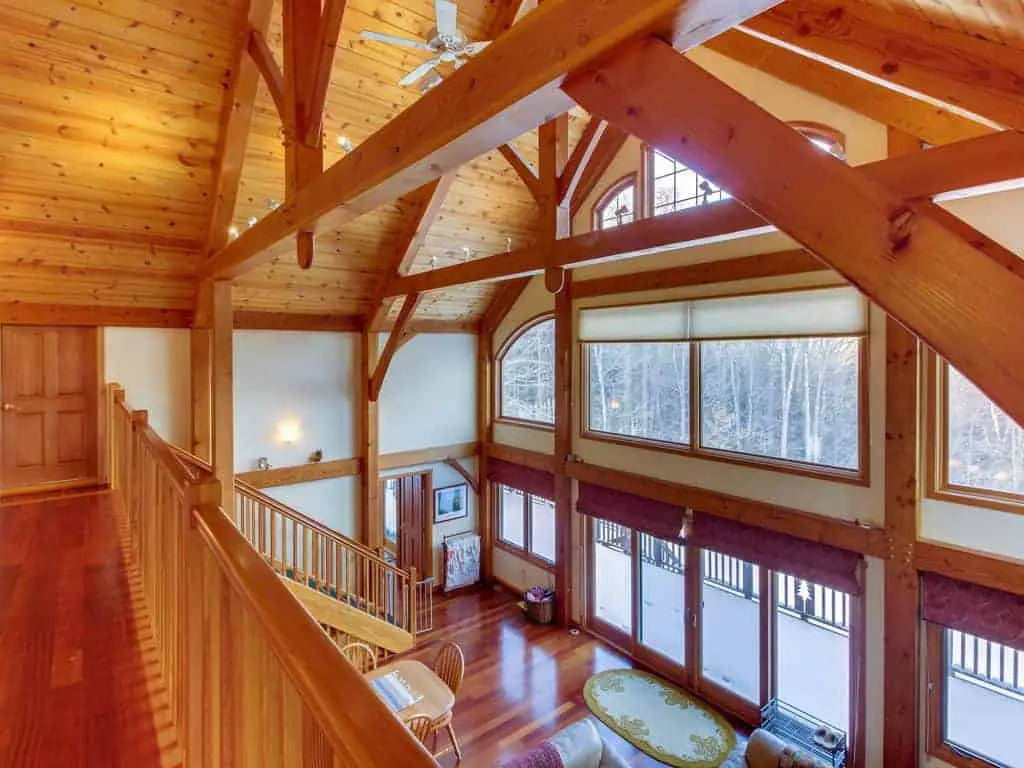 Ludlow – This home is so open and airy. The post and beam construction plus all the windows  makes that possible. The open floor plan is filled with light colored woods and the wood roof trusses are pretty cool.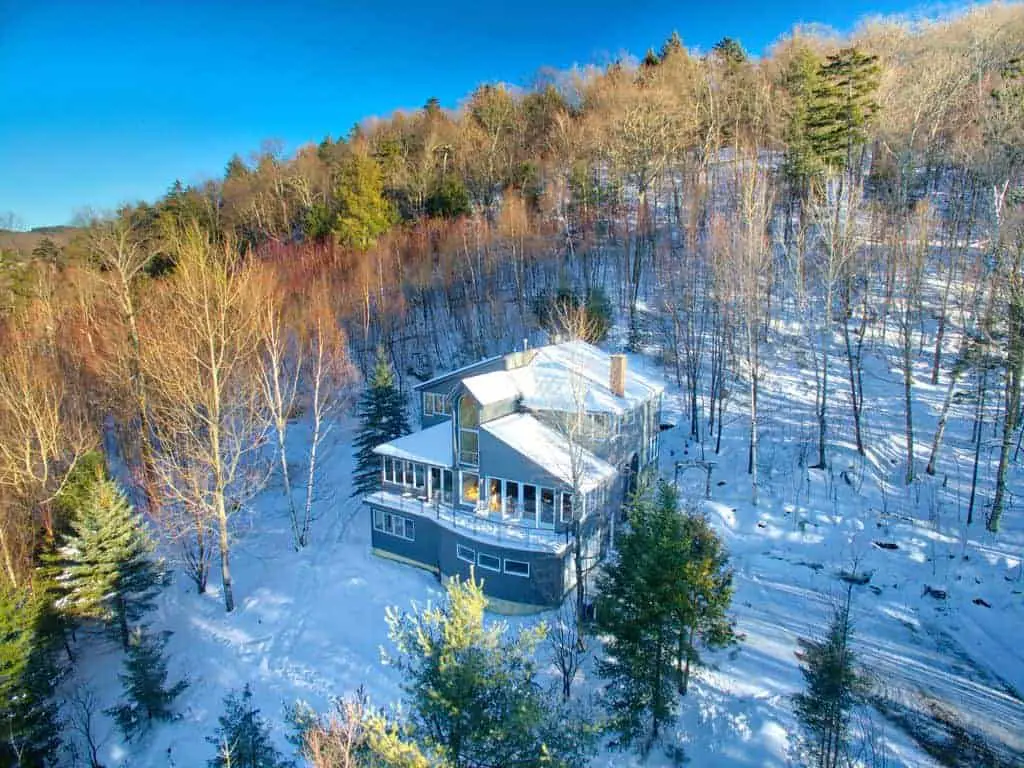 Stowe – While a lot of the houses on this list are lodge-like, this house is more contemporary. It has the usual elements: exposed timber framing and window walls, but then it mixes in some unexpected elements: a curved deck with metal railings, a metal bridge, black kitchen cabinets, and the arched window with its doghouse roof (for lack of a better description).  And, it all works. It looks like a really cool house.
New Hampshire
Waterville – the interior of this home is stunning. I love the textures: wide plank wood floors, exposed brick walls, wood paneling, and the wrought iron railings. But, the ceilings are the best part. You have to check it out. It even has a playground slide – inside!
We haven't had much snow this year, and after writing this post, I really want to go on a ski vacation and rent one of these homes! Even if you don't ski, you should check out these amazing homes. You can always curl up in front of the fireplace and enjoy the snowy weather, or visit them in summer.
Don't forget to pin this for later!