It's that time of year again. The time for resolutions to get into shape and get serious about fitness.  An at home gym can help you meet those goals and resolutions. Before you run out and buy a whole bunch of fitness equipment, you need to think about what you want and the space you have. Then, you can design the best home gym for you.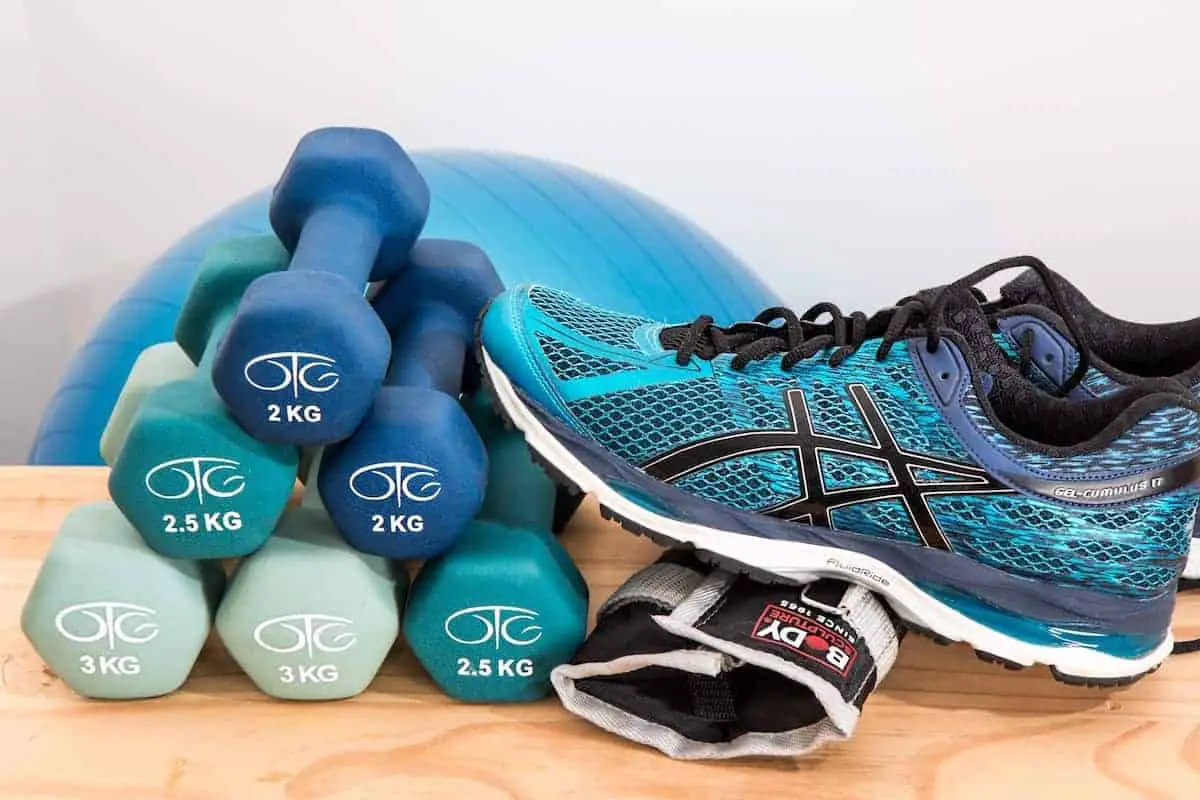 Your Best Home Gym
The best home gym, no matter what it looks like, is the one that you use on a consistent basis. And, we all know consistency is the way to meet those resolutions and goals. An in home gym has to be a place you want to spend time, not a place you dread going to.
The best in home gym is one that is customized to you and your home. That doesn't mean you need a fancy space, with a lot of expensive at home gym equipment. It simply means that you have to identify your needs, and how a dedicated gym space will meet those needs.
I. The Workout
The type of workout you want to do will drive all the decisions, so let's start there. What do you want to do? Cardio? Weights? Workout videos? Martial arts? Yoga? A combination?
Once you've decided on your workout, do you have the room for it? A home gym, like a Bowflex, is going to take up a significant amount of floor space. A treadmill will need a minimum 4′ x 11′ space (6′ for the treadmill, plus 2′ in front and 3′ minimum behind). An elliptical is a bit smaller, at 4′ x 8′, and a rower will need about 4′ x 9′. Most gym equipment manufacturers provide minimum recommended distances on their websites.
On the other hand, a workout like yoga or pilates doesn't need a lot of space. A yoga mat is only 2′ x 6′, and you would probably want about 2′ of clearance all around.
Matching your workout to your space is the easiest way to get your best home gym.
II. The Place
Now that you know what you're going to do, where are you going to do it? A dedicated space is probably the best option for an at home gym. We've all tried the "I'll just keep the equipment in my bedroom" approach. You end up with a very expensive clothes rack, so that doesn't work.
By creating a dedicated room that you can go to, you increase your chances of actually working out. When deciding on a gym space, look for these qualities:
Location – a gym on the first floor will be the easiest to move heavy equipment into, while basements and second floors are much harder. While a second floor room would make a good yoga studio, it might not be the best for activities like Zumba or workout videos where jumping will annoy everyone below. Consider locating your home gym near a bathroom for convenience. A nearby shower would be a nice touch.
Construction – the concrete floor of a garage or basement is probably the best place for a weightlifting gym. Wood framed floors that give a little are good for jumping workouts.
Adequate room – not just for the equipment itself, but clearances around it. Try to leave at least 12-18″ clear around stationary equipment, or as recommended by the manufacturer. Be sure there is enough space to walk around the room, and that doors and windows are accessible. Check that door swings don't hit any equipment. Finally, confirm that you have enough height in the room. The low-ceiling of a basement gym can interfere with workouts.
A door – shutting the door can be a signal to everyone else to leave you alone. You're more likely to start a workout if you know you won't be interrupted. It also gives you privacy if you don't like working out in front of a bunch of gawkers.
A window – your gym needs to be someplace you like to go. A window isn't necessary, but natural light from a window will help immensely.
III. The Equipment
The next step in creating your best home gym is the equipment. If you have fitness equipment spread all over the house, gather it up into one place. Once you see everything you have, you can decide what you need. Assess the physical condition of any equipment – does it work properly? Are all the parts there?
Decide what works for your current fitness level and goals, and what will physically fit in your new gym space. Purge anything that doesn't work for you.
Now it's time to do some shopping. You don't need a lot of expensive equipment. In fact, you can DIY quite a few pieces of gym equipment. But take some time and equip your new gym so that it's a place you want to use.
Now is also the time to figure out any storage requirements for your new home gym. You're more likely to avoid a cluttered gym. Here are a few suggestions to get you get organized:
IV. The Gym
Spiff up your new gym before you move everything in. Again, you want this to be someplace you enjoy spending time, otherwise you probably won't use it.
What's the vibe in your new home gym? Manly-man industrial weightlifting, head banging thrasher gym, girly workout studio, or serene yoga retreat? If you're taking the time to set up a home gym, make it a place that makes you happy.
Flooring
Home gym flooring is an important element in a home gym design. Carpet is fine for most workouts, but laminate flooring or luxury vinyl tile can be good choices as well. Puzzle mats are a great idea under equipment, or for martial artists. 
Walls
Wall color will probably play the most important role in achieving your home gym's vibe. Make sure your wall color aligns with design goals.
In addition to painting the walls, consider installing a large mirror. Not only will it help you monitor your form while exercising, it will make the space look bigger and brighter.
Amazon has some fun peel and stick wall murals that would be cool in a home gym:
V. The Perks
These items are not necessary, but they do make your time in the gym a little more enjoyable. Especially when you're logging your cardio time.
Wall clock – sure, you have your phone, but a quick glance is sometimes easier.
TV – anything to make cardio time go by faster.
Portable fan – no explanation needed here.
Music – put on some Me First & the Gimme Gimmes and you'll be done in no time. Or pass out from trying to keep the tempo.
Mini-fridge – keep your post-workout drinks nice and cool, and handy.
So, there you go. Your home workout space is all set up, and you have created your best home gym. You have no excuses for not following through on those resolutions!
Pin this for later: