Have you ever woken up in the middle of the night and wondered, "What is Art Deco Architecture?"
Probably not. But, maybe you just finished reading The Great Gatsby, or watching Leo in the movie, and want to know more about Art Deco Architecture.
Recently, Kim and I went on Chicago Architecture Foundation's Art Deco Skyscrapers: The Riverfront walking tour. If you're into Art Deco or architecture, I highly recommend taking this tour.
Art Deco is my absolute favorite style, and today, I'm going to share some of the architectural details we saw on the tour. So, get out your Jay Gatsby pink suit, hop in your yellow Rolls Royce, forget about Daisy, and grab Nick Carraway for an Art Deco tour.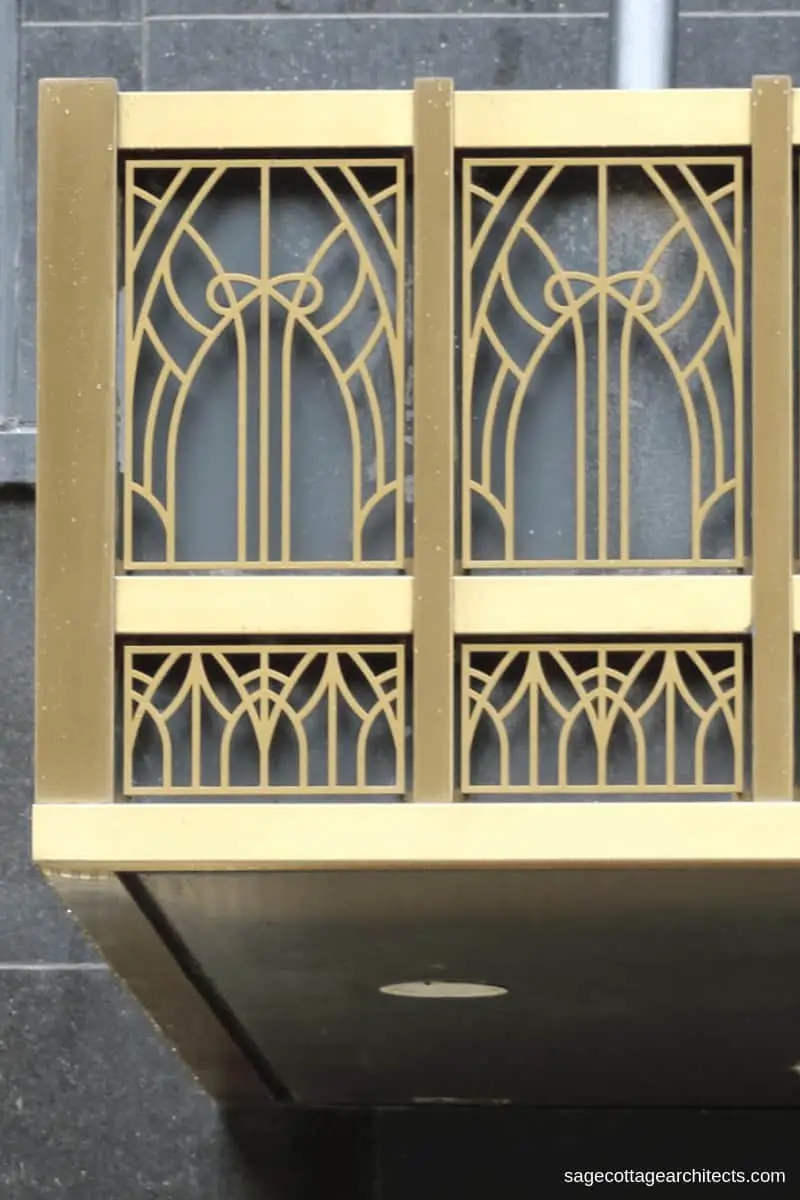 Entrance canopy, Carbide & Carbon Building
What is Art Deco Architecture?
Art Deco is a decorative arts movement of the 1920's and 30's, that is highly ornamental, geometrical and linear. It is sometimes described as "zigzag moderne" because the exterior ornamentation looks likes zigzags or chevrons.
Art Deco architecture often drew inspiration from ancient civilizations such as the Mayan, Aztec, and Persian empires. Ancient Egypt was also a favorite, most likely due to Howard Carter's discovery of King Tut's tomb in 1922. From those cultures, Art Deco designs used pyramids, ziggurats, and bundled reeds.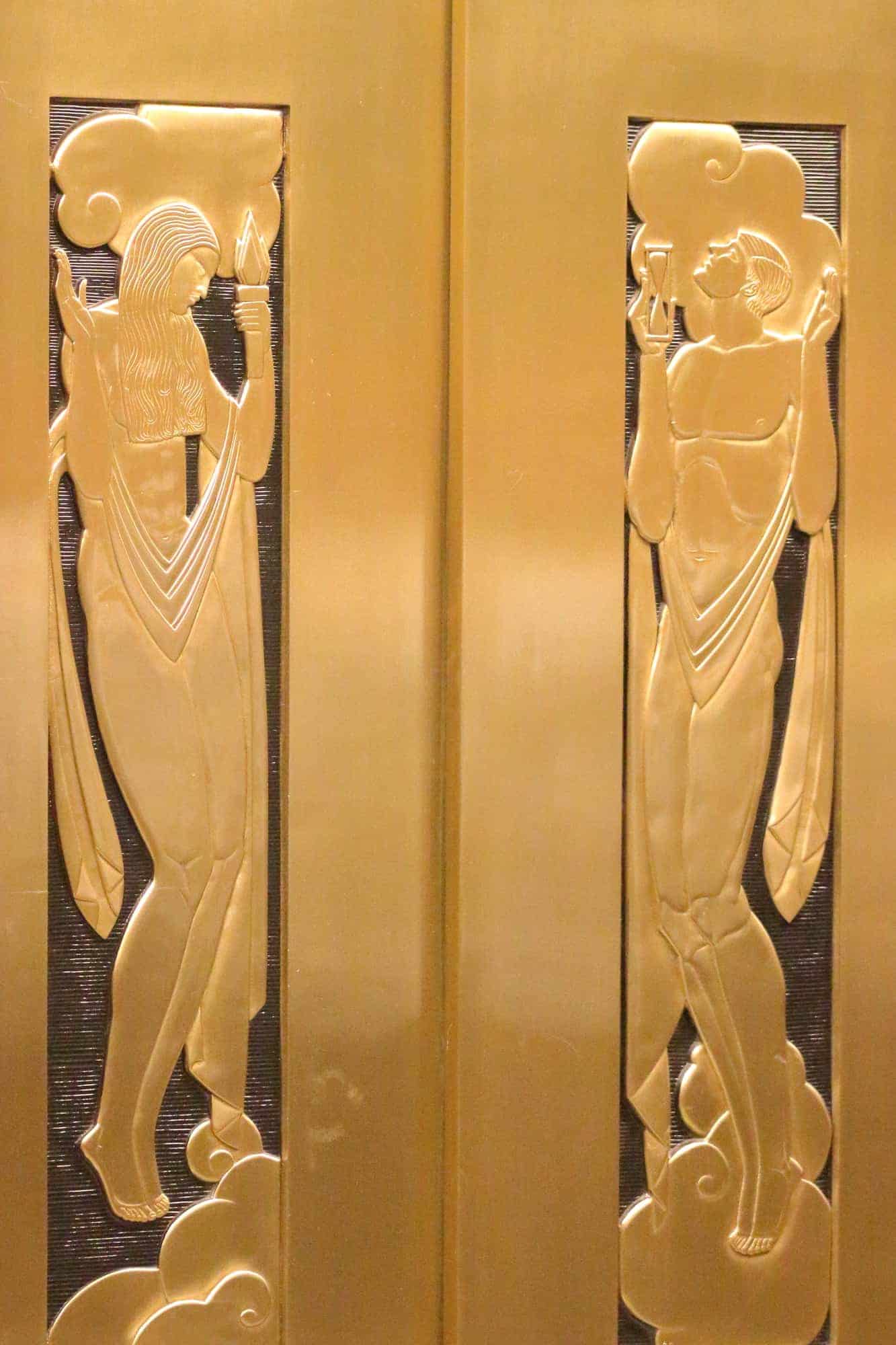 Elevator door, 333 N. Michigan
While the style had historical influences, it also represented the modern machine age. The world was changing and machinery was making life better. There was an emphasis on movement, and "speed stripes" (long parallel lines of decoration) accentuated the idea of movement.
Luxury is another component of the Art Deco style. Expensive materials, such as marble, silver, gold, stainless steel, terra cotta, and chrome plating were often used. Art Deco was definitely posh.
Art Deco was a design style that crossed all forms of art, from architecture to fabric to painting, and everything in between. Tamara Lempika, Erte, and Demetre Chiparus. are just a few of the more famous Art Deco artists.
What is the difference between Art Deco and Art Nouveau?
Art Nouveau is an international style that came before Art Deco, and is based on the forms found in nature.  It is very curvilinear and organic, usually features the colors of nature (blue, green, and brown), and often uses leaves, animals, insects and trees as its symbols. Art Nouveau is all about nature, while Art Deco is all about geometry, parallel lines, motion, and the machine age. The image below should help clear up the differences.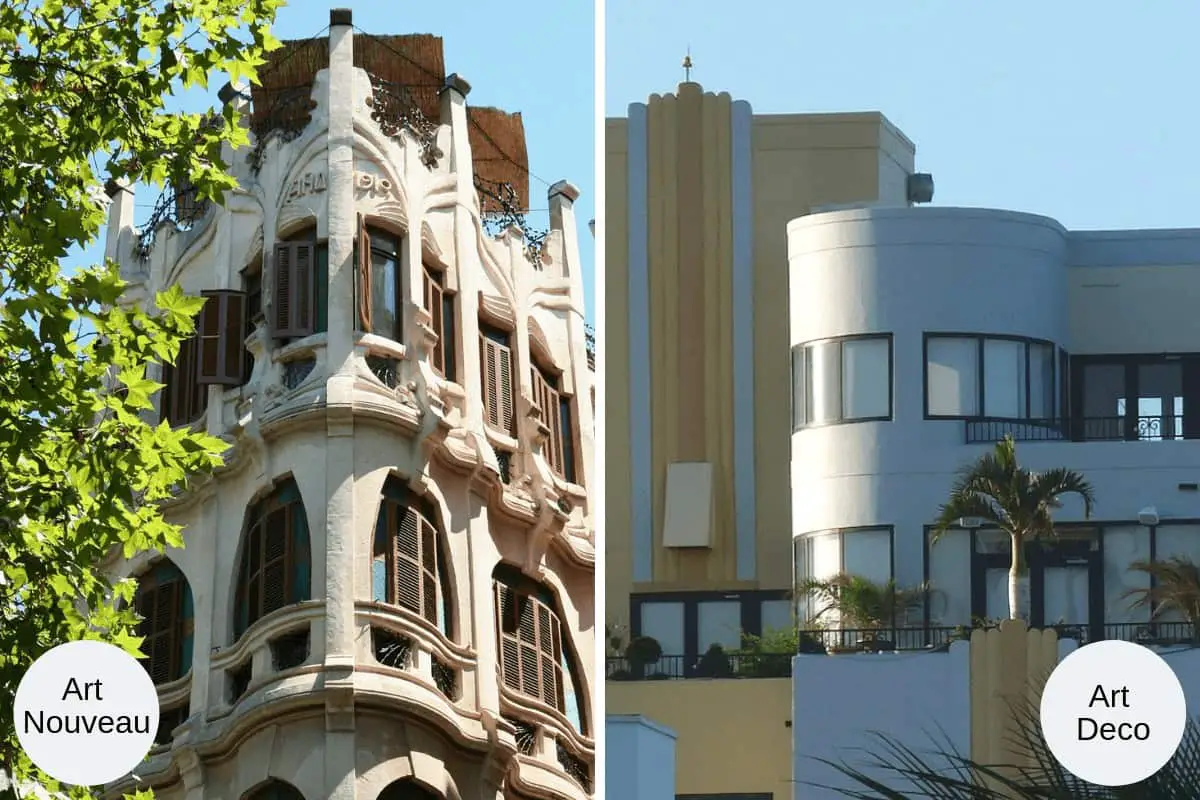 What are the main features of Art Deco?
Art Deco buildings have many common symbols in their exterior decorations. Sun rays, sun bursts, chevrons (zigzags), gazelles, lightning bolts, flowers, trees, mythological figures, stylized relief carvings, and birds are just a few. Here are some of the ones we saw on the tour.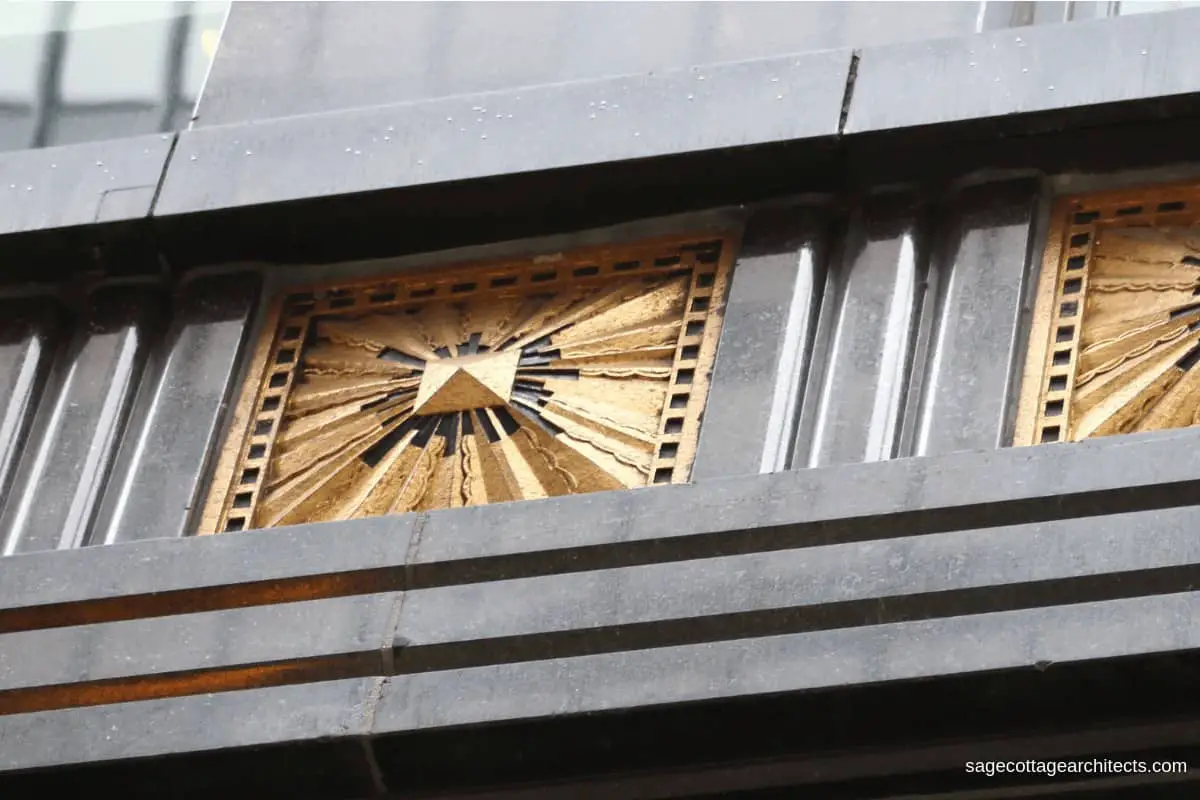 Gold plated sun burst decoration, Carbide and Carbon Building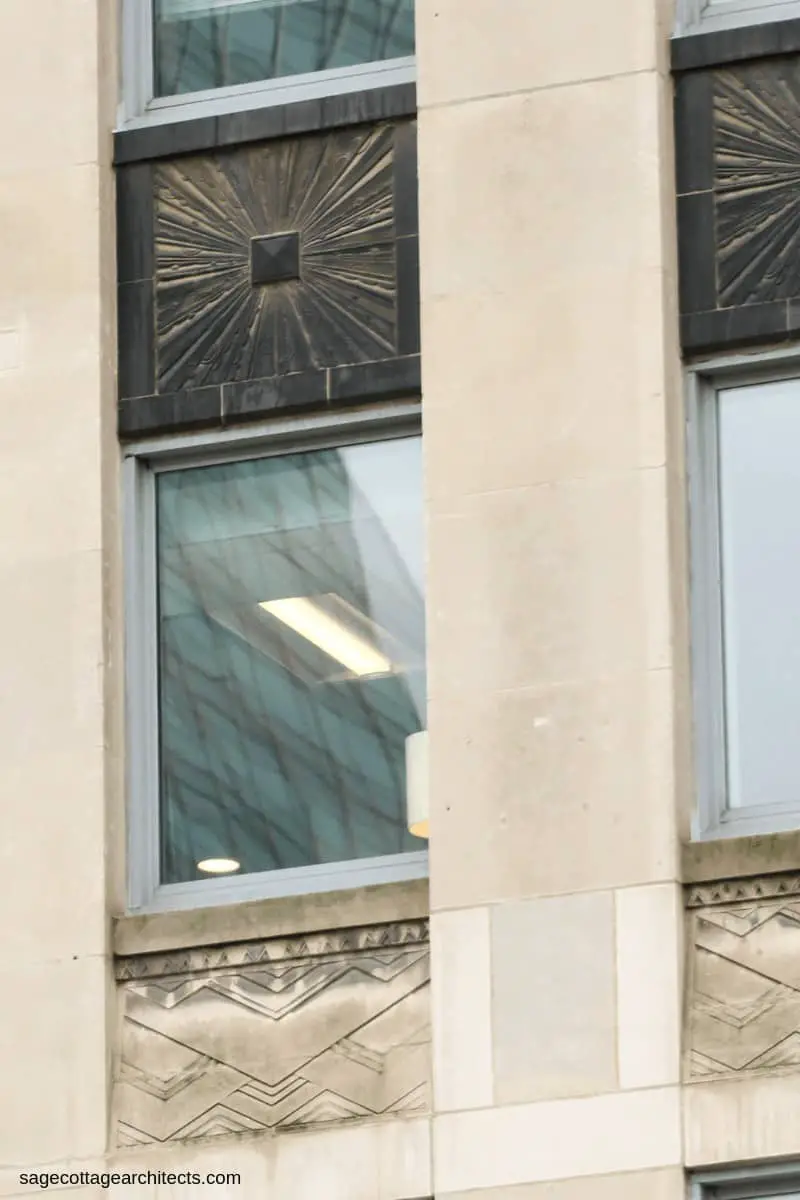 Chevrons and sun bursts on window spandrels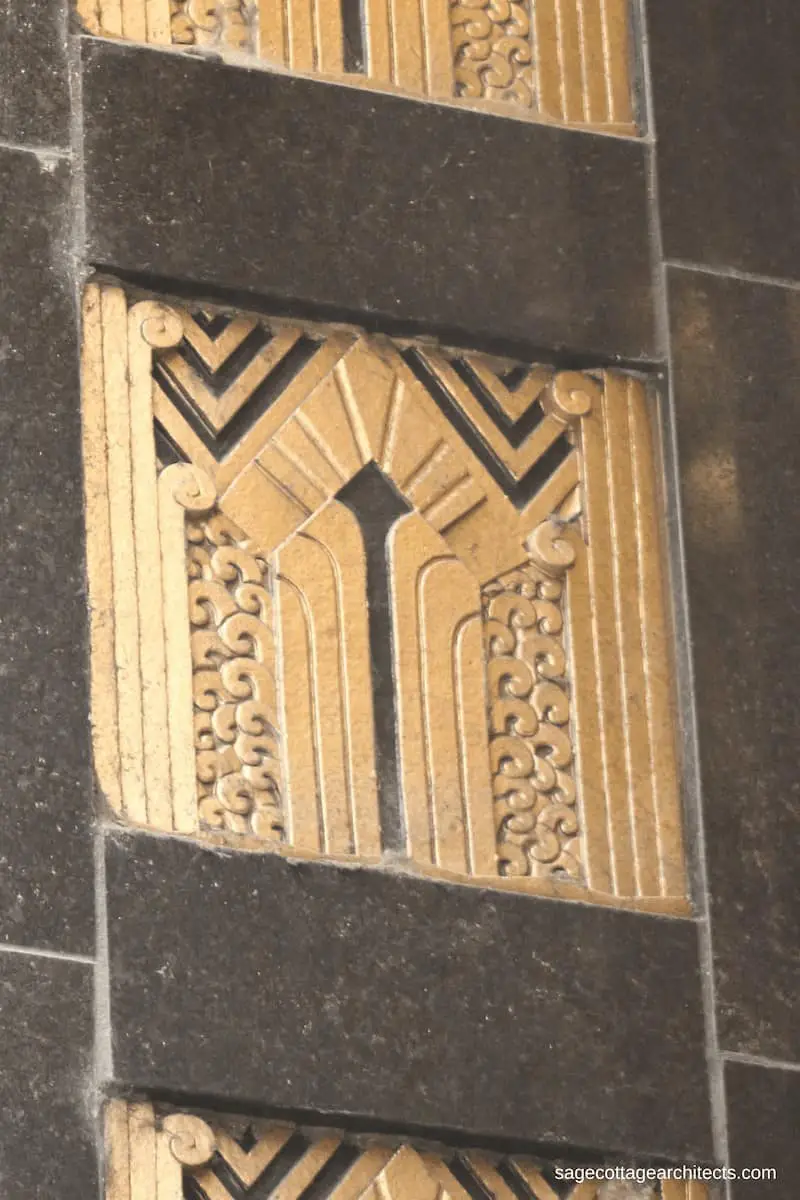 Gold plated chevrons, Carbide and Carbon Building
Duck and flowers, Ford Motor Club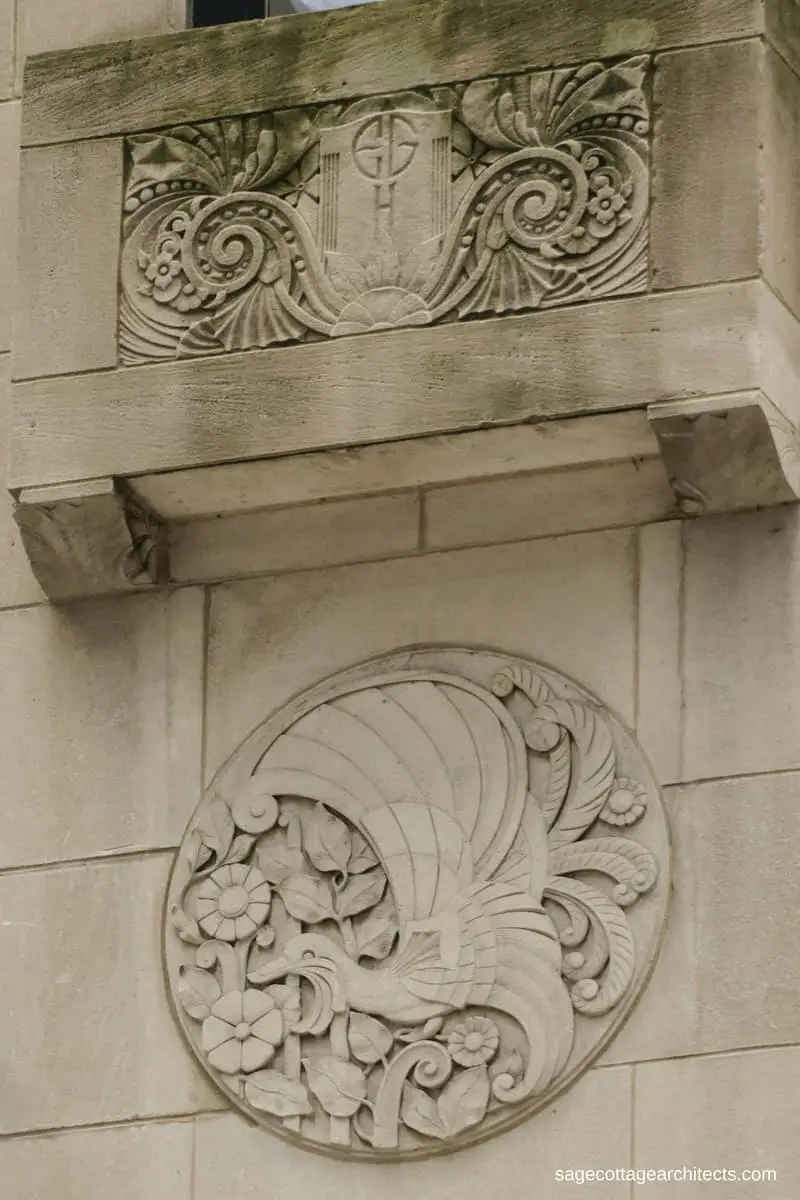 Bird and flowers, Ford Motor Club
Staff of Hermes, Trustees System Service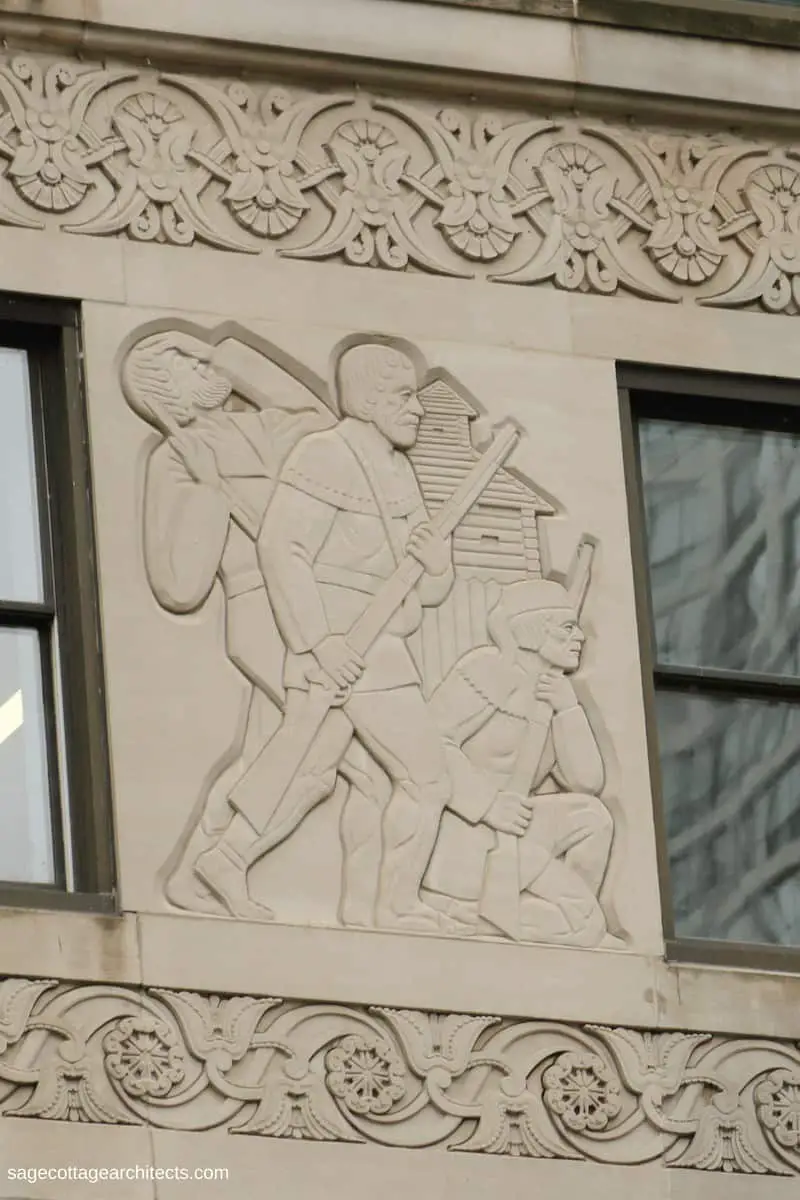 Carved relief panels, 333 N. Michigan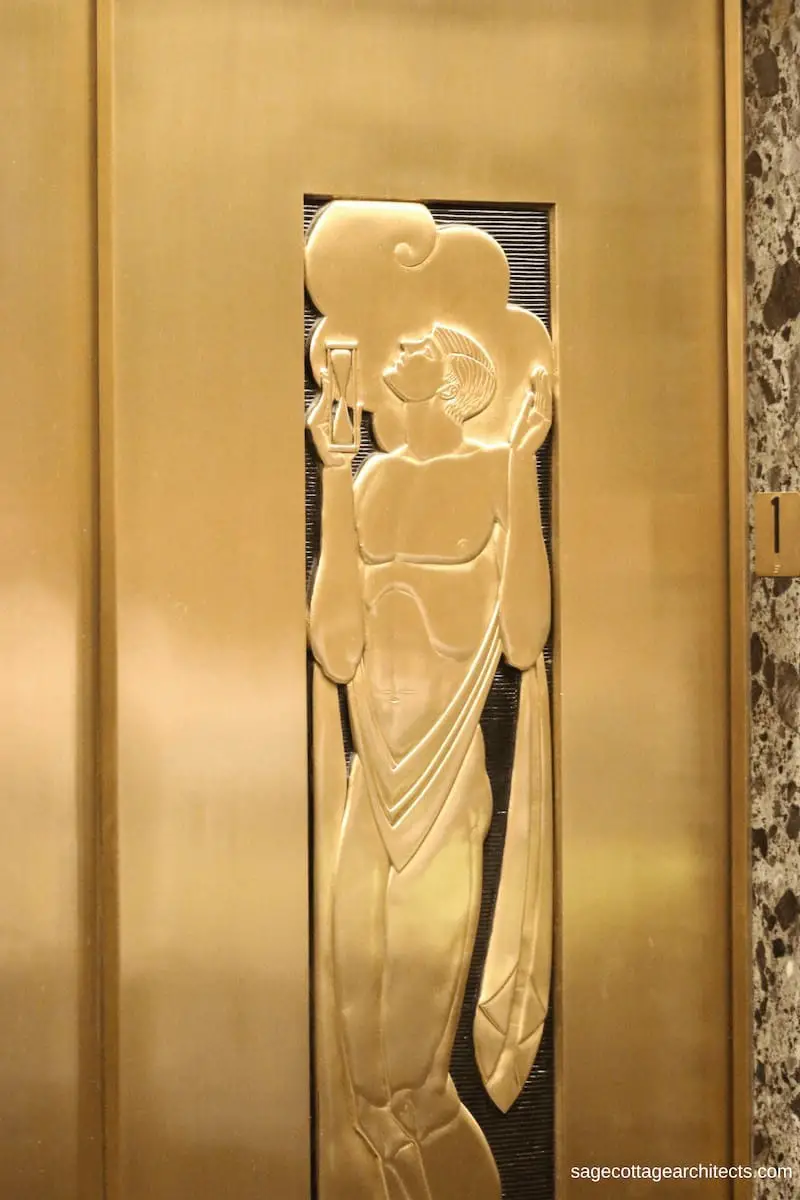 Elevator door, 333 N. Michigan
Green terra cotta, Carbide and Carbon Building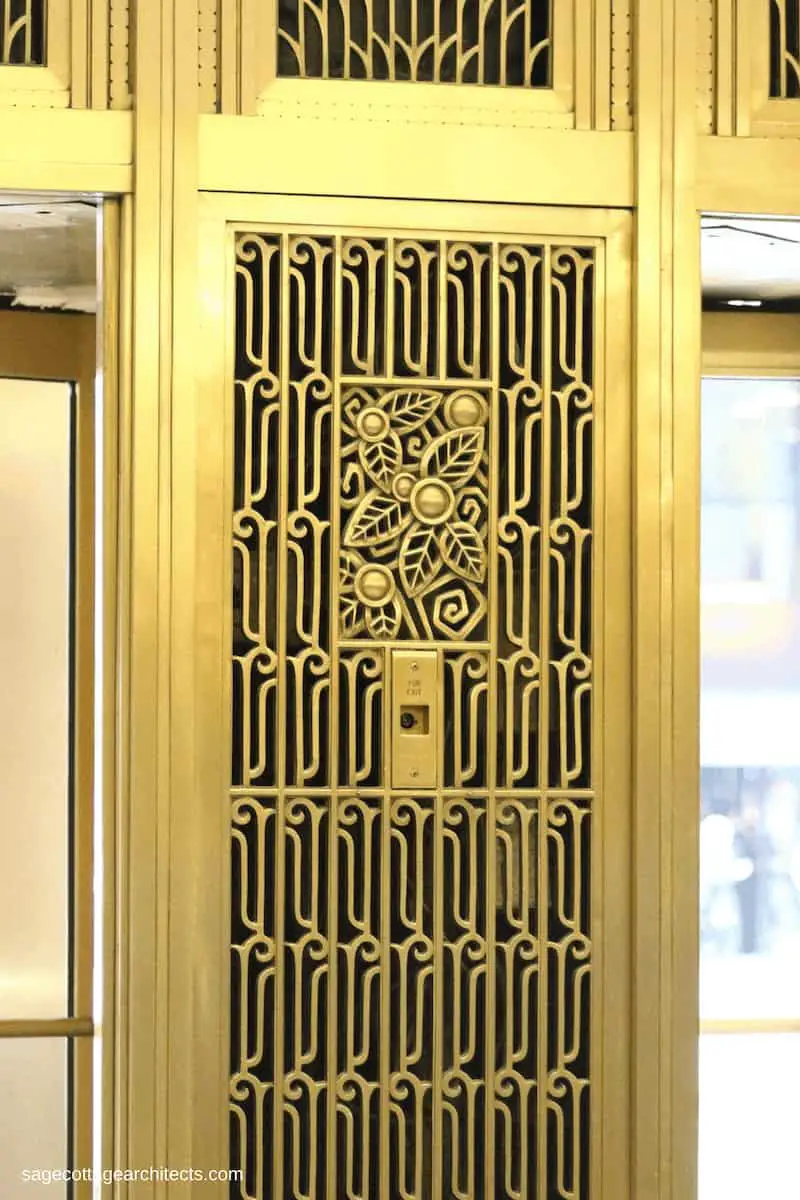 Lobby, Carbide and Carbon Building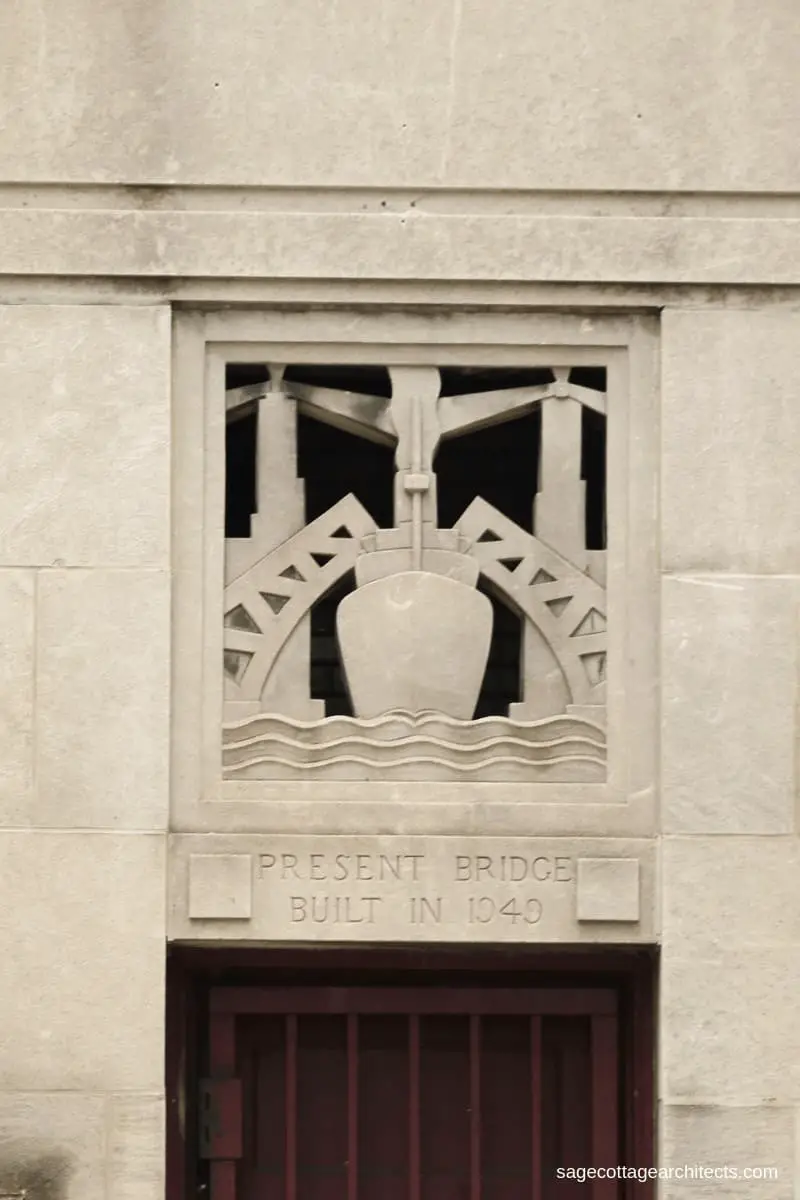 Present Bridge, Chicago River
So, the next time you wake up in the middle of the night and wonder, "What is Art Deco Architecture?" you hopefully have an answer.
If you're looking for some good resources on Art Deco architecture, try these books:
Pin this for later!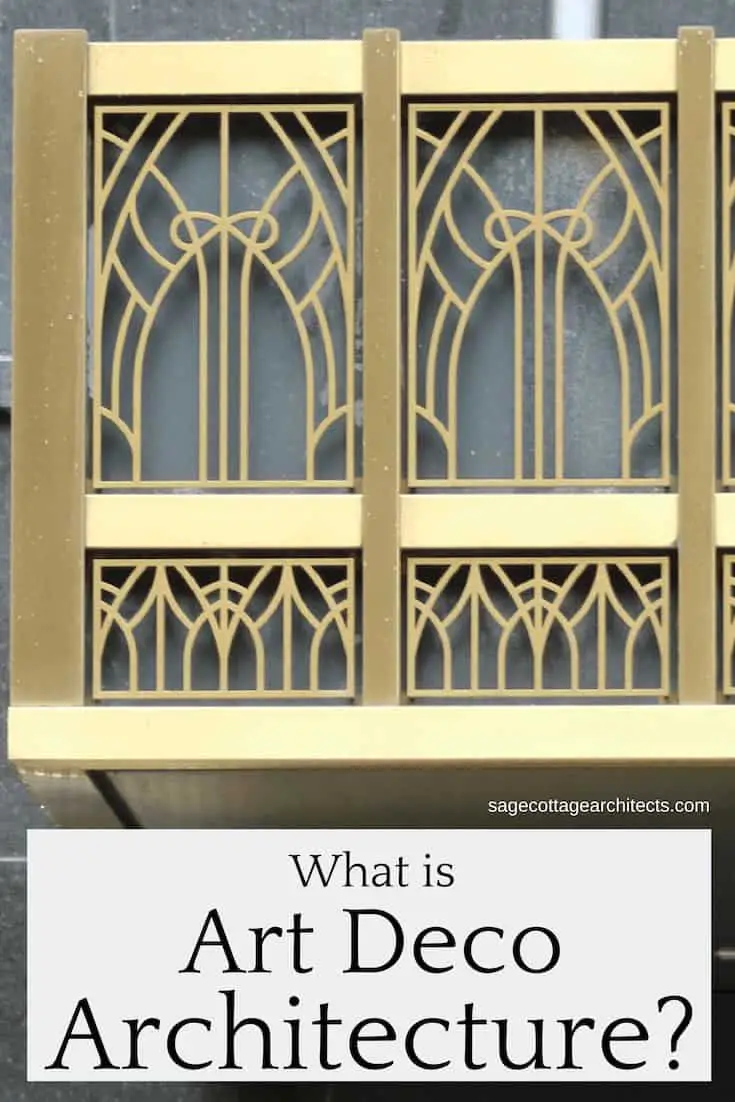 SaveSave