Make every inch of your kitchenette count with a compact refrigerator.
Have you shopped for refrigerators lately? They have become gigantic! I'm not talking about the professional quality ones that cost thousands, but a regular home refrigerator.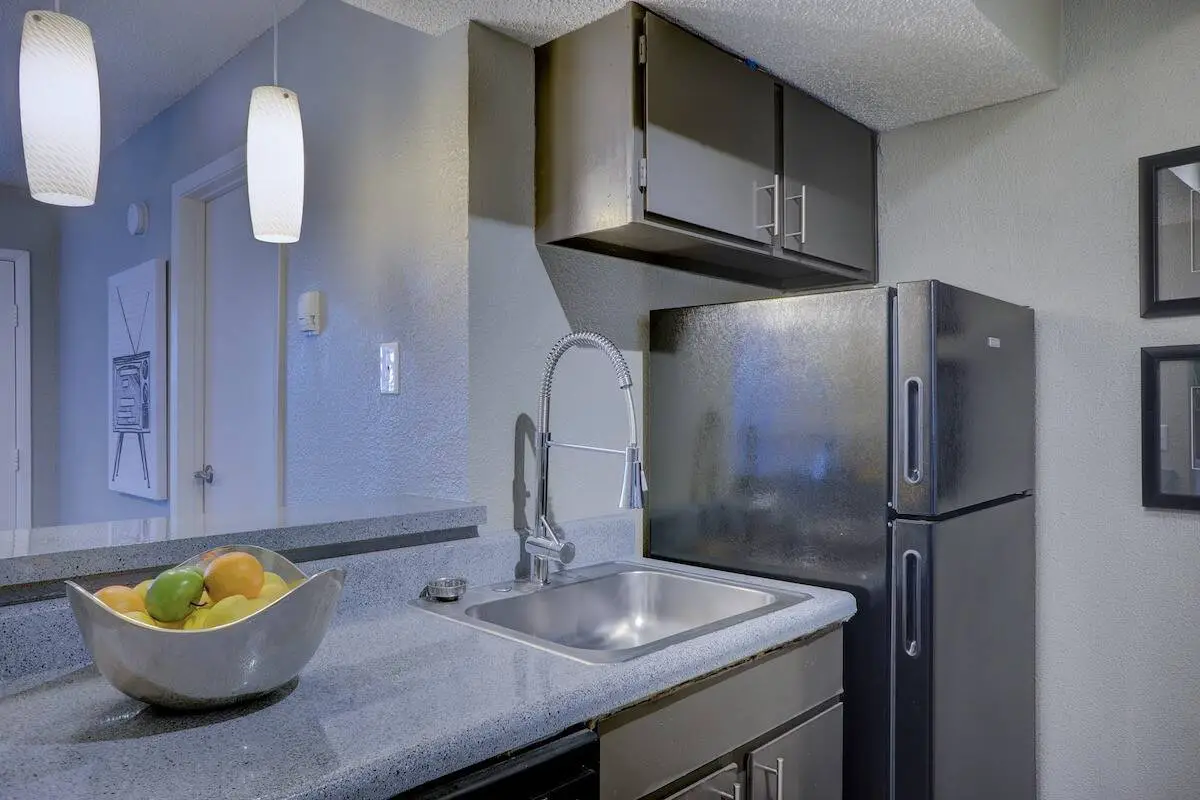 A couple of years ago, we replaced the refrigerator in our small-ish kitchen. We had a hard time finding a fridge that was small enough to fit in the footprint and short enough to fit under an upper cabinet. It's not a small space; it's just that refrigerators have gotten so much bigger than they were twenty years ago.
An average sized refrigerator is now almost three feet wide, three feet deep and about six feet tall. That is a huge amount of real estate! Especially in a small kitchen.
I've been working on a few granny flat plans and it can be difficult to get enough storage and counter space in these small kitchens and kitchenettes. And a jumbo refrigerator does not help!
What is a Kitchenette?
A kitchenette is a very small kitchen, that has most of the amenities found in a regular kitchen. A refrigerator, sink, and microwave are the bare minimum requirements, but most include a range/oven, cabinets, and a small counter space.
Kitchenettes are often found in basement apartments, room conversions, studio apartments and small apartments. They are perfect for accessory dwelling units (ADUs) such as granny flats, carriage houses, and in-law suites.
Kitchenettes are usually arranged in a galley style, but can be a simple linear run of cabinets and appliances. Either way, there is not a lot of space.
How Big is a Kitchenette?
The NKBA defines a small kitchen as 70 s.f. or less. That's only 7′ x 10′. A standard refrigerator (a typical French door or side by side) measures about 36″ x 34″. When you add in the clearance requirements behind the fridge, it covers more than 10% of the entire room!
A compact refrigerator has a much smaller footprint, and would be perfect for a small kitchen. They can be as small as 24″x24″ or 24″x30″.
How to Maximize Space in a Small Kitchen
One simple way to maximize such a small space is in the appliance choices. Compact appliances fall between full sized and tiny house sized. Refrigerators, dishwashers, and range/ovens all come in compact sizes and are perfect for a kitchenette.
Rather than a massive 36″ wide refrigerator, a compact version is only 24-28″ wide. That's as much as twelve extra inches of counter space.
They are also more shallow than a traditional refrigerator, which can be helpful in a galley style design. Finally, compact refrigerators are a little shorter than most standard units.
Smaller on the outside means that compact refrigerators, obviously, have a smaller interior capacity. They range from 10 cu.ft. to about 15 cu.ft. If only one or two people are using a kitchenette, do they really need a 20 or 22 cu.ft. refrigerator? Probably not.
Compact Refrigerators for a Kitchenette
All of the refrigerators on this list are less than 28″ wide – much smaller than average. Many are marketed as "counter depth", which means the front of the fridge should be pretty close to  aligning with the front edge of the counter.
However, that might not always be the case; rear clearances, plus doors and handles may cause the fridge to stick out beyond the counter. But, it's not going to be as much as a regular fridge.
Here's the list:
24″ – 26″ Wide Refrigerators
26-28″ Wide
If you're planning a kitchenette, consider using a compact refrigerator to help maximize counter space and clear up some valuable space.
Pin this for later: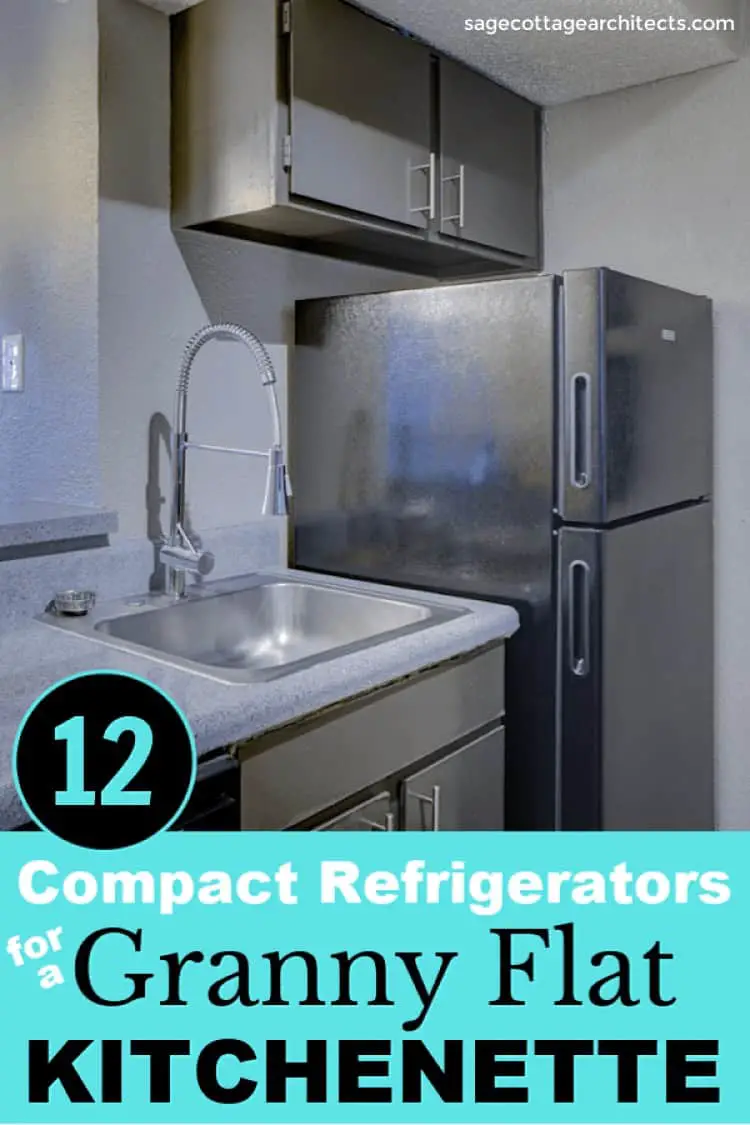 Be sure to grab our Granny Flats – Preliminary Planning Checklist. It's free!