Disney's Old Key West Resort is full of interesting architecture and the perfect place for families to stay.
Planning a vacation to a new destination can be daunting. You're never sure that you've picked a good hotel until you get there. And, then it might be too late. Decision making for a Disney World vacation can be even worse. There are so many decisions: Disney property vs. off site; Value vs. Moderate vs. Deluxe vs. Deluxe Villa; closer to Magic Kingdom vs. closer to Animal Kingdom, a place to collapse vs. a place to enjoy.  And that's not even picking out an individual hotel!
Why choose Old Key West Resort for your Disney stay?
Our first family trip to Disney was back in 2004. I was pregnant and we had two kids (5 and 1.5 years old), my husband and mom. We knew a regular hotel room would be tight, and we wanted somewhere that we could enjoy some downtime. Not just pool time, but quiet time. Nap time. Additionally, as vegetarians, we knew it would be difficult to eat in the parks and having a fully equipped kitchen would help. Luckily, we made the right choice with Old Key West (OKW) and it's been our favorite resort ever since. The condominium style rooms were perfect for us.
Although OKW is a Disney Vacation Club property, it also operates as a regular hotel and is perfect for families. The two bedroom villas sleep up to nine adults. If you need even more space than that, two story grand villas are available that have three bedrooms, four bathrooms, and sleep twelve.
Old Key West, classed as a Deluxe Villa Resort, is centrally located in the Bonnet Creek Area. Which is both good and bad. Good: it's very quiet and peaceful, which is great after a busy day in the parks. Bad: longer bus rides to get to the parks or other resorts. For us, the good far outweighs the bad. Our last few trips to Disney have been "power trips", and OKW is perfect for our down days.
One of my favorite things about OKW is the architecture. (Big surprise!) We like to stay in interesting places, and this fits the bill. It doesn't look like your average hotel. It looks like a neighborhood. The resort's designers paid just as much attention to details  as the rest of Walt Disney World. This post is all about the resort's architecture.
Old Key West Resort
The resort's theme is that of a fictional community, Conch Flats, located in Key West. They do an excellent job of promoting the idea of a community. Rather than saying "hello", the staff always says "Welcome Home!" Spend a few days at OKW and you start to feel like you are at home. The architecture has a Victorian/turn of the century motif with lots of pastels and white gingerbread. The interior decor is very beachy with a Caribbean flair. I've never been to Key West, but this is what I imagine it to be.
Old Key West Resort – Hospitality House
The Hospitality House is the hub of the resort. Disney's Magical Express drops you here when you arrive from the airport. The front desk, restaurant, main pool, and a small convenience store are just a few of the functions here.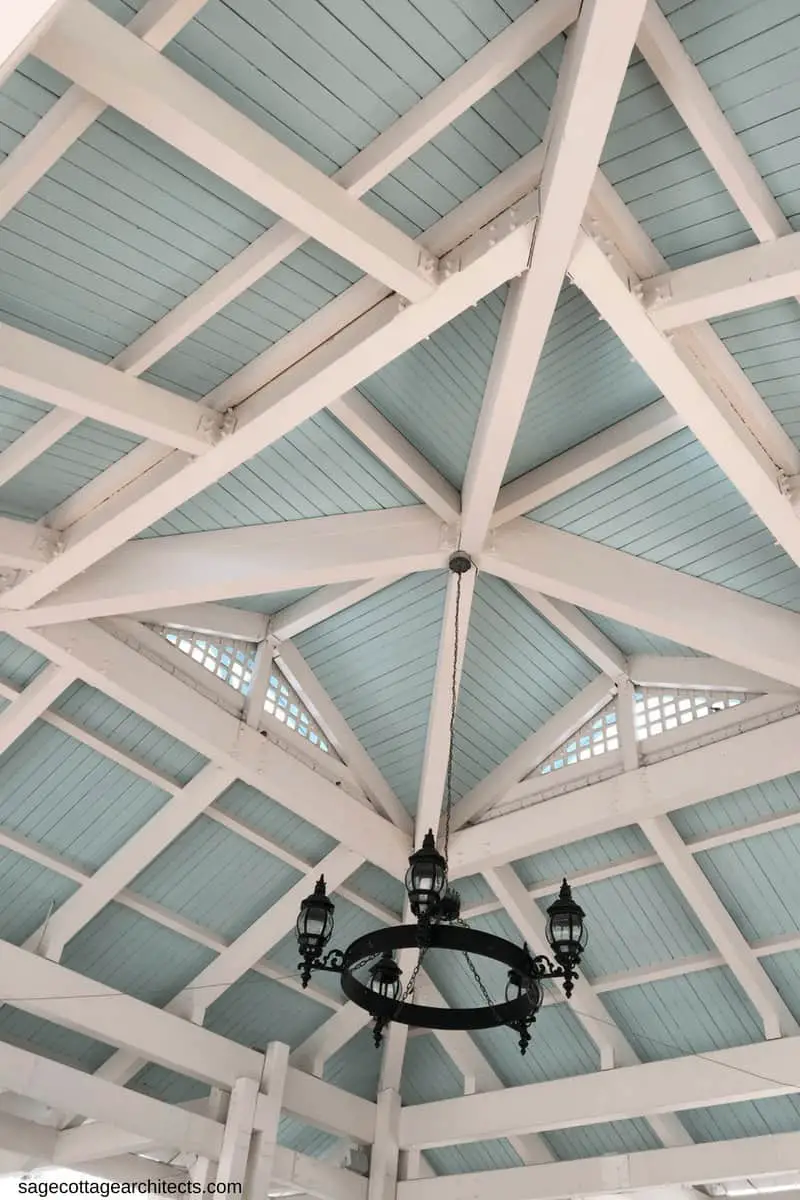 The roof of the entrance to Hospitality House. Can't you just feel the tropical breezes?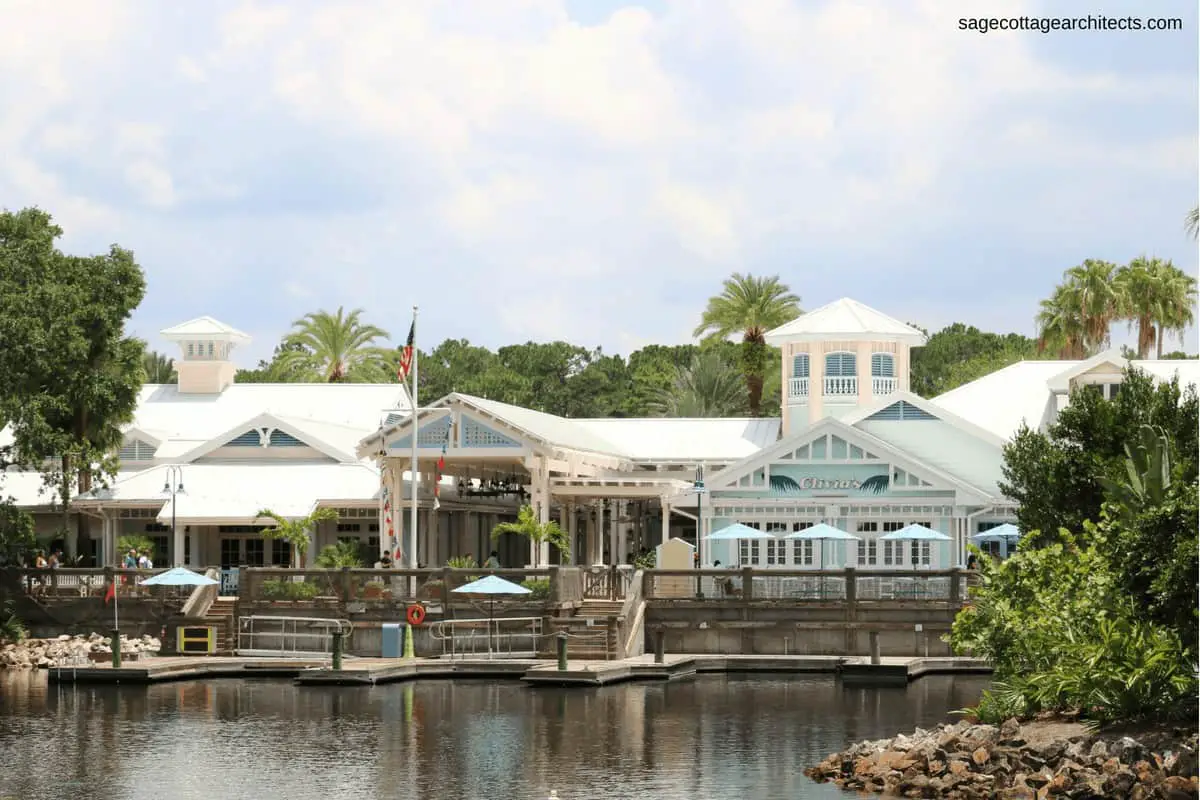 The rear of Hospitality House faces a waterway where you can catch the boat to Disney Springs. There is also a bit of a boardwalk that leads to the Gurgling Suitcase (a small open air bar – try a Pina Colada or Sultry Seahorse). Good's, a quick service food counter, the Rec Room with a pool table, games and big screen TV, and the Exercise Room are also located here. You can rent regular bikes or a surrey bike, and explore the resort.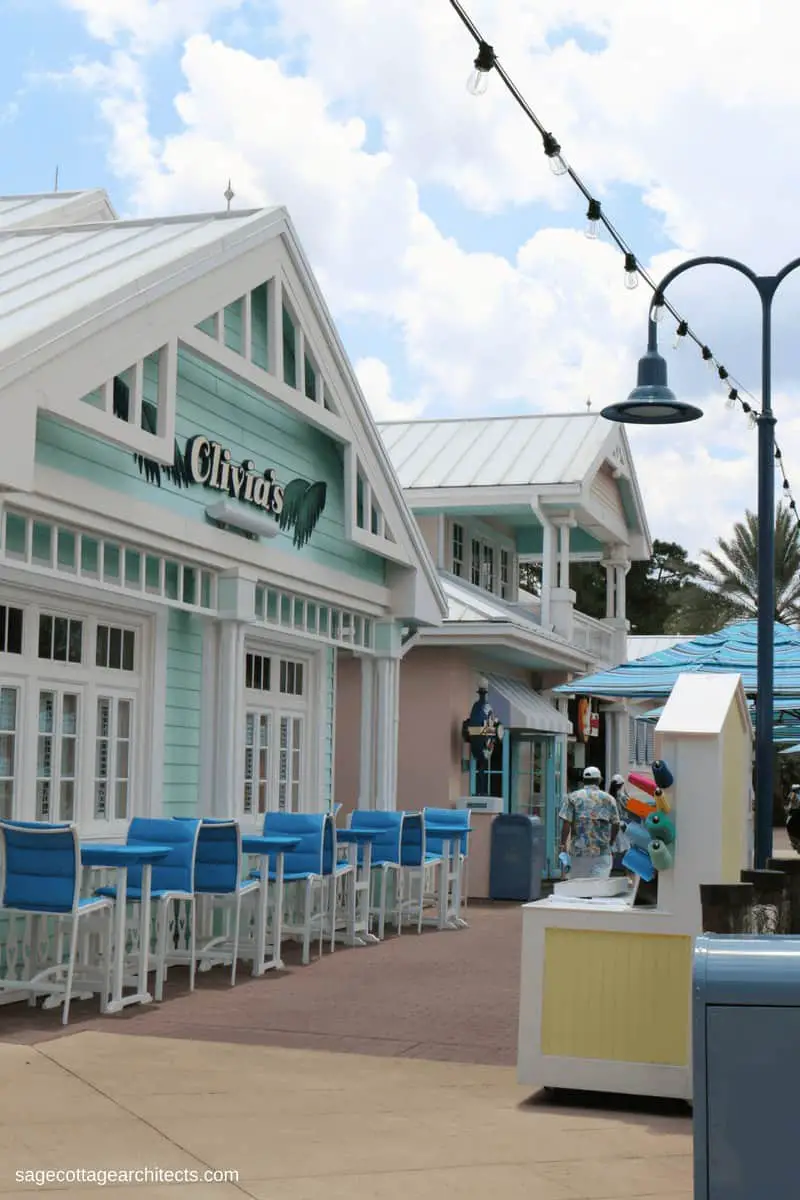 One of the complaint's about OKW is it's lack of dining options. But when you consider that most rooms have a kitchen, you don't really "need" a lot of restaurants. It's just a different mindset from staying in a regular hotel. Olivia's Cafe is located in the Hospitality House, and has service all day. (Be sure to try the pineapple coconut rolls or banana bread French toast!)
I love the ceiling fan in Olivia's Cafe. It's tropical and rustic and industrial, all at the same time. The fan blades are attached to a long rod that stretches across the entire dining room, and a very steampunk looking mechanism turns the rod.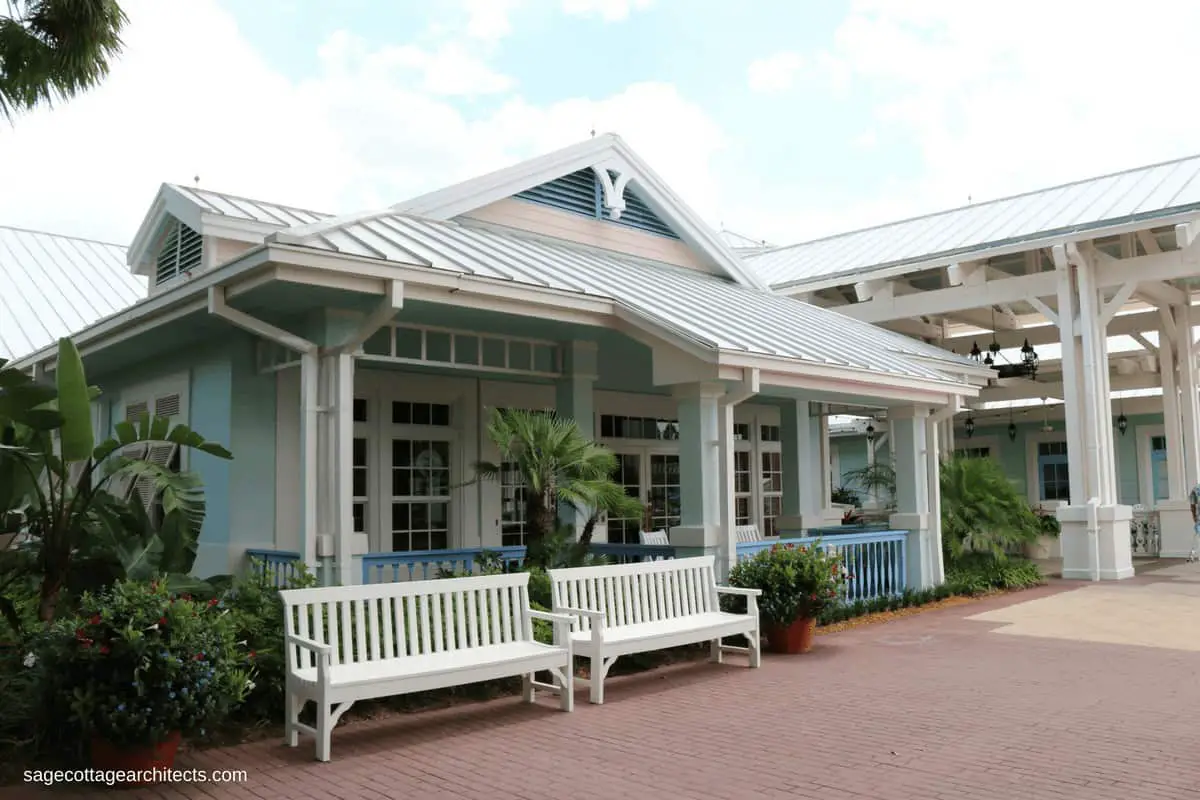 Keeping with the Key West theme, there are lots of shady, covered areas to sit and relax.
Old Key West Resort – Main Pool Area
Old Key West  has four pools: the Sandcastle pool by the Hospitality House, and three smaller "quiet" pools scattered about the property.

The giant sandcastle is a water slide, and is always popular. Notice the Hidden Mickey?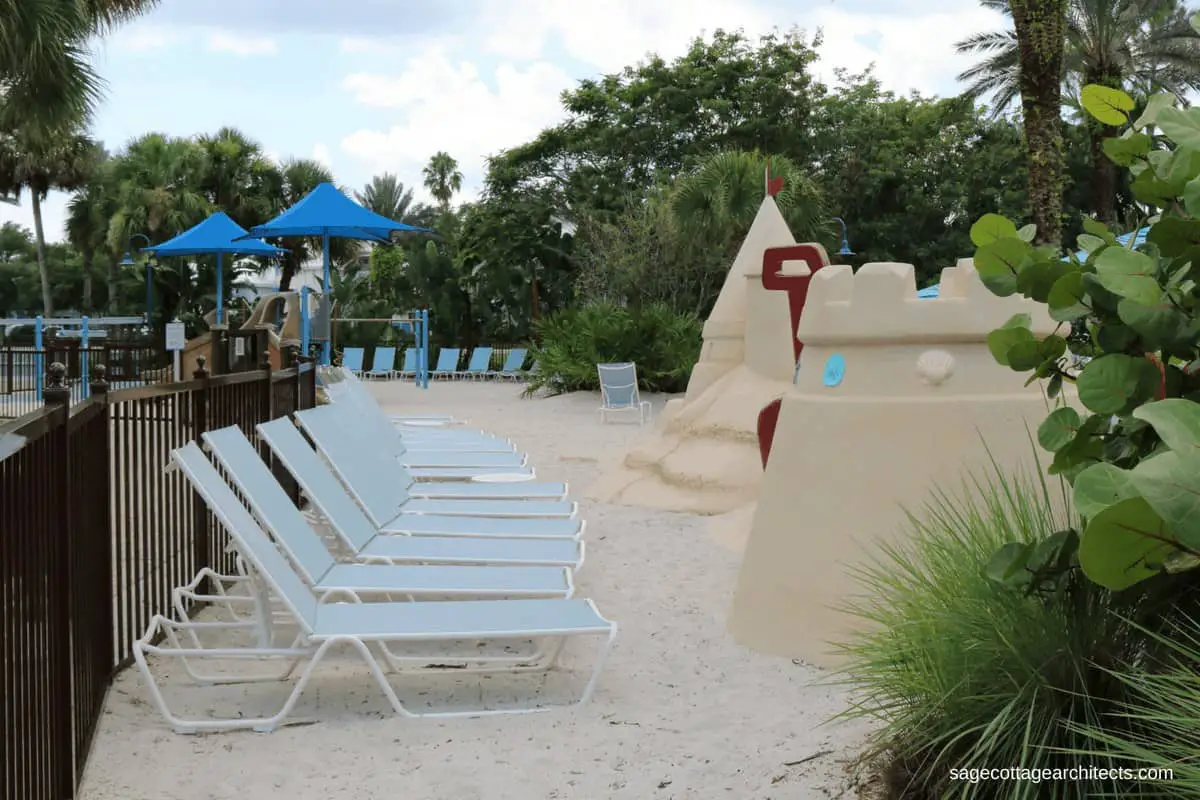 The kiddie pool also has a sand playground with oversized sand toys and castle. Tennis courts, basketball, volleyball, shuffleboard, and a jogging trail are here as well.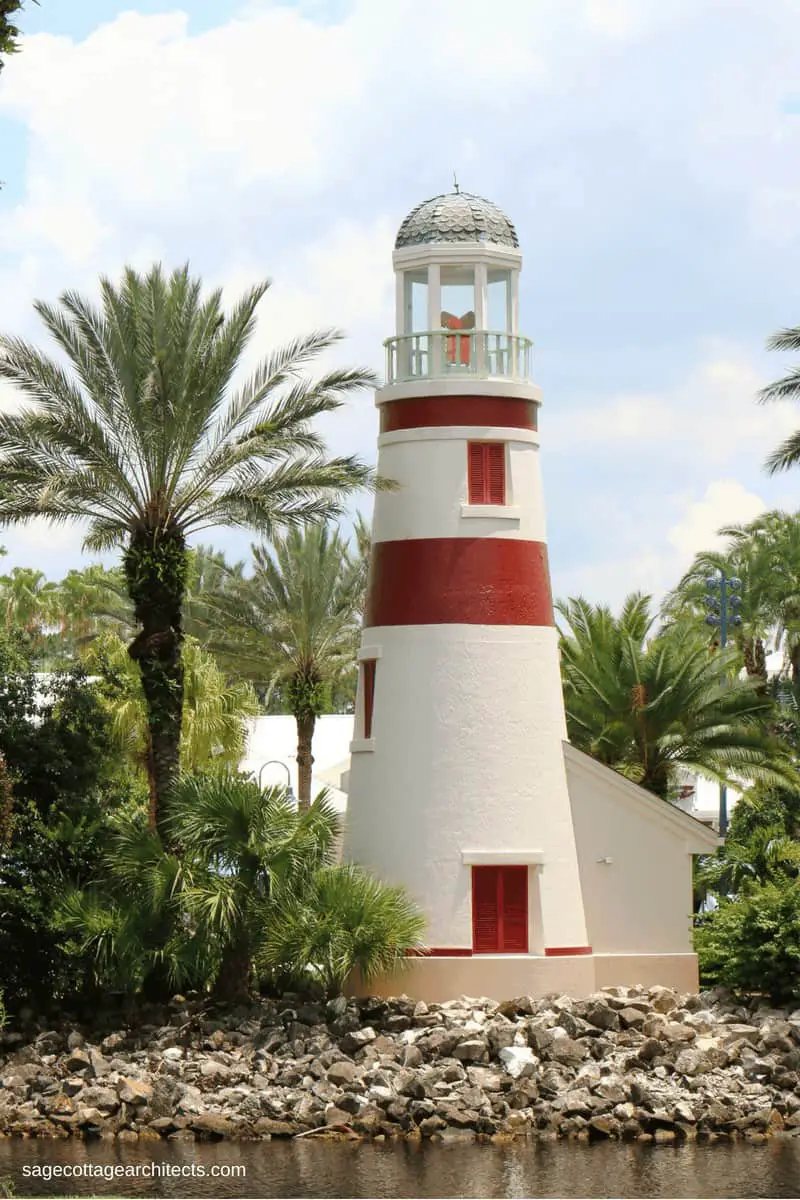 The iconic lighthouse is actually a sauna! I had no idea until our last trip. Disney is always full of surprises.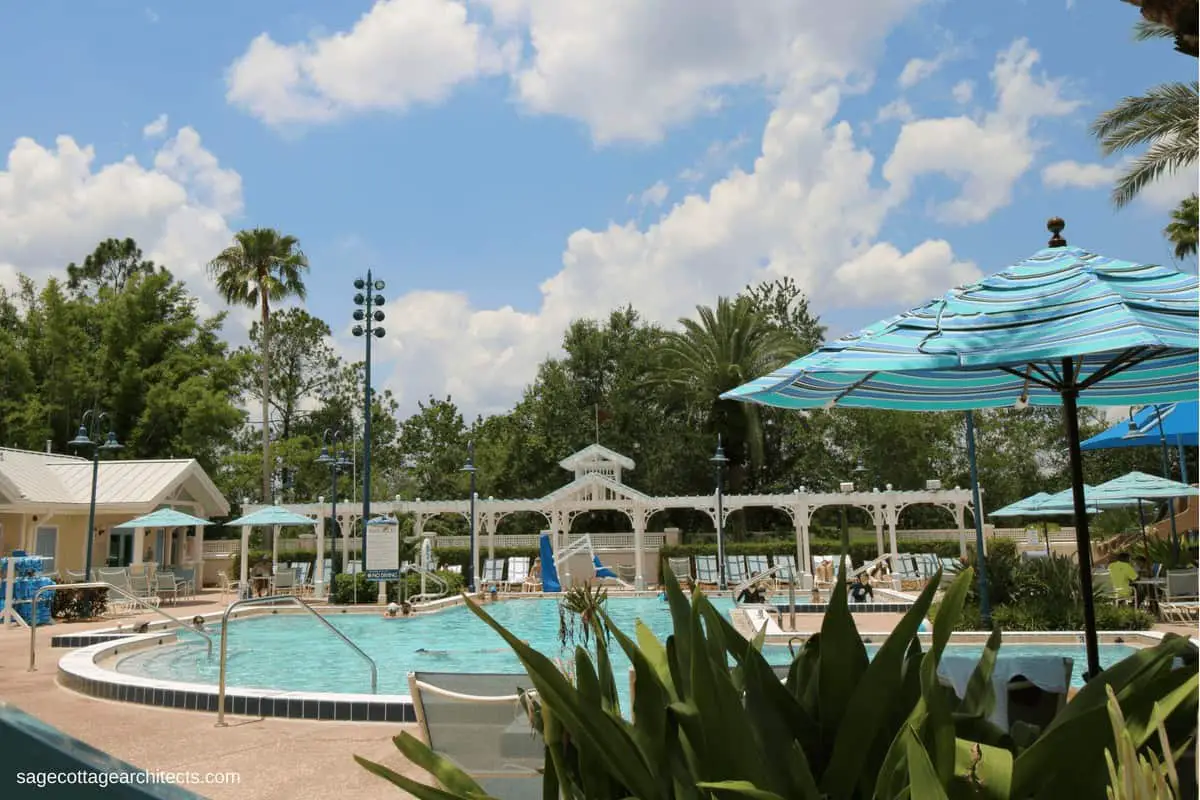 The smaller quiet pools are very nice. The Turtle Pond Road pool is perfect for adults and older kids.
Even the Turtle Pond Road pool gate gets Disney's attention to detail with turtle cut outs.
Old Key West Resort – Buildings
Rather than one large building, Old Key West resort is about fifty buildings grouped into neighborhoods. Buildings are two and three story, with studio, one and two bedroom units, and two story grand villas. Most buildings are located near a pond and/or the golf course, and have parking spaces in front of them. Each unit has a private balcony.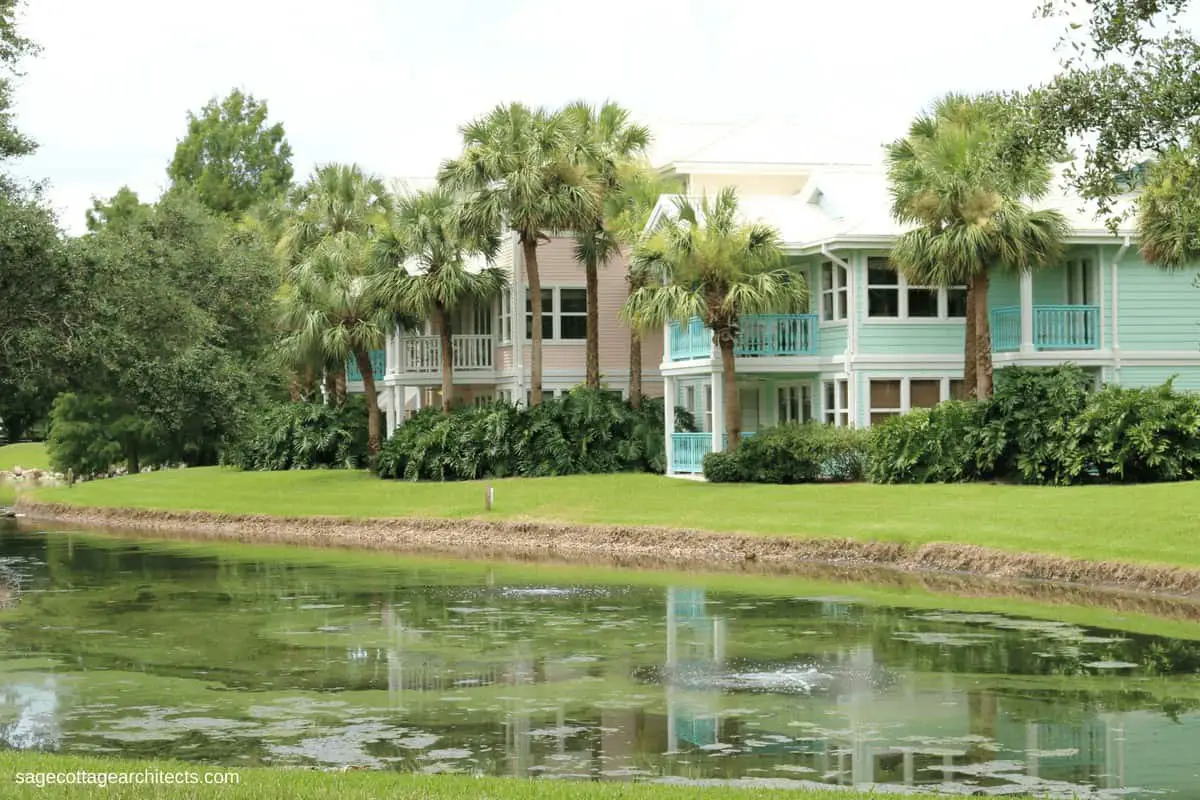 Several different architectural techniques were used to make the buildings more interesting. Building units are pastel colored, and several colors are used on an individual building. Different sized rooms are combined into different building configurations, which keeps the resort from looking like a typical hotel. Building materials like scalloped siding, wood shakes and horizontal siding, along with metal roofs, make the resort feel more like a tropical home than a hotel.
This building not only has three different colors, it has three kinds of siding plus lots of gingerbread.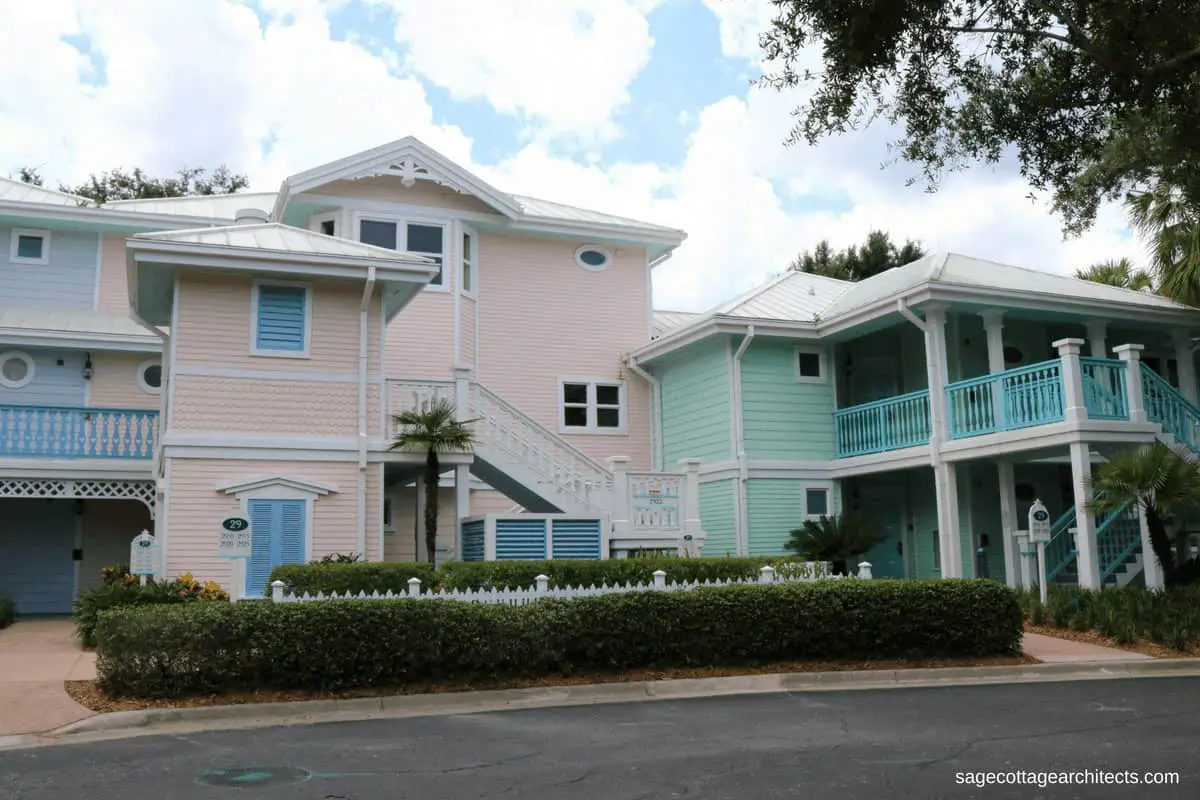 One thing to note: most buildings do not have elevators. Be sure to ask for a ground level room if you have accessibility issues.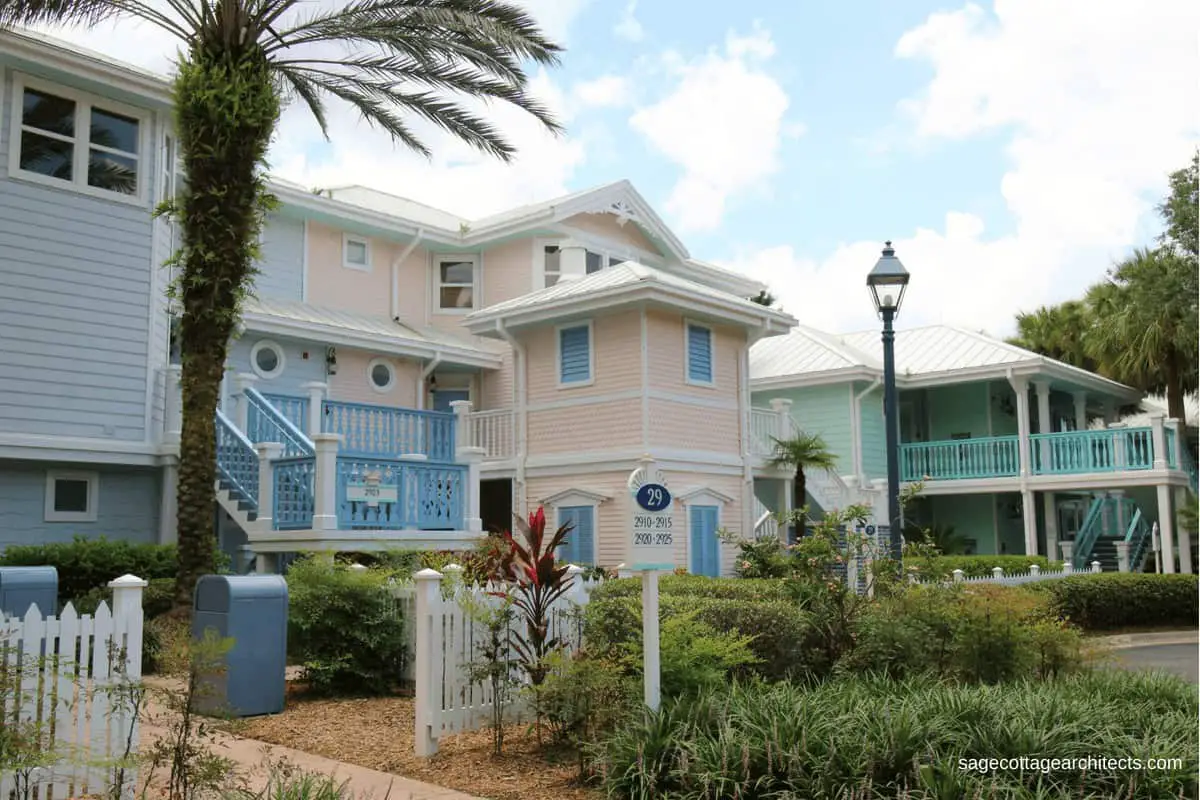 The tropical landscaping of palm trees, mother-in-law tongue, and banana trees give the impression of being in Key West.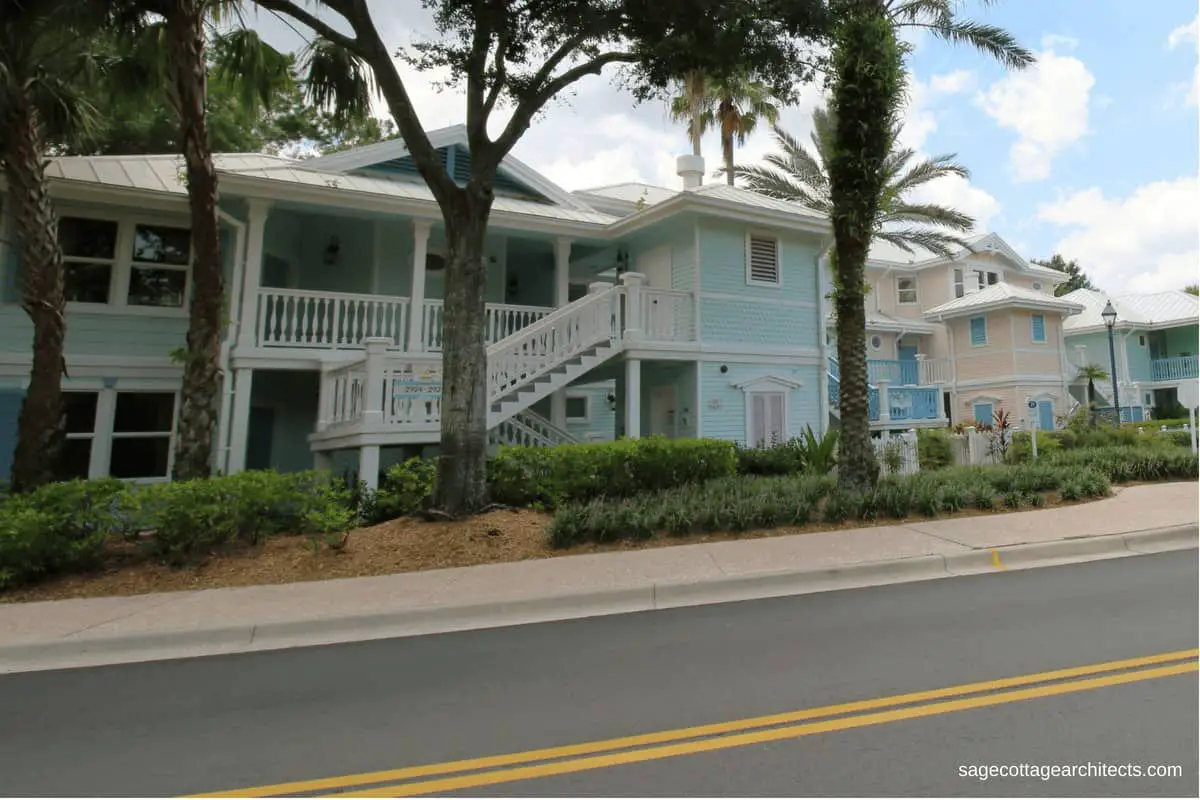 Building services are hidden in towers like this one.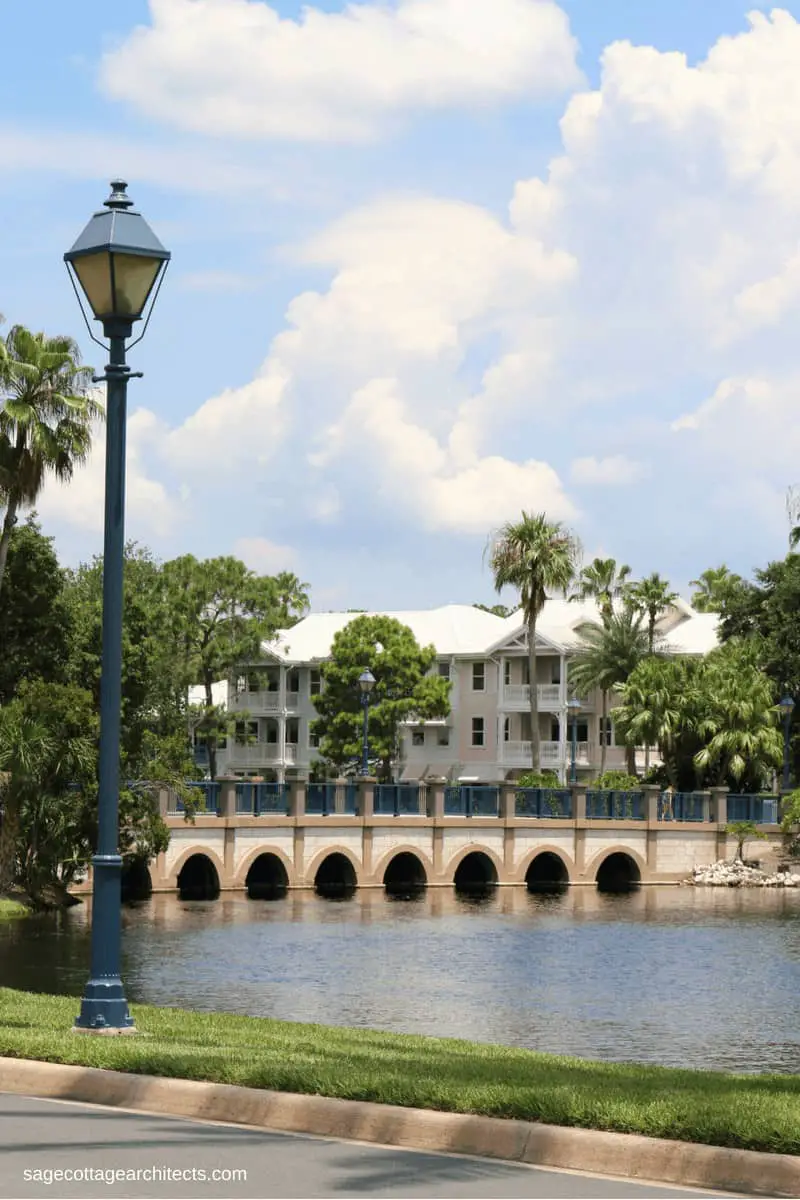 Old Key West Resort – Details
Disney always does a great job of including themed details in their designs. The street sign, below, includes the Conch Flats city symbol.
Where else would you see seashells embedded in the sidewalks?
These cool nautical light bollards line the pathways.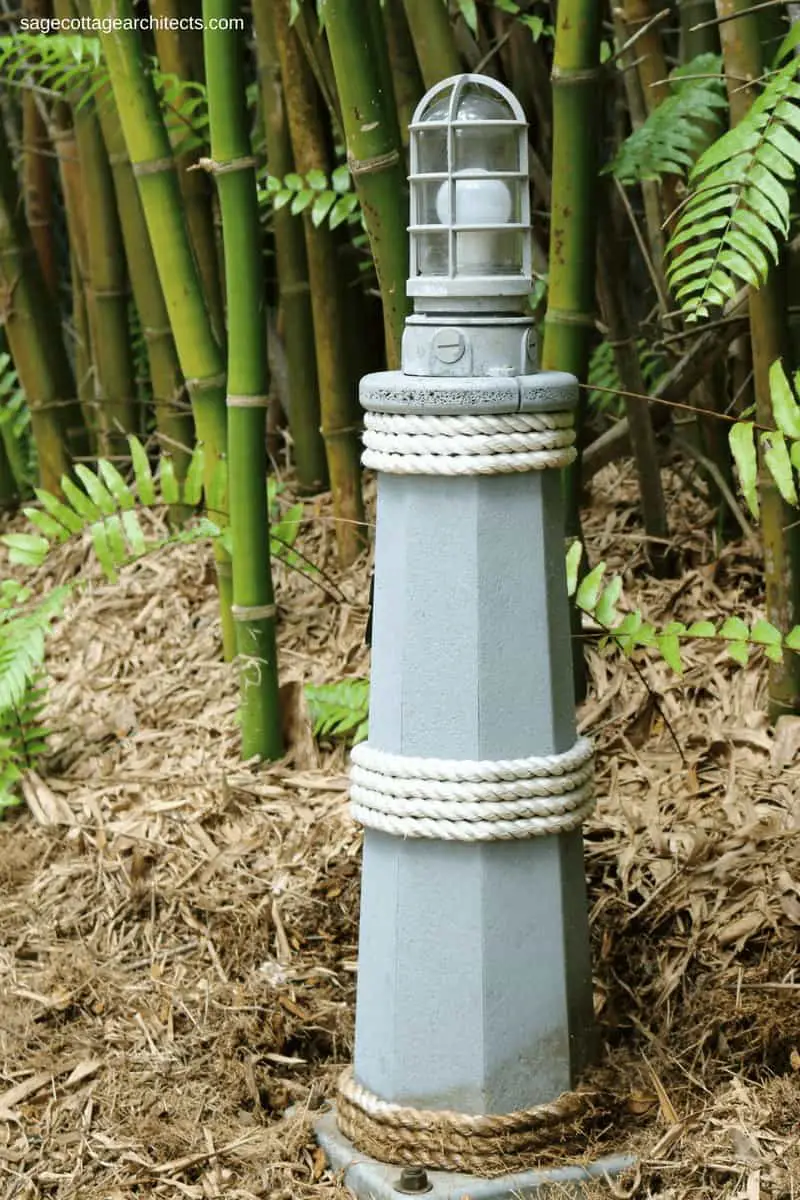 A series of oversized exterior chandelier in the Hospitality House main walkway continues the nautical theme.
And now for the Victorian inspired gingerbread. The designers utilized lattice, gable decorations, corbels, and various railing styles to amp up the Key West vibe.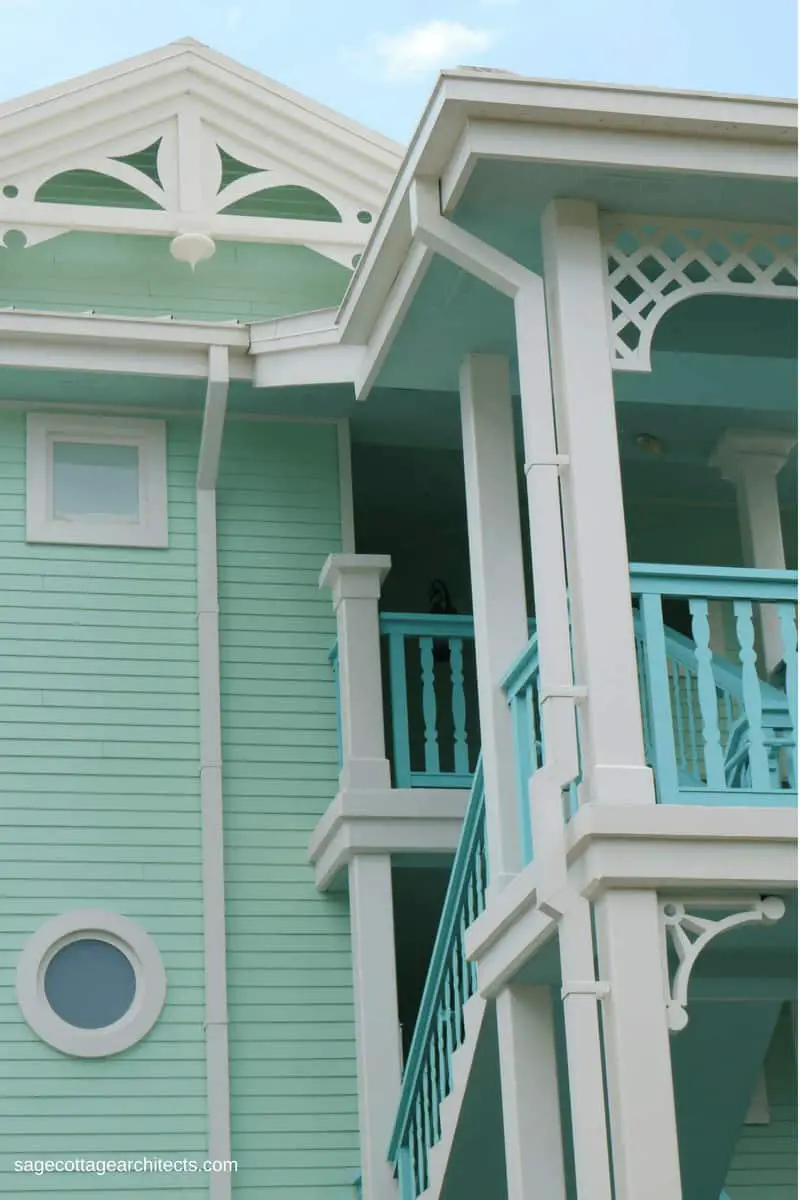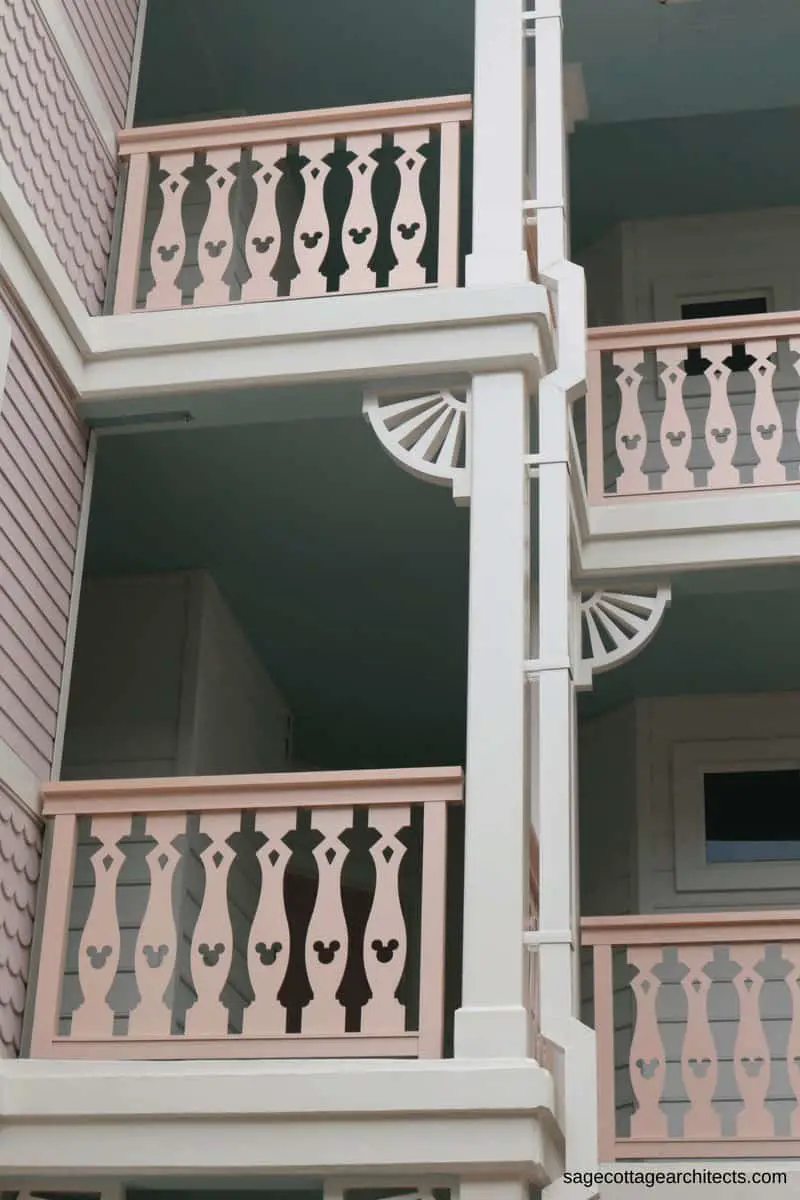 Mickey Mouse cutouts in the railing.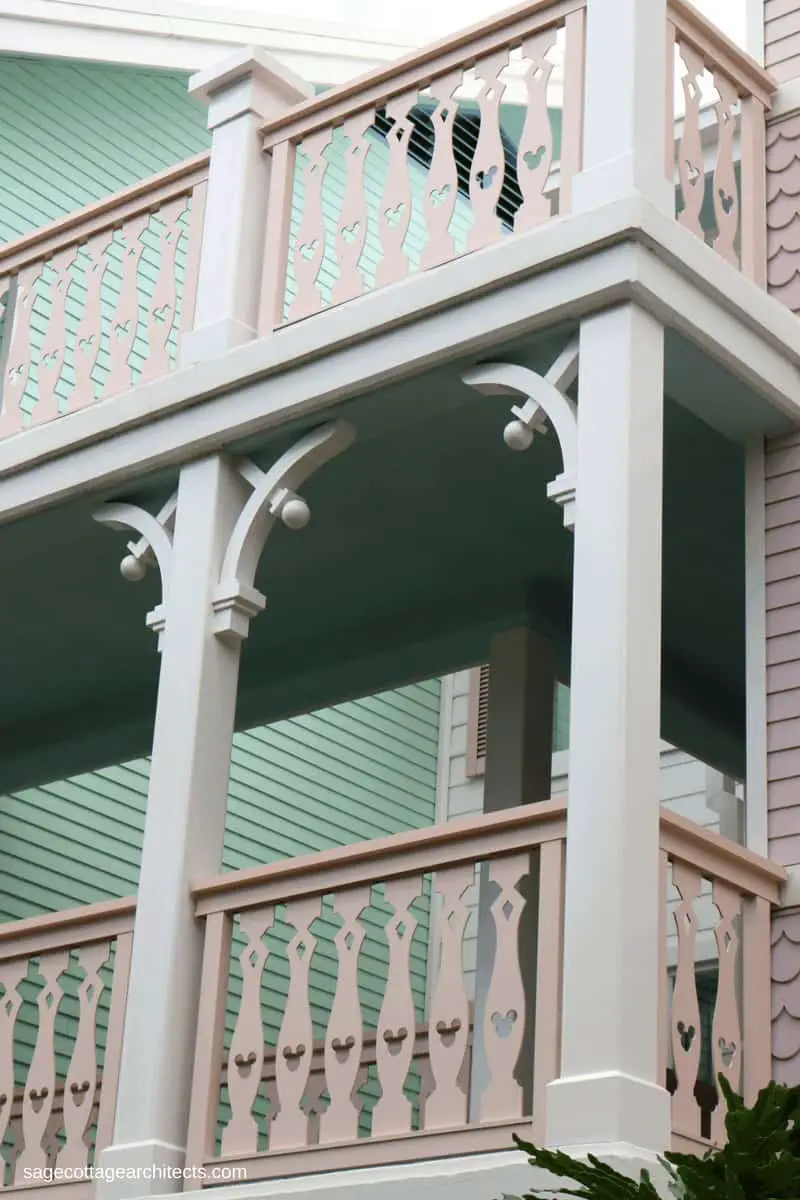 Another hidden Mickey in the corbels.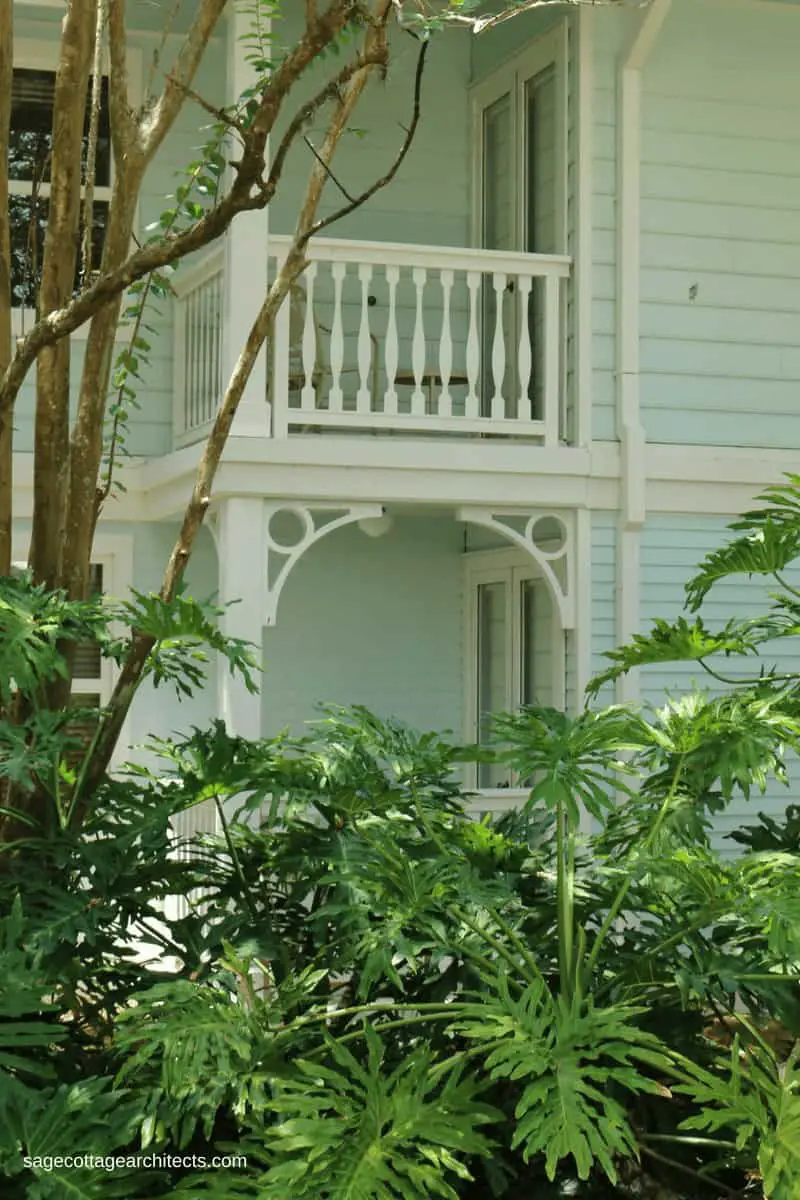 Finally, even the four bus stops follow the design theme. They are a nice place to wait and to escape Florida's sun. Flat screen TV's keep you updated on the bus arrivals, while ceiling fans keep the air moving.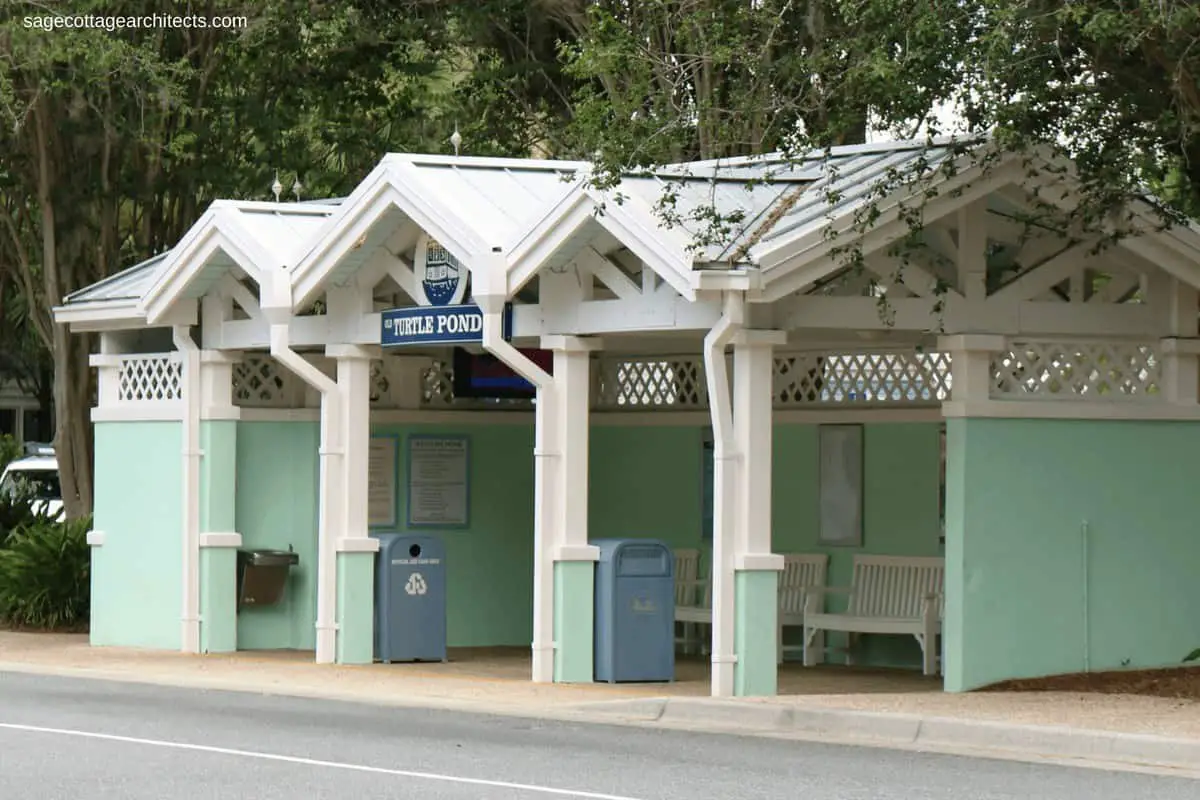 Disney is currently updating the room interiors of Old Key West Resort, and they look great! I'm hearing chatter about our next trip, and you can bet we'll be staying here!
Here's the pin: