For some people, it's easy to daydream about dropping everything, moving to the country, starting an organic farm to table operation and living an idyllic life. But, before you get too far down that rabbit hole of rural real estate, be sure that you know some of the realities of country life.
We live in a rural subdivision of about fifty houses that is a couple of miles from a small town. In turn, the small town, is about twenty miles from several mid-sized cities. Our closest shopping area is a thirty minute drive away. We're not farmers, although we are surrounded by cornfields and have an uninterrupted view to the horizon.
We moved out here because we could get three times the amount of land and a nice house (although it was stuck in the 70's) for about half the price of a home in town. Neither one of us had lived in the country, and there were some things I wish we had known at the start. But, overall, I've really enjoyed living out here.
Country Life
Living in the country can be great, but it does take some getting used to. Just like any home ownership, there are things that are your responsibility, but sometimes, country living requires a little extra time and effort. Here are some things we have learned in our two decades of country life.
Water
Living in the country most likely means your water will come from a well. Well water is typically hard, and often has things like iron, methane gas, tannins, fine sediment, and sulfur in it.
All of these problems can be corrected with water treatment systems (like Kinetico or Culligan), but unlike city water, it's something you have to monitor and maintain. You'll need to buy bags of salt every so many weeks, replace filters, and pay attention to the water quality. If the water gets worse, your softener system needs attention.
Gas & Electricity
If you're really out in the country, you'll probably use Liquid Propane (LP) gas rather than piped natural gas, like in a city. An above ground storage tank holds the LP gas, and  a service comes out and fills your tank. It's not really a lot of work on your part, but it's another thing to do.
Living in the country means you will lose power. It's not a matter of if, but of when, how long, and how often. Unfortunately, losing power also means your furnace/air conditioning will not work. But, the worst part about losing power in the country is that you lose power to the well pump, so your water is out. Not fun.
The best solution for power outages in the country is to install a whole house generator like one of these from Guardian. The generator runs on natural gas, and will automatically start if the power goes off. It was one of the best investments we have ever made.
Sewage
When you live in the city, once you flush the toilet, you don't have to think about the waste. But, guess what you're in charge of when you live in the country? Septic systems take care of household waste.
For the most part, septic tanks are pretty maintenance free. They need to be pumped out every 4-5 years. You don't have to do anything except call somebody like the Purple Poop Pumpers or Turd Burglar (I'm not making those names up!), and they'll take care of everything.
We replaced the septic system a few years after moving in. It wasn't fun, and I wish we had known a little more about septic tanks before buying the house.
Internet
Unfortunately, internet service is usually pretty poor out in the country. Service providers spend their money in urban and suburban areas instead of the rural areas – which makes sense because they have more customers there. But, it's not fun for us.
Internet service can be expensive, slow, limited, or unpredictable. Or some combination of those. Some people rely on their cell service, while others go with satellite services, but there aren't a lot of choices for really remote properties.
Isolation
Obviously, your interactions with people are going to be significantly fewer in the country. If you're really out in the country, your nearest neighbor might be a few miles away. For some people, that's perfect, while others need that daily interaction or the peace of mind of knowing others are close by.
Additionally, it's going to take some time for emergency responders to get to you when you live in the country. The closest sheriff's deputy might be 30 minutes away. That can really freak some people out.
Neighbors
I've found that country neighbors tend to fall into two camps: those that are super friendly and will do anything to help you out, and those that act like you don't exist if your parents didn't grow up with their parents. Thankfully, most people are in the do anything to help group.
Shopping & Errands
A Target run takes a lot more time when you live in the country. Just knowing you have to add a significant amount of travel time to everything can put a crimp in plans. We don't always have time to run into town and grab something. As a result, those quick Target runs often end up as a bigger shopping trip.
Home repair/improvement
It can be difficult to get tradespeople to come out to the country to do home improvement or repairs, especially if it's for a small job. If you're really far out, you'll have the extra cost of their travel time. Hiring a local guy can go either way – I've had guys that were great and guys that should not have even owned tools.
Food delivery
Sadly, there is no pizza delivery in the country. Or Grubhub. You have to be more organized in meal planning and shopping, since you can't rely on a last minute food order from your phone.
Roads
We don't have sidewalks in the country, so walks or runs are done in the middle of  the road. I've had plenty of times when I had to get completely off the road because a huge farm machine was coming and it was bigger than the road. Just step aside and give them a wave. (We are friendly out in the country!) When we first moved out here, people would stop and ask if the car broke down and if we needed a ride. Why else would we be walking?
Winter travel in the country can be tricky. Snow can quickly close roads until they can be plowed, and once they are, they don't always stay open. Drifting snow closes them again. Depending on where you live on the snowplow route, you might be snowed in for quite awhile until they get to you.
Bugs & Animals
Finally, there are lots of bugs and animals in the country. You are living in their neighborhood after all. If wildlife freaks you out, you probably shouldn't live in the country. In the fall, we get the occasional mouse in the house or attic. Sometimes the cats know their job, sometimes not. In the summertime, a skunk will sometimes stroll through the yard. We don't see them, but we definitely smell them.
But, it's not all bad. We get to see white tailed deer checking out our outdoor Christmas decorations. We see lots of birds – hawks, bald eagles, and migrating birds like pelicans. This spring, we had a fox den in our backyard with four kits. So, I'll take the occasional mouse or strolling skunk.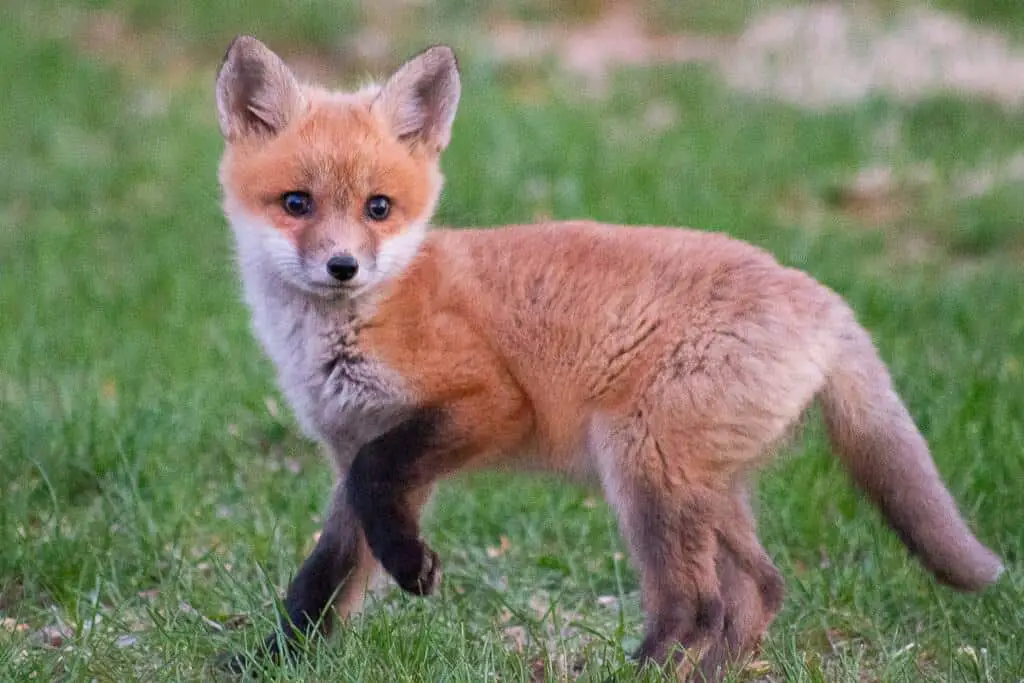 Hopefully, I've given you an accurate and honest peek into country life. It has its drawbacks, but when I'm sitting on the patio and the only thing I  hear are the birds, then I know that living in the country is pretty good.
Pin this for later: