Lately, it seems like everyone wants a kitchen island. And, understandably so. They look so nice! Unfortunately, the kitchens in most older homes just aren't big enough to fit an island. While I would love to have an island, it would pretty much fill up all of my 70's era kitchen! But, if you're dreaming of a new build or kitchen remodel, we have all the important kitchen island dimensions you'll need to know.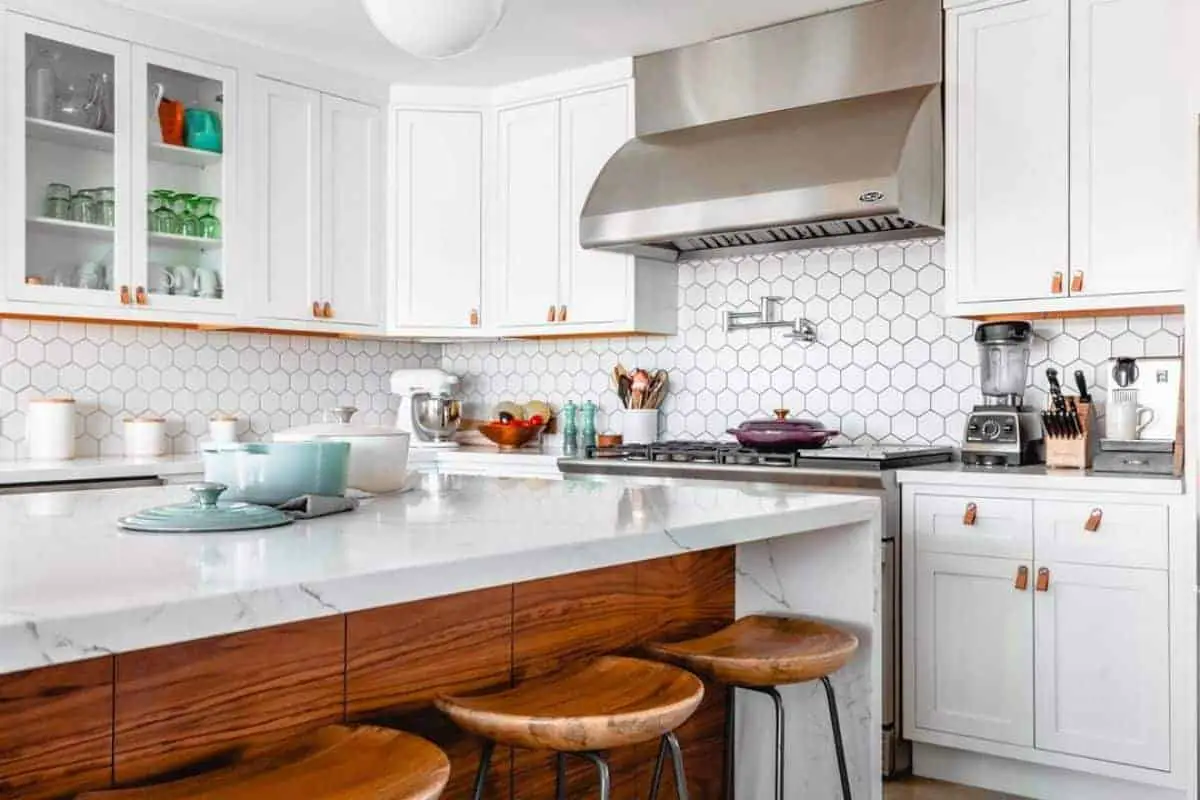 Basic Kitchen Island Dimensions
Kitchen islands come in all kinds of sizes. The minimum size for a built in island is about 24″ wide x 48″ long. A moveable island or kitchen table is a good idea if you don't have enough room for a built in.
Overall, a rectangular shaped island is better than a square one. In addition to being more visually appealing, it's easier to live with. It's difficult to reach the middle of a counter wider than 4.5′ or 5′, so cleaning that area will be tricky. With a wide counter, you'll have to walk around to the seating side to gather plates and cleanup after a meal, rather than reaching across. While not a tragedy, it will get old fast.
Here are some island dimensions that you can use as a guideline:
Width
Most kitchen islands start with a base cabinet either 24″ or 30″ deep. For a wider island, two 24″ deep cabinets can be placed back to back. Or combine a 24″ and 30″ deep cabinets for a little more depth. Seating at the island will also add to the width, and we'll have more on that later. In general, a good width for an island is 5′.
Length
The length of the kitchen island will depend on a couple of factors. The most important thing is to provide enough clearance around the island. I'll talk about this a bit more later, but if you're designing an island, start with the clearances and work backwards to determine the actual length of the island.
Next, you'll want to consider the island countertop. Overly large islands will require multiple countertop slabs, which means you'll have seams where the slabs meet. If you want one seamless countertop, then the island needs to be smaller than the slab material.
Countertop slabs come in different sizes depending on the material, so the kitchen island dimensions will be effected by the countertop material choice. Some quartz counters are available in jumbo slabs (about 63″x128″), while most granite countertop slabs are a bit smaller (about 65″x114″).
Finally, while bigger is usually better, there is a point at which an island becomes unwieldy. Limiting the length to 10′ or 11′ is a pretty good rule of thumb.
Height
This dimension has fewer variables than the others. The typical counter height in a kitchen is 36″ above the finished floor. This is also the most common height for a kitchen island. Some islands have a raised bar seating area that is 42″ high, or a lower table height counter area that is 30″ high. But, for the most part islands are 36″ high.
Items to Include on a Kitchen Island
Kitchen islands often pull multiple duties. Everything from a place to eat, to cook, and to cleanup. Or none of those. It all depends on what you want, and how the other areas of the kitchen are arranged and function. Here are some items that are often included on an island, and their respective dimensions. Landing spaces and work area dimensions are minimums. You can also have more space.
Sinks
Islands are often used as a cleanup zone. Regular sized kitchen sinks are 24″-36″ wide, and need an adjacent landing area of 24″ on one side and 18″ on the other. Prep sinks, which are more in the 18″ wide range, have the same landing space requirements. Regardless of the sink size, consider including a 36″ clear prep area next to the sink.
Appliances
If the main sink is in the island, then the dishwasher should go right next to it. It really doesn't matter if it's on the left or the right side of the sink. It's more of a personal preference – unless the open dishwasher interferes with another element or pathway.
Dishwashers require a 24″ wide x 24″ deep space in the cabinets. Be sure to allow enough room for traffic to go past the open dishwasher door so it doesn't create a traffic jam.
In most new projects, the microwave has moved from its spot over the range to the lower cabinets. A microwave drawer is usually in the 24″-30″ width range.
Cooktops
Placing a cooktop on a kitchen island isn't always a great idea. Especially if the island has seating near the cooktop. In addition to being a potential fire hazard, grease could splatter those sitting nearby, and it seems like you would spend a lot of time cleaning the island. You'll also need a gigantic range hood over the cooktop, which can look obtrusive.
If you really want a cooktop in the island, you'll need to provide a work area and landing space on either side of the cooktop. Most cooktops are 30″-36″ wide, and you'll need a minimum clear space of 15″ on one side and 12″ on the other.
Shelves
Display shelves on the end of an island can be a great way to add some decoration and extra storage. Shelves are typically 12″ deep.
Clearances Around a Kitchen Island
Before we get into clearance dimensions, we need to set some ground rules. Typically, countertops overhang the cabinets by 1″ – 1.5″. This puts the countertop edge past the cabinet door and cabinet knobs/handles. The clearance dimensions are the minimum requirements from the one face to another, whether that's a countertop edge or the handle of a refrigerator.
Walkways around the kitchen island should be a minimum of 42″ wide, and 48″ is usually better. An aisle with a dishwasher should be at least 45″ wide, so that traffic can still pass when the door is open. Aisles with a refrigerator should have 36″ clear minimum from the handle to the island.
Kitchen Island Seating Dimensions
Seating at the kitchen island is especially popular with families. If you want to have seating at the island, you need to have an overhang. No overhang, no seating.
The minimum overhang depth is 12″, but 15″ or 18″ is going to be much more comfortable. In general, overhangs greater than 12″ will need support for the countertop. Some countertop materials can have larger overhangs without support, so you'll want to defer to the countertop fabricator. Support can be provided by decorative legs, pony walls, or steel bars underneath the counter.
Allot a minimum of 24″ of width per person for seating, but 30″ is much more comfortable. Nobody wants to sit shoulder to shoulder at an island.
The current trend in kitchen islands is to have one flat surface for both prep work and the seating area at counter height (36″). However, some people prefer a raised bar height counter at 42″ above the floor. A lower counter at 30″ is also a nice option.
Island seating will require larger aisles and walkways behind the seats in order to provide room to pass. A 48″ wide (from the countertop edge to counter face or wall) walkway is a nice size.
Whew! That should just about cover all the kitchen island dimensions you'll need.
Be sure to check out our other kitchen posts:
Pin this for later: