If you've accumulated too much stuff and need a dose of decluttering in your life, these storage solutions will help you organize your entire home. Whether you're limited on space or not sure what to do with the space you do have, keep reading to find out my tips to follow when it comes to staying organized (plus what to use in the process). 
Top Tips to Stay Organized
Before diving into the storage solutions, let's look at a few quick tips to help you make the most of your decluttering and organizing journey.
For starters, figure out where you are going to store things. There's nothing like starting the process only to realize you haven't cleared out an actual space to put stuff!
Next, get an idea of some storage solutions that will work best for your space (psst… keep reading as I give you some awesome ideas below). If you're clearing out a corner, consider getting some square boxes or bins. Extra kudos if you opt in for nesters. These are boxes that stack well on top of one another.
Last but not least, don't go the cheap route. As tempting as those Dollar Store bins may be, consider where you'll be storing just as much as what. Using an attic space to store clothing? Chances are you don't want to pull that bag down next season only to find holes chewed in them and your clothes not wearable. 
With these tips in mind, let's look at some things you can use to declutter your home and help you stay organized in the process.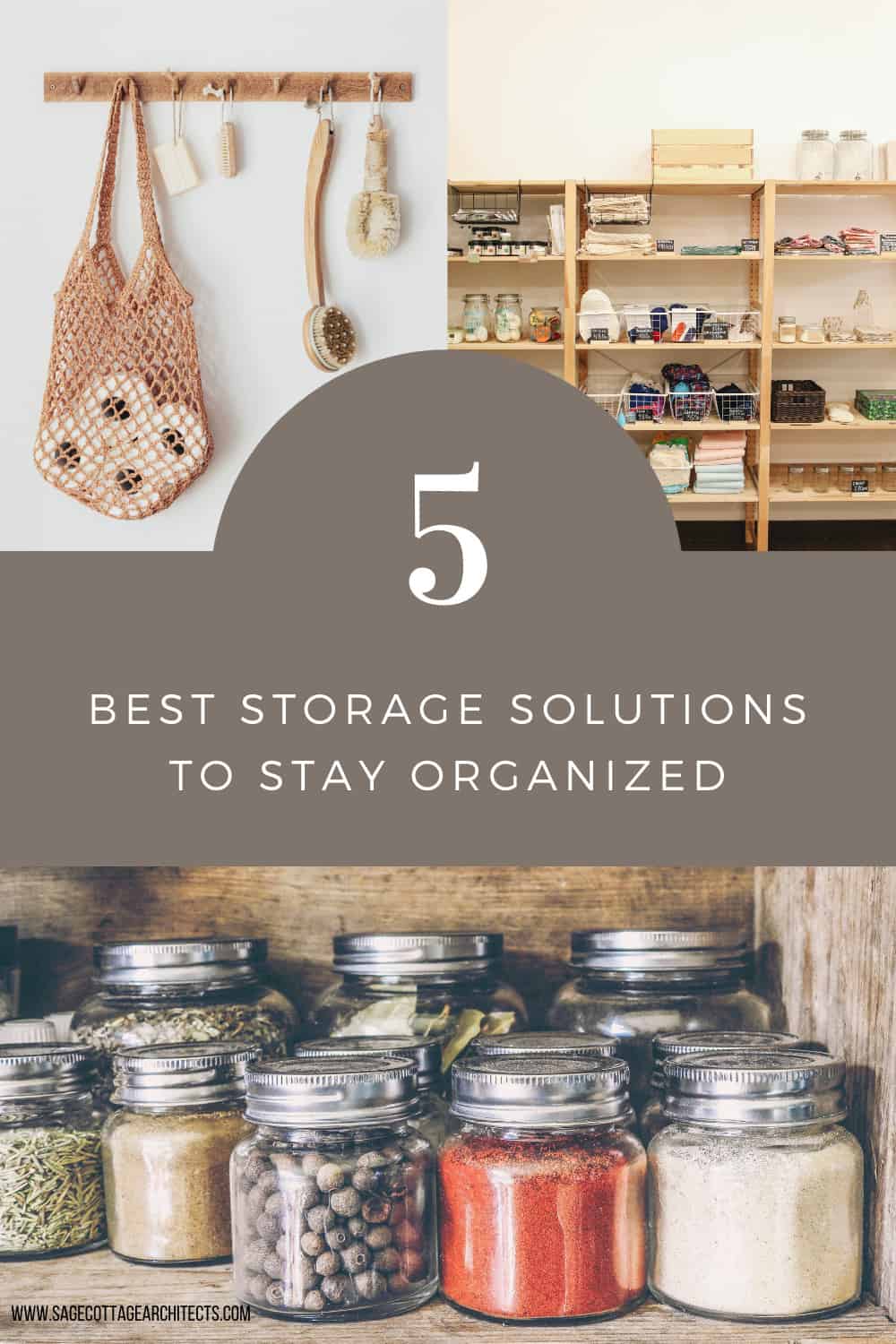 5 Best Storage Solutions to Stay Organized  
You may just be surprised how so few storage ideas can go such a long way.
Magazine Holders
These are one of the most versatile items you can use in your home. Why? Consider these reasons, then make sure to grab a few sets:
Use them to hold magazines and books (of course).

They're a stylish way to keep DVDs in order.

Conveniently store canned goods in them while keeping your pantry tidy.

Use them to hold your rooted vegetables (onions, potatoes, etc.).
Dishpans
Another versatile storage piece is the dishpan (or a shallow bin). These can be easily labeled and fit in the most convenient spots, such as under the kitchen sink, inside cabinets, on bookshelves, and so on. Use them to store similar objects like water bottles, travel mugs, cleaning supplies, and so on. Dishpans also work as pretend pull out drawers.
Canisters
Canisters can be used in just about every room in your home. Because they are available in a variety of sizes, you can use smaller ones to keep bathroom items tidy (think toothbrush, toothpaste, q-tips, cotton balls, etc.). Using them in the kitchen comes in handy for keeping bulk items organized (coffee, sugar, oatmeal, etc.). You can also use them in your home office to keep pens, pencils, highlighter, and the like all in one space.
Wall Hooks
These are another versatile storage solution that can be used in many ways. Put them in the kitchen to hoist up your favorite pots and pans. Place a few on the wall in the bathroom for hanging towels and a robe. Use a few small ones in the living room for hanging keys (say goodbye to lost keys!).
Plastic Storage Bins (for under the bed or in the closet)
Looking to hide a few things? Storing them under the bed or in the closet will do the trick! Purchase a few small in height, but wide in length containers to store items under sofas or beds, while getting a few slightly bigger ones for the closet space.
These storage solutions are few in number but pack the power to help you get your home decluttered and stay organized at the same time. Enjoy!