Get a handle on how some design elements and well-placed balcony decoration can take your balcony from boring to great.
Back when we rented an apartment, we didn't have a lot of money. My husband was in grad school, and I couldn't find permanent work in my field, so I did a lot of temp office work. We didn't have any money to put towards decorating.
We had a balcony, but it only had two chairs, a grill and a rather pathetic tomato plant to "decorate" it. But now, in the age of Pinterest, there's no reason you should settle for such a boring balcony. There is so much inspiration out there!
Regardless of the style, there are five essential design elements for a great balcony. I've broken those design elements down, so you can replicate them and make your balcony a fantastic place to spend time.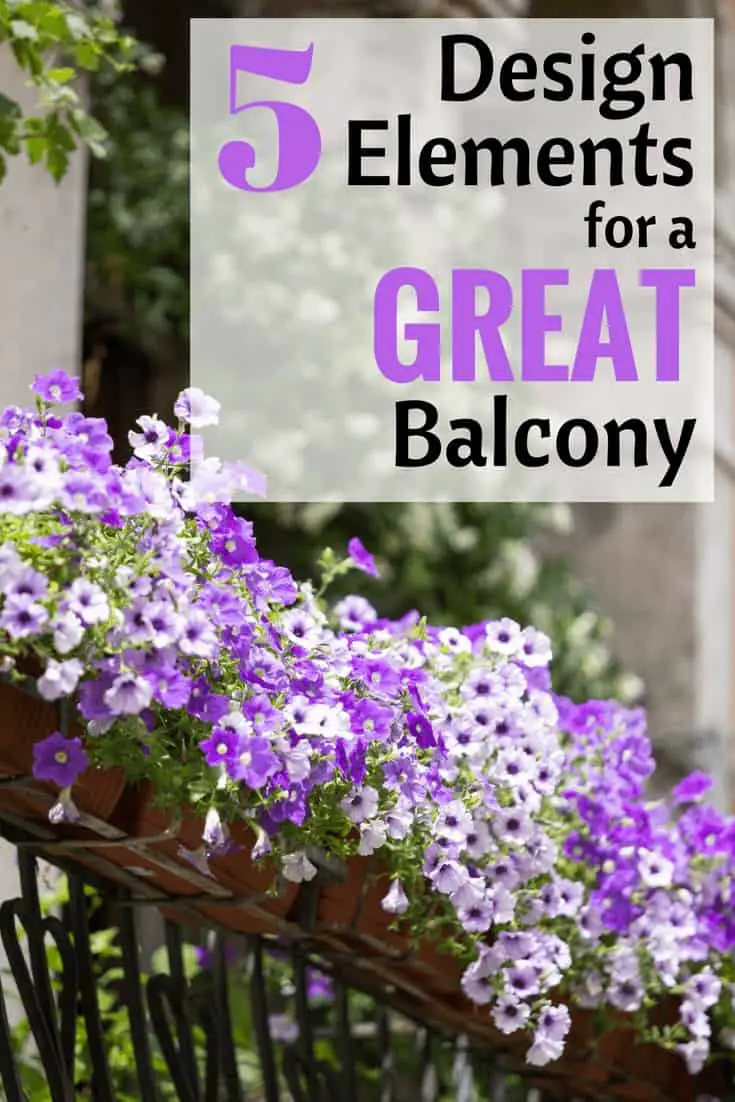 Balcony Decoration: 5 Design Elements for a Great Balcony
The balcony in the image below has many elements of a great design that you can incorporate with your own space, regardless of your personal style preferences. There are essentially five elements: flooring, vertical surfaces, ceiling, furnishings, and accessories. Let's take a look at each balcony decoration element and why it works well in this design.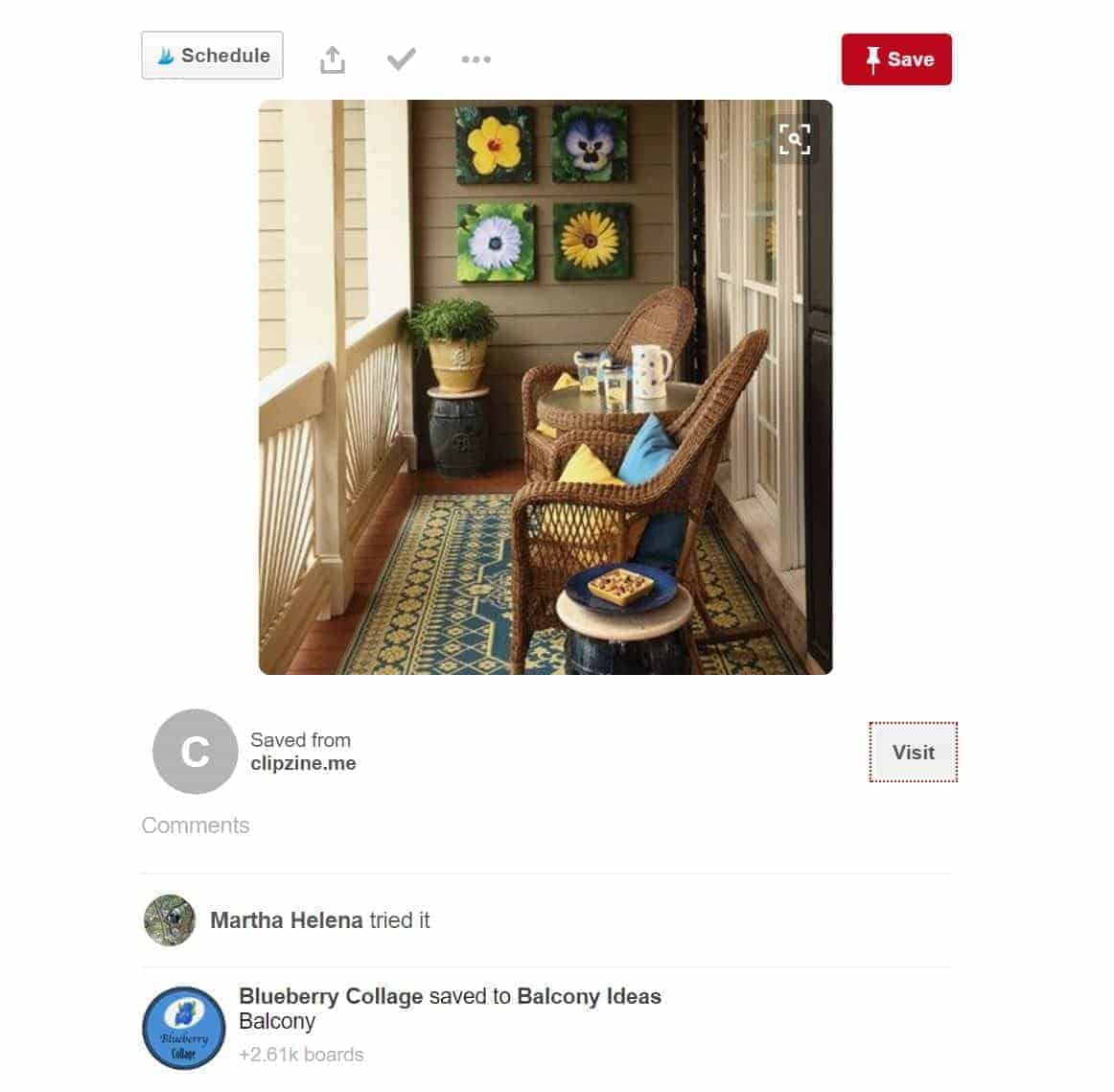 Flooring
The flooring is an important element in establishing the style of a balcony. Exposed concrete would work well with a sleek modern style, and wood is more traditional, while teak decking can evoke zen or tropical style.
Using warm colored wood decking makes this balcony cozy and a place you want to stay. The patterned rug provides lots of visual interest, as well as increasing that cozy-want-to-hang-out-here vibe.
Take a look at these Easy Upgrade Ideas for Your Balcony Flooring for more ideas.
Vertical Elements
No matter the size of a balcony, it usually has four vertical elements: a window wall, a railing, and two end walls or side rails (or some combination of wall and rail). Obviously, you can't really change the railing or window wall. But if you have an end wall, you can treat it just as you would an accent wall inside the house.
Adding large prints to that far wall, not only makes this balcony feel more like interior space, it also provides visual interest at eye level. Picture yourself standing in this space without the prints on the wall. All of the visual interest is from waist height and down to the floor. Not very interesting. But, by adding something to that wall, you now have a more interesting space. The prints also provide a focal point that draws your eye to the end of the balcony.
Ceiling
Ceilings are another element that most people can't change. But, if you can alter the ceiling, you have a few choices. A white beadboard ceiling (be sure it can be used for exterior use) would look very nice. Or, follow the Victorian's lead and simply paint the ceiling sky blue. If you can't change the ceiling, add some nice string lights, paper lanterns or glow in the dark stars to add some visual interest.

Furnishings
You need someplace to sit and definitely a place to put your adult beverage. You'll want to consider the scale, material, and color of your balcony furniture. The scale is probably the most important factor.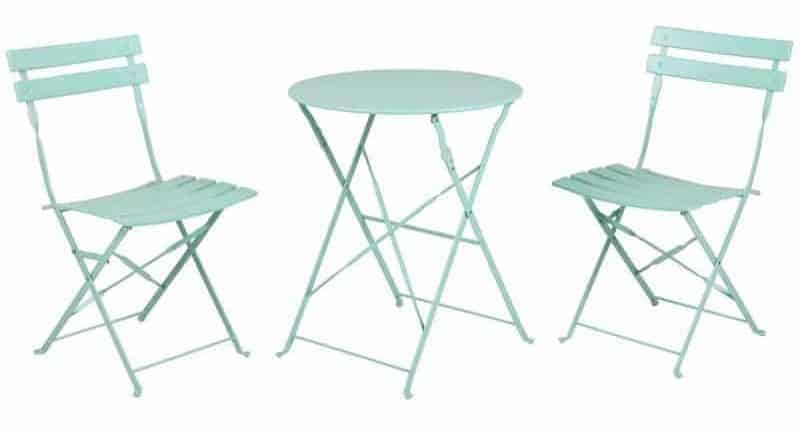 For instance, a small bistro set like the one above is out of scale and would not look right. But, the rockers are scaled very nicely for the space; large, but not so large that they overwhelm the space. They also leave a nice size aisle between the front of the chairs and the railing; you could easily walk by someone sitting in the chair. The wicker is traditional, which complements the railing, flooring, windows, and shutters. Finally, the brown color pairs nicely with the wood floor.
Accessories
Accessories are the little gems that can take a design from blah to outstanding, by adding color, texture, and interest. The yellow and blue pillows, not only coordinate with the rug, but they also relate to the prints on the wall. The flowerpot in the corner and the stools are in the same color family and that reinforces the color scheme. It all adds up to a very inviting balcony.
If you're looking to up your balcony design game, just keep the idea of design elements in mind. And make sure that each element adds interest. Your balcony can really become a place where you enjoy spending time, even if you only rent.
Be sure to check out our post Small Balcony Ideas: DIY Projects for an Outdoor Oasis for more ideas.
What are your favorite design elements for a great balcony? Accessories? Plants? Furnishings?
I'd love to hear about your own balcony decoration and design.
SaveSave
SaveSave
SaveSave